Tracking COVID-19 Cases in Texas
TCU360 will be updating a map of COVID-19 cases across Texas daily with data from the Texas Department of Health and Human Services. The numbers reflected in the map represent the total number of positive test results that have been sent to the DHHS by public and private laboratories.
April 24, 2020 – Over 200 counties now reporting Covid-19 Cases
204 of Texas' 254 counties have now reported at least one case of Covid-19.
The virus has spread to every region of the state with the majority of cases in and around major metro areas.
The state currently has 22,806 total cases and 593 fatalities.
April 23, 2020 – Second straight week of gradual increases continue
Texas has seen a significant drop in the number of reported Covid-19 cases during the last two weekends, each followed by a gradual increase each day of the week.
The 875 new cases reported today marked a high for the week and brought the states total near 22,000 total cases.
Texas had just 287 total cases on the 23rd of last month.
April 22, 2020 – State health officials investigating outbreak at meat plant in East Texas
The Texas State Health Department announced it was investigating a cluster of outbreaks at a Tyson meat packing plant in Shelby County Wednesday, according to the Texas Observer.
The county currently has 69 confirmed cases.
Texas as a whole confirmed over 800 new cases Wednesday, its third straight day of increases.
April 21, 2020 – Curve continues to trend upward
Texas reported 738 new cases of Covid-19 and 22 fatalities Tuesday.
The numbers are a small drop from last week, but continue to point upward for the state.
Completed fatality investigations on 206 of the state's 517 deaths were also released by the DSHS. 91 of the 206 were over the age of 80.
April 17, 2020 – Cases rise as Texas announces first reopening steps
Governor Greg Abbott signed an executive order Friday allowing for the gradual reopening of retail businesses even as cases continue to rise in Texas.
The governor said that certain businesses will be allowed to open using a "retail-to-go" strategy next Friday. State parks will also open on Monday with all visitors required to wear masks.
All schools will be closed for the remainder of the year, per another executive agreement signed by the governor today.
The state now has 17,371 total Covid-19 cases and 428 fatalities.
April 16, 2020 – Tarrant County nears 1,000 cases
Tarrant County has 990 confirmed cases of Covid-19, according to the Department of State Health Services.
It's the third highest number in the state. Texas has now seen three straight days of increased reporting with 963 new cases identified Thursday.
April 15, 2020 – Case count continues to rise
The 422 cases reported on Monday increasingly look like a weekend outlier as Texas reported 868 new cases of Covid-19 Wednesday.
The 46 fatalities reported to the Department of Health and Human Services also represent a new single day high, up from 31 Tuesday.
Texas has reported nearly 6,000 new cases in the last week.
April 14, 2020 – 31 fatalities marks new single day high
The 31 Covid-19 related deaths in Texas that were reported Tuesday represent the highest single day total the state has seen thus far.
The 31 fatalities were accompanied by the announcement of 718 new cases, nearly doubling Monday's figure of 435.
The death toll from Covid-19 in Texas is now at 318.
April 13, 2020 – Texas releases racial demographics of positive cases
As confirmed Covid-19 cases in Texas surpassed 13,000 over the weekend, the state health department released demographic data on over 2,000 patients who have tested positive.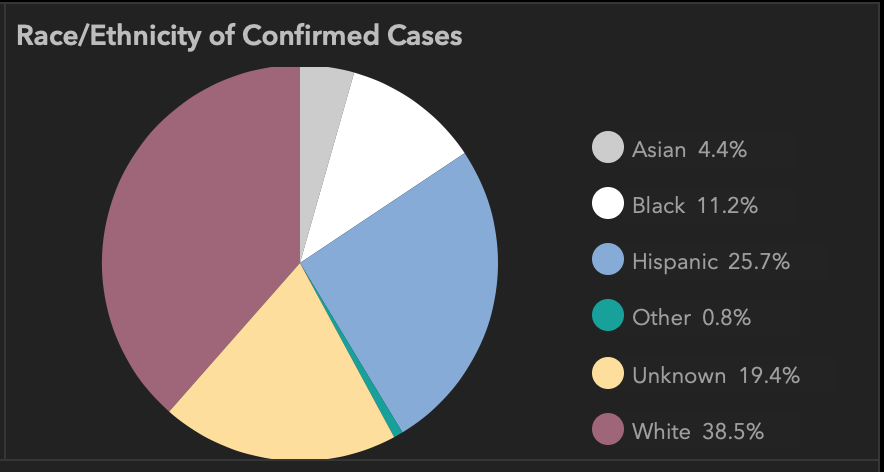 The data shown above, courtesy of the Texas Department of Health and Human Services, is the first the state has released showing racial and ethnic makeup of Covid-19 cases.
April 10, 2020 – Fatalities increase to 227
The death toll in Texas from Covid-19 reached 227 Friday.
100 of those have come since Sunday, according to data from the Texas Department of Health and Human Services.
Harris County continues to lead the state with over 3,000 cases and now has more than double of Dallas County.
April 9, 2020 – Total cases passes 10,000
Texas has now reported more than 10,000 positive cases for Covid-19.
1,439 of these lab confirmed patients are currently in hospitals across the state. 1,101 have recovered.
The Texas Department of Criminal Justice reported the first Covid-19 related death of a state prison inmate Wednesday and said 47 inmates have now tested positive, according to KXAN.
April 8, 2020 – Harris County surpasses 2000 cases
Texas reported more than 1,100 new cases of COVID-19 Wednesday and is set to top 10,000 soon.
Harris and Dallas counties make up 36 percent of the state's cases, which are dispersed across 167 of its 254 counties.
Tarrant County reported 65 new cases and 5 fatalities in the last 24 hours.