Texas releases first demographic data on COVID-19 cases
Hispanics account for one in four COVID-19 cases in Texas, according to data from the Department of State Health Services.
The data is based on 2,182 completed case investigations of patients who have tested positive for the virus.
A total of 15,492 cases have been reported to the DSHS as of Wednesday, meaning investigations on more than 80 percent of the state's cases are pending.
"DSHS is monitoring the percentage change over time as we receive more completed case reports," spokeswoman Lyndsey Rosales said. "Because COVID-19 is a novel (new) virus, there is no baseline to determine whether the 25.7 percent of Hispanic cases is high."
A study by the Pew Research Center found that Hispanics and blacks have higher health concerns from COVID-19 than whites.
Forty-three percent of Hispanic adults and 31 percent of black adults are concerned about getting the virus, according to the study.
They are "far more likely" to be concerned than whites (18 percent), according to the poll, which was conducted from April-12.
Additionally, 49 percent of Hispanic adults and 38 percent of black adults are concerned about spreading the virus, compared to 28 percent of white adults.
People of Hispanic or Latino origin account for 39.6 percent of the state's population, according to 2019 Census estimates.
Their concerns aren't unfounded.
The Centers for Disease Control and Prevention (CDC) has said that black and Hispanic people are more likely to have chronic conditions that could worsen COVID-19 symptoms.
They are also more likely to be uninsured in Texas.
Twenty-seven percent of the state's Hispanic population and 15 percent of its black one are uninsured, according to the Texas Tribune.
Ten percent of the white population is uninsured.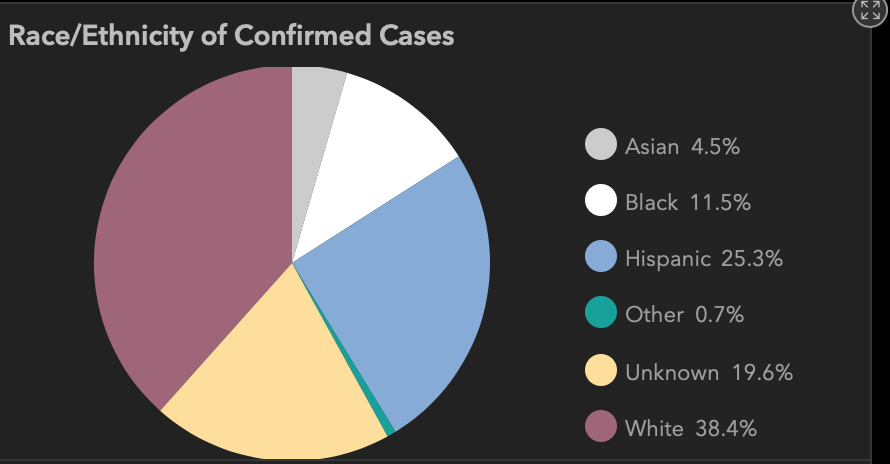 In Texas, whites make up the majority of those contracting COVID-19 at 38.4 percent.
Nearly 12 percent were black, who make up 12.8 percent of the state.
The number of cases involving black people isn't tracking with national trends where blacks are being overrepresented elsewhere.
In neighboring Louisiana, blacks represent one-third of the state's population but 70 percent of its COVID-19 deaths, according to data from the Brookings Institute.
CDC data has also shown that black people are being disproportionately affected by COVID-19 hospitalizations nationwide.
While they make up 18 percent of the population in COVID-19 counties, they represent 33 percent of all hospitalizations.
The DSHS has not provided specific data on the racial composition of those who have been hospitalized in Texas.
The Institute for Health Metrics and Evaluation is projecting cases in Texas will peak on April 29; deaths are expected to peak April 30.
The state has set new highs of daily deaths for the last two days. There are cases in 184 of its 254 counties.
Rosales said DSHS will update demographic data daily as it receives more complete case investigations.