Her last shot at a championship was taken away in the blink of an eye.
Ella Hellessey, a senior on the TCU women's basketball team, was in Kansas City for the Big 12 Tournament with her teammates when they heard the news that the rest of their season was canceled due to the COVID-19 pandemic.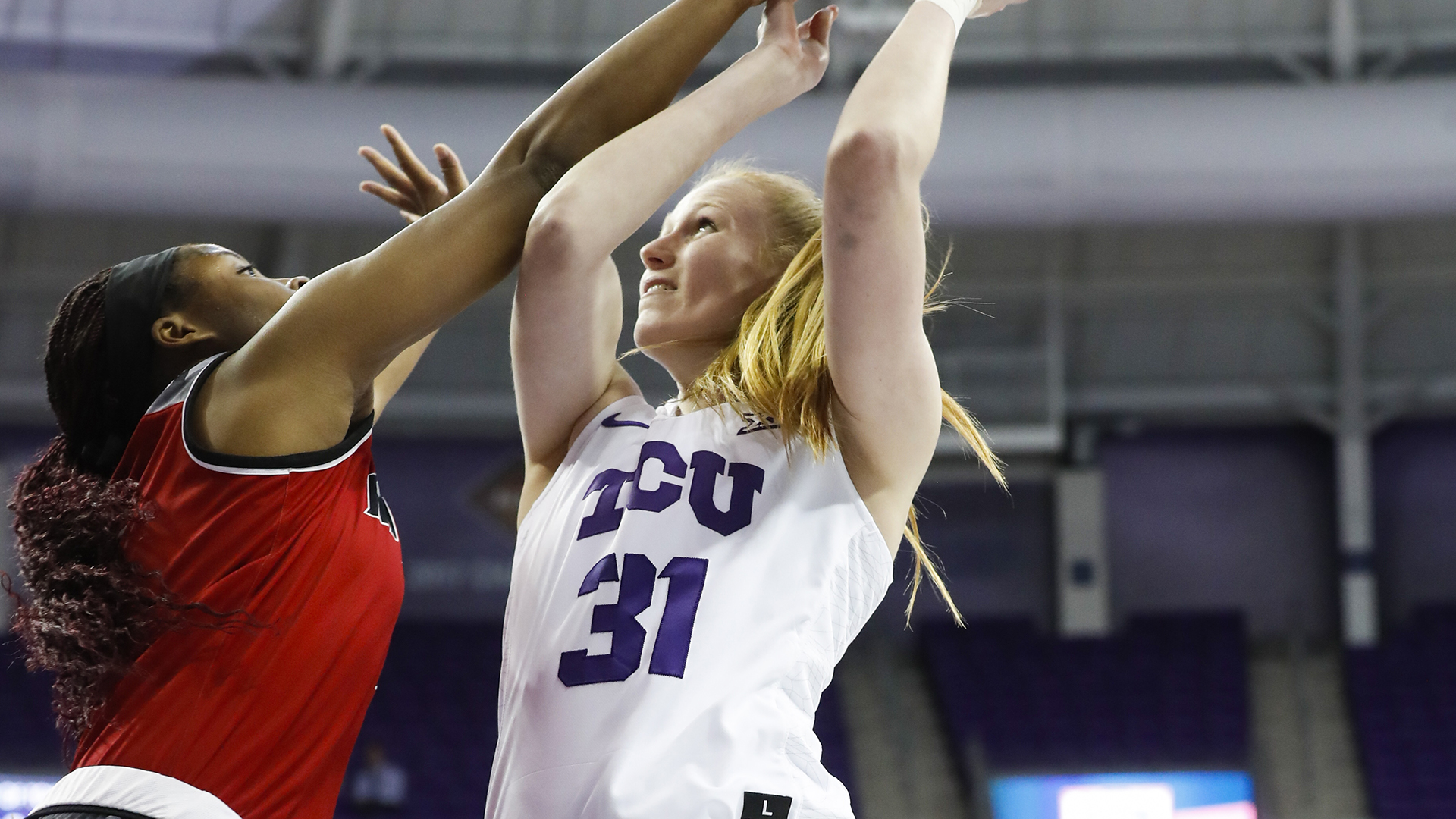 With a 22-7 record heading into the postseason, the team seemed like a lock for the NCAA Tournament after being left out the past two seasons.
"[The NCAA tournament] had been our collective and relentless focus starting in June 2019," Hellessey said. "We basically had been working our butts off for 10 months to ensure that this year we were not going to miss out… we did the work, we performed, we earned it, and we would have gone."
After being picked to finish eighth in the preseason Big 12 coaches poll, the Horned Frogs proved the doubters wrong, winning a program-record 13 conference games and finishing second in the standings behind No. 3 Baylor. 
"It's unfinished business that we will never get the opportunity to finish, due to circumstances outside of our control," Helessey said. "Our coaches always tell us to only focus on the controllables, but it's hard when the uncontrollable thing legitimately takes all of your 'controllables' away from you… it just leaves you in disbelief honestly."
Hellessey started playing basketball in her hometown of Dromana, Australia, when she was 8 years old and attributes her love for the game to her older sister, Samantha.
Samantha started playing basketball the year before Ella, and she said that watching her sister play was what inspired her to start playing basketball as well. Hellessey said she always wanted to be doing what her big sister was doing.
By the age of nine, Hellessey's coach had already mentioned to her that college basketball was a possibility for her, but Hellessey was not convinced yet. She started playing competitively for the local club team, the Southern Peninsula Sharks, at age 11 up until she left to play in the United States.
"I only fully understood it [college basketball] was a possibility when I went on a 'foreign tour' with Southern Peninsula Sharks over to the USA," Hellessey said. 
At a young age, Ella was already a fierce competitor. Gerard Hillier, Ella's coach at the Southern Peninsula Sharks, said, "Ella will compete as hard as she is physically capable of in order to help the team's objectives."
Once Hellessey got to TCU, head coach Raegan Pebley paired the Aussie to room with teammate Kianna Ray the summer of their first year, and the two lived together ever since.
"It was just nice to know that I always had a best friend and someone who understood me around at all times," Ray said.
Ray's family has grown to be Hellessey's second family. Hellessey would go home with Ray every Christmas, as she could not go back to Australia while the team was in season.
"Every time I go home or talk on the phone with a family member, they ask about Ella and how she is because she's literally a member of my family now," Ray said. "She has been my steady anchor since the day we both first stepped on campus, and I know we will continue to be that for each other."
On the court, Hellessey was known for her undeniable ability to be a good teammate.
"Ella will leave a strong legacy for the TCU women's basketball program because she knows what it means to be a member of a team," Ray said. "Ella is the ultimate teammate; she is a high-level competitor because she will do whatever is in the best interest of the team for us to succeed."
Hellessey's sportsmanship over the past four years has been noticed by the coaching staff, as well.
"If you have Ella on your team, you know she is working just as hard to help you achieve your goals than she is her own, and that's very special," Hillier said. "I genuinely believe Ella is happier for the success of others more so than she is of her own success."
During her time at TCU, Hellessey played in 72 games, recording 372 minutes on the court. She shot 40 percent from the three-point line and a total of 128 points in her career at TCU. The 6'2" forward had 21 blocks while wearing the purple and white across her chest.
In a tribute video, Pebley said, "I've coached a long time and I think Ella Hellessey is the best teammate I have ever coached."
Thank you @ella_hellessey

— TCU Women's Basketball (@TCUWbasketball) March 5, 2020
One thing Pebley preaches is horizontal leadership: everyone on the team is a leader. The seniors coach and give feedback to the first-years, and the first-years give it back to the seniors.
For Hellessey, horizontal leadership made her team feel more like a family.
"To me, it seemed like every single person was supportive and encouraging for everyone else, because if your teammate is killing it, then the team is killing it," Hellessey said. "Ultimately at the end of the day, the team's performance outweighed individual players' performance."
If you have watched the women's basketball team play this year, you know their on-court chemistry is undeniable, and they attribute this to horizontal leadership.
"Playing for TCU was unlike anything I have ever experienced and honestly, I probably won't experience anything like it ever again," Hellessey said.
Hellessey was not a starter at TCU but encouraged her team well from the bench and when coach called her name, she was ready.
When Hellessey took the court, her teammates were genuinely cheering for her. Every time Ella made a basket, it was evident that her teammates were trying to be the same motivator that Ella was to them.
While Hellessey's career at TCU may have some to an end, her basketball journey is not over. Upon returning to Australia, she will continue to play for her local club team there.
"I'm not sure she will ever truly get away from basketball," Ray said.
She may not be at TCU anymore, but Ella Hellessey's legacy, her commitment to her team, and her ability to love others well will live at TCU for many years to come.