TCU's decision to reduce employee retirement benefits has been met with disappointment by faculty members.
Chancellor Victor Boschini announced in an email earlier this month that the university would be cutting its contribution to employee retirement accounts to 8% from 11.5%.
According to a previous announcement in April, the change would only be for new hires, but it was later extended permanently for all current faculty members.
Boschini also said the monthly retirement stipend for all employees under age 45 on Jan. 1, 2021 would be removed.
"During the benefits conversations throughout the entire previous academic year we had been told again and again that the new benefits package would be for new employees and not for current employees, so to see that that was being changed at this point was disappointing," communications professor Andrew Ledbetter said.
Boschini said the decision to extend the reduction to all faculty members was made because the university currently has a hold on hiring and couldn't realize the cost savings unless the cuts were widened.
Along with the extension to current employees, faculty members also expressed dismay with the permanent nature of the cuts.
"But I think the most upsetting thing for faculty was the permanent nature of the reduction," Faculty Senate Chair Sean Atkinson said. "A lot of faculty didn't quite understand why permanent reduction to our compensation is necessary of what will probably just be a temporary financial crisis."
Ledbetter pointed to the actions of three of TCU's aspirant university peers – Duke, Georgetown and Northwestern – who have all reduced employee benefits temporarily until their financial situations improve.
"The intent behind those announcements seems to be 'Hey, this is temporary, we'll restore these benefits once this financial crisis has passed,' and TCU instead has made it very clear that these reductions are permanent," he said.
An open letter to the TCU Board of Trustees, Chancellor Boschini and members of the Chancellor's Cabinet currently has over 250 signatures from concerned faculty.
The letter has seven recommendations, including requests for a more equitable distribution of the retirement stipend and a restoration of the 11.5% contribution when the pandemic crisis has passed.
Changes in benefits a recurring subject of debate
University action around employee benefits has been ongoing since 2013, when retiree health benefits were shifted from TCU's plan to a third party.
The decision "provoked a sense of frustration and betrayal from some in the TCU family," because of the lack of faculty consultation involved, according to a 2019 report by the University Compensation Advisory Committee (UCAC).
The issue of employee benefits resurfaced last fall when Boschini announced at a faculty town hall that current packages were "too rich to be sustainable."
Boschini cited a projected dip in enrollment that won't allow tuition and endowment revenue to keep pace with the exponential growth of benefits packages.
The announcement was met with skepticism and concern by faculty.
UCAC published its report in October, pushing back against some of the chancellor's claims.
The report said TCU's benefits packages ranked behind those of the university's peers and were not overly rich.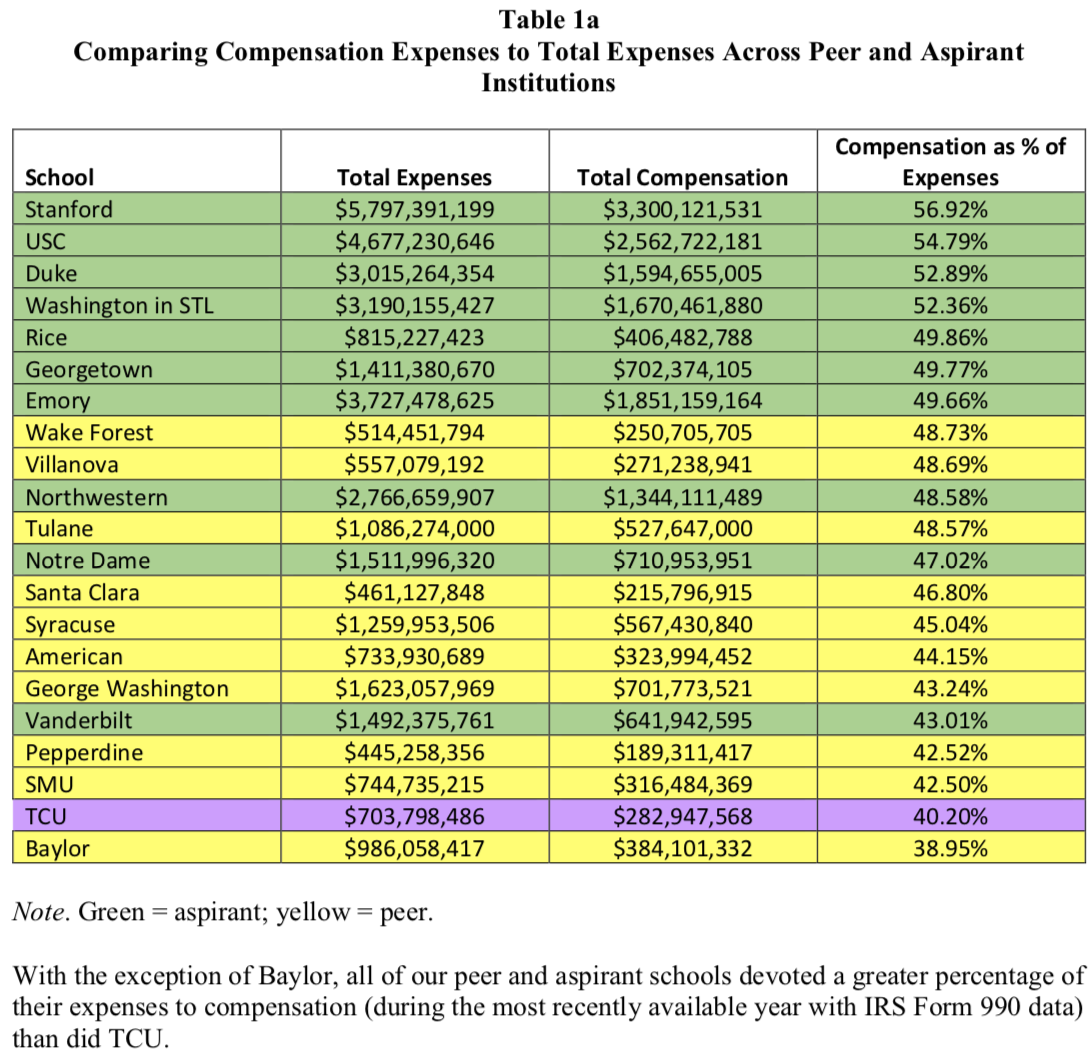 The report concluded that reducing benefits would "harm TCU's ability to recruit and retain high-quality faculty members" and go in direct opposition to the university's number one "vision in action" goal: to strengthen its academic profile and reputation.
The Faculty Senate endorsed the report in November and UCAC presented its recommendations to the chancellor in March.
Many of the recommendations, like adding paid short-term disability leave, were adopted by the Board of Trustees.
However, the committee also recommended not reducing retirement contributions.
"One of the things that drew a lot of current faculty members to come to TCU over other institutions was this retirement contribution," Atkinson said. "Again this is just compared with our peer and aspirant universities around us–average faculty salary is lower. So in some ways the retirement contribution makes up for that lower salary."
Boschini said the decision was made to reduce the contribution because of the amount of money the university has lost due to the COVID-19 crisis and the desire from the Board not to continue increasing tuition.
"The campus community cannot continue to expect our students, and their families, to pay large hikes in tuition year after year to fund campus operations," he said. "This is just not a sustainable model on a go-forward basis."
Ledbetter, the chief author of the UCAC report, said while the committee was able to determine that the university's benefits packages lagged behind its peers, it was difficult to gauge its ultimate sustainability because of the lack of budgetary information to which they had access.
Other concerns and potential effects
Outside of the financial ramifications of the cuts, faculty also expressed concern with the university's transparency and ability to recruit high-level faculty going forward.
The open letter explicitly asked for a commitment to the principle that "shared governance requires shared information" and notes that the administration has offered very little in regards to budgetary details.
"So you can't, in my opinion, you can't make cuts that have an impact on the academic mission without fully involving the faculty, or we're violating our own rules, our own ethos, our own creed," said music professor and former Faculty Senate Chair Blaise Ferrandino.
The Faculty Senate has passed three resolutions–in 2013, 2018 and 2019–asking the university to involve them when considering changes to employee compensation.
"It creates a problem where there is not a strong, shared responsibility," Atkinson said. "The faculty and staff feel like their voices are not being heard, and on top of that, data that could help us to understand decisions that are made is not being made available."
Boschini said he will continue to do everything he can to be transparent with the faculty, but admitted frustration to their concerns as he believes that's exactly what he has been doing.
Concerns were also brought up surrounding the long term ability of TCU to continue to recruit and maintain high-level faculty.
"This is simple, the lower the benefits packages and the more the history of cuts as somebody considers a job, the more negative that puts into the decision making when it comes to considering TCU," Ferrandino said.
Ferradino also expressed worry that continued reductions to the compensation of faculty could lower the "can do" spirit that has made TCU great throughout his 30 years at the university.
Boschini said the cuts have been made in part to ensure that no layoffs have to occur, but concerns still abound that current faculty will be more prone to leaving because of the reduction in benefits.
My department has lost three of our last four junior faculty hires to other places. Cutting benefits and not engaging in shared governance won't help us recruit and retain great faculty.

— Emily M. Farris (@emayfarris) May 21, 2020
Note: Dr. Farris declined to be interviewed for this story.
Still, both Atkinson and Ledbetter expressed hope that the cuts and subsequent faculty concerns will help spark a conversation and better working relationship with the administration.
"I really hope that this opens up and starts a conversation going forward. Not only with the chancellor and his staff, but also with the Board of Trustees, and we can try to develop a culture where we can all be open and all try to do what's best for the university in a shared, collective way," Atkinson said.