Two sorority chapters to quarantine for two weeks
TCU instructed all chapter members of two sororities to quarantine for 14 days to help limit the spread of COVID-19 within their organizations.
The news came Tuesday in an email to residents of the Chi Omega and Pi Beta Phi chapter houses from Kathy Cavins-Tull, the associate vice chancellor for student affairs.
As of Tuesday morning, TCU reported 175 active student cases of COVID-19; 111 students are living off campus, and 64 are living on campus.
The mandate applied to women living in the chapter houses and in other places on and off campus, including those who have not shown symptoms or been exposed to infected individuals.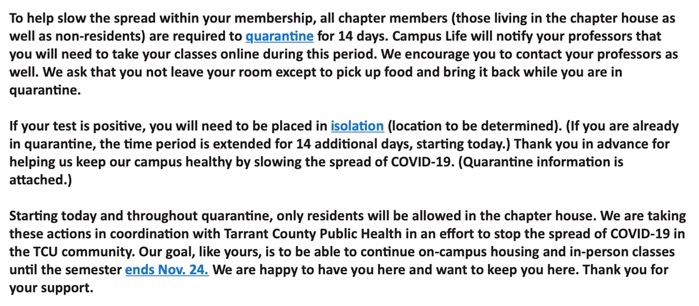 Women living in the chapter houses were tested for COVID-19 Tuesday morning, and Cavins-Tull wrote in the email that only residents would be allowed in those buildings for the remainder of the quarantine period.
This marks the latest in a series of outbreaks in Greek organizations at universities across the country. On Aug. 20, Texas A&M placed two sororities "whose activities and members are experiencing exposure to the virus" under quarantine. Similarly, the University of South Carolina mandated quarantine for two sororities today.
Other schools have taken more drastic measures in response to the spark in cases. The University of North Carolina at Chapel Hill, for example, transitioned to distance learning after a week of in-person classes following the appearance of several clusters on campus, one at the Sigma Nu fraternity.
TCU revealed this week a new COVID-19 dashboard to report case numbers and other related information. Cavins-Tull wrote in an email Monday to the TCU community that the university has "ample isolation bed capacity, should it become necessary."
As of Tuesday, the status of the isolation bed availability was Level Green, meaning there is 65% or higher availability. If the availability drops below 65%, the status becomes Level Yellow, and any availability lower than 30% is designated Level Red.
TCU is ranking the availability of protective equipment and maintenance of enhanced cleaning using the same system.
"It is our expectation that all TCU community members will follow health and safety protocols so that we can remain on campus and provide an optimal learning environment for many in our community," Cavins-Tull wrote in the email.