Race and Reconciliation Initiative begins study into TCU's history
The initiative to study TCU's experience with racism, slavery and the Confederacy is beginning its first year of work as the school year gets underway.
The Race and Reconciliation Initiative (RRI) was commissioned in July by the Board of Trustees and Chancellor Victor Boschini in response to the movement for racial justice that took place nationwide over the summer.
"Racism has been consistently present for far too long, and many recent incidents, including the deaths of George Floyd and many others, have awakened a passion for true equity and justice," Boschini said in the July announcement. "It is imperative that we, as stewards of TCU, do everything we can to instill, and live, very real change."
Dr. Frederick Gooding Jr. was named the chair of the initiative earlier this month.
Gooding, an associate professor of African American Studies in the John V. Roach Honors College, said his committee's goal is to fulfill the charge set out to them.
"We want to provide critical perspective, we want to deepen understanding so that we can really take on this idea of reconciliation and healing," he said.
Examining primary sources
Gooding said the committee will examine TCU's history by recovering and analyzing primary sources along with local and national histories of slavery and the Confederacy.
Gooding said the committee hopes they will be able to digitize the artifacts they find and enable others to use them in the future.
"By cataloguing it and archiving it, that will be a challenge but this is the dirty work that needs to be done so to speak," Gooding said.
There is also an email account – [email protected] – created for community members to send their "stories, ideas and artifacts," and help grow the initiative's available resources.
Keeping the heat on
Along with examining TCU's history through primary source examination, the initiative also plans to focus on consistent community engagement.
A webpage was launched for the committee to post regular updates on their progress, and Gooding said committee members plan to host virtual town halls throughout the year.
The first town hall is planned for Thursday at 3 p.m. Those interested in attending can register here.
Gooding said part of the reason behind hosting the town halls is making sure the initiative does not get forgotten as the year goes on.
"We want to make this as transparent as possible and also understand that it is a continuous ongoing conversation, so that is why we are looking at being intentional about creating these open pathways so that we can have exchange," he said.
Interested community members will also have the opportunity to join one of the committee's seven working groups by filling out a form on their webpage.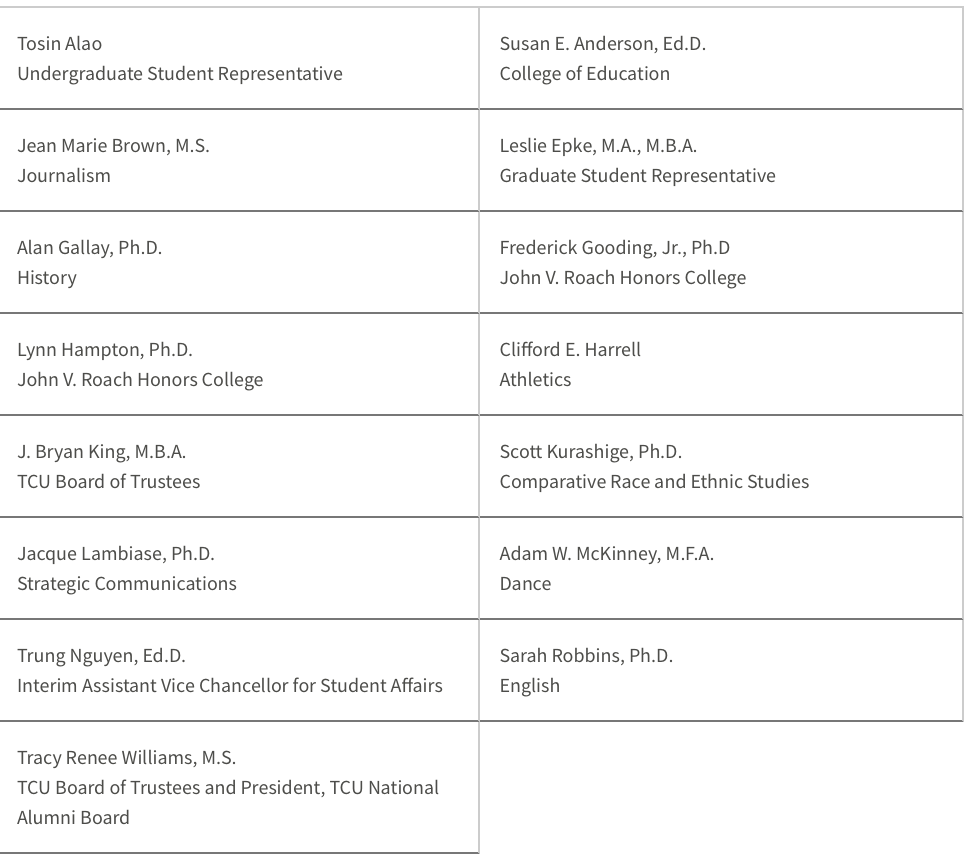 Creating a new legacy
While it remains to be seen what the initiative will discover about TCU's past, Gooding expressed confidence that it would start needed conversations.
"I can't make any promises to you or anyone as to what we will find and what we will do, but at the very least I can make the commitment to find and discover the history so that we can continue to have these conversations and honor that history as we look to making a new legacy for ourselves," he said.
The RRI chair expressed encouragement with the committee and said they are ready to show that "we maybe have more tools than what we think" to examine and understand TCU's history.
"What I've been saying to those who will listen is that we should be prepared to embrace our past and not erase it," he said. "There is nothing to be afraid of; knowing our history and acknowledging it makes us stronger in terms of our foundation for moving forward in the future."