Student organizations and SDS find new ways to offer service hours
Student organizations and Student Development Services (SDS) have been working to provide students with community service opportunities that abide by Centers for Disease Control and Prevention (CDC) guidelines amid the pandemic.
Student organizations often require students to complete a set number of volunteer hours — or service hours — each semester. Hours can be obtained through volunteering at events and fundraisers that benefit the community.
Senior marketing and Spanish double major Mark Lillard said the executive board of Alpha Phi Omega, a national coeducational service fraternity, has been modifying projects such as their blood drive to provide members with safe access to service events.
This year's blood drive is being held outdoors, and only two people will be allowed to donate at a time. People who donate will also receive an antibody test, Lillard said.
"We are also looking at alternative ways to help the community, such as donating to drives for clothing and food," he added.
Lillard said some events were temporarily suspended due to their reliance on active group work. As a result, service hour requirements have been reduced to 15 hours from 25.
Like APO, other campus organizations have reworked their service events and hour requirements.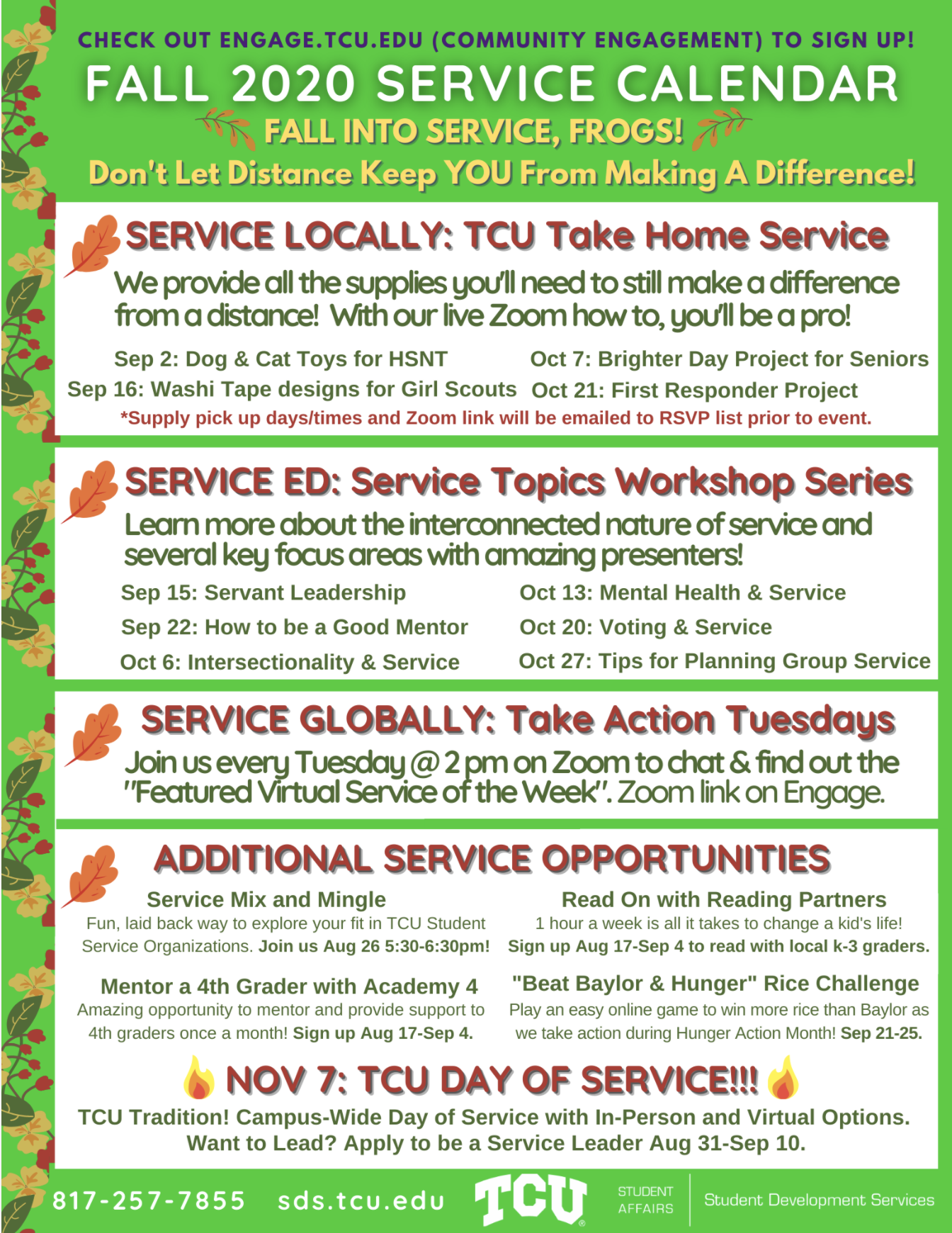 SDS acknowledged the importance of service hours for students and has been working to provide new virtual options.
Erin Wilson, the associate director of community engagement, said service opportunities, though different this semester, have been a big success so far.
Since classes began, students, faculty and staff have completed more than 2,000 service hours, which adds up to about a $30,000 impact on Fort Worth, according to the value of volunteer time, Wilson said.
She added that students have been actively trying to stay engaged by attending "Take Action Tuesdays" on Zoom every Tuesday at 2 p.m. to learn about the virtual service projects available each week.
"My department is doing everything we can to help students make a difference, even if it is at a distance," Wilson said.
Though many events have gone virtual, students are encouraged to help out the community in any way they can.
"COVID-19 has put a pause on many things in life, but it has not paused the needs that people less fortunate face every day. If anything, it has actually increased those needs and made them more urgent," said Lillard. "While serving those in need may be more difficult now, it is also more critical. Those who can help should during these times."