TCU's National Pan-Hellenic Council brought attention to issues including domestic violence and body positivity during their annual week of awareness.
Organizers from the council, which represents the five historically Black, Greek-lettered organizations chartered at TCU, said they wanted to give back and impact the TCU community.
"We represent an organization that is devoted to love for all mankind and we embody that," said Andra Land, president of Alpha Phi Alpha fraternity. "I'd hope that our biggest takeaway is that we become aware of how we can serve the TCU community, and learn what they need from us to help make our campus a safe and fun environment."
The week had a "Heroes" theme with the goal to make a "heroic" impact on attendees' lives.
Events included administration appreciation day, breast cancer awareness day and seminars on domestic violence and body positivity.
Read more: National Pan-Hellenic Council uses social media to engage members, the community
The council partnered with the TCU NAACP chapter to deliver coffee to administrators across campus on administration appreciation day.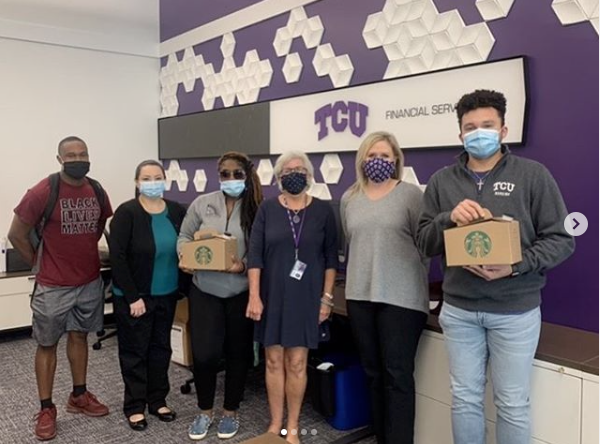 Land said the seminar on domestic violence, which is something that is very preventable, was the most impactful event.
Jalen McCarthy, a member of Omega Psi Phi fraternity, said he hopes the body positivity seminar will have a positive effect on the TCU community.
"Body positivity is something that is not discussed as often as it should, especially in the age of social media, so I think this will really be an informative and insightful event this week," said McCarthy. "Hopefully, this event will help to promote more positivity and self-confidence for individuals within the TCU community."
Council members also hope NPHC week connects the council with students on TCU's campus who aren't affiliated with the organization.
"By having NPHC week, it allows us a great opportunity as a council to connect with the campus and help TCU become more familiar with who we are," McCarthy said. "Hopefully, this week will continue to help shed a light on what our council is all about and show how much we value being connected with our community."
The seminar access code and passwords for the seminars are located on the NPHC's Instagram. The NPHC also embedded a breast cancer awareness link into their Instagram bio for students to write encouraging words to honor the lives of those affected by breast cancer.