National Pan-Hellenic Council uses social media to engage members, the community
The National Pan-Hellenic Council has been using social media to keep the community informed and engaged amid COVID-19.
On Oct. 5, the council posted a series of superhero-themed events for their "TCU NPHC Week 2020." All pictures were color-coordinated with selected superheroes paired with topics of discussion like breast cancer awareness, domestic violence, hazing and body positivity.
Junior studio art major Kelvin Gray said his position as the council's public relations chair tasked him with getting this information out in a creative, detailed way.
Gray said he manages the social media accounts and creates flyers, interesting captions and images showing the council in action. In turn, this "helps maintain a positive image on TCU's campus."
Read more: National Pan-Hellenic Council hosts annual week of awareness
NPHC's Instagram page is filled with colorful graphics. Gray said this is an integral part of the experience of viewers and helps with community engagement.
"You have to know what key messages and information you want your viewer to take away from the post. Also, be fun! No one likes seeing just information," Gray said. "This is why we include images in our posts and come up with engaging and interesting captions."
Senior nursing major and NPHC President Doreen Nyambuka acknowledged the need for social media now more than ever.
Coming into the semester, Nyambuka had a lot of in-person events planned. However, COVID-19 hindered the ability to fulfill these plans.
As such, the NPHC council decided to amplify their social media presence.
"In past years, we had a lot of engagement with the outside communities," Nyambuka said. "Now, it's important to put content out there so people know more about us. If it means being on top of information by posting on social media to get the word out, then that's what we have to do."
The council strives to create a space where members of TCU and the surrounding community have a support system amid the social restrictions of COVID-19.
"We need to know our community feels supported," Nyambuka said, adding that NPHC also has an active presence on Twitter.
On Sept. 21, the Multicultural Greek Council and NPHC held a "Meet the Greeks" event where members from different Greek organizations recorded introductory videos of themselves.
The NPHC Twitter account played an active role in quoting, retweeting and replying to each member video and during the event.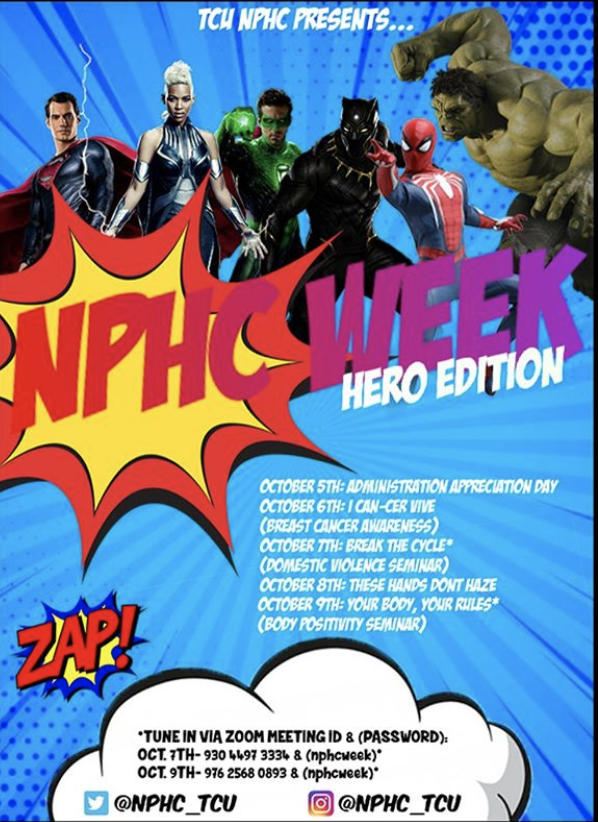 Nyambuka said using Twitter was a way for the community to interact and was a good opportunity to collaborate with MGC.
Though events have moved to a virtual format throughout TCU's campus, NPHC has been working with the resources they have to ensure a positive environment for all members involved.
"I feel it's important to stay engaged with members so that they know we are real people and actually love our community," Gray said. "Staying engaged and interacting with your followers makes them want to see what else we have planned and helps them actually feel the love we say we have for them."
Social media takes away the face-to-face interactions organizations experience in years past, but the ability to adapt to new formats has allowed for the continuity of community engagement.
For more information, go to NPHC's Instagram, Twitter or TCU Engage.