TCU Athletics announces change to student ticket pickup policy
Students who requested tickets to today's home football game will have to pick them up in-person before kickoff.
For the first two games, student tickets were delivered electronically as part of new policies imposed for athletic events during the COVID-19 pandemic.
Now, tickets will be made available for pickup starting three hours prior to kickoff on the lawn between the Kelly Center and Amon G. Carter Stadium.
Students must present a student ID to get a ticket. If they want to sit in a group of up to four, all members must be present at the same time.
"Our new policy will improve efficiency and better enable students to enjoy the game with friends," said Associate Athletics Director for Communications Mark Cohen. "With social distancing still a priority, students who wish to sit together can now pick up their reserved tickets at the same time, with all showing their TCU IDs, and be assigned seats together."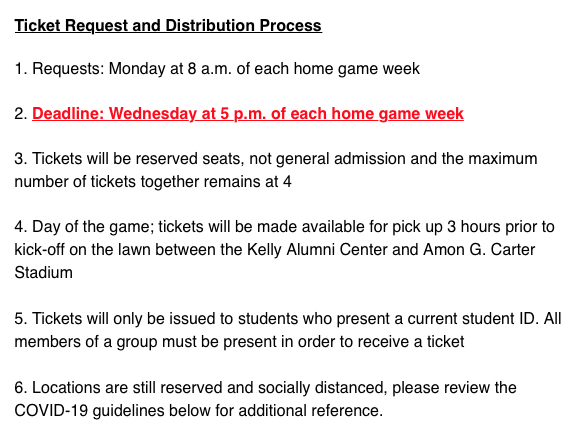 TCU Athletics did not respond to questions about what prompted the change to the policy.