As students continue to adjust to college life amid COVID-19, Active Minds, a TCU student organization, is stepping up to help students dealing with mental health challenges.
Changes in students' schedules and general operations such as fewer breaks and a shorter semester have had a major impact on student mental health, said Stephanie Villaire, the founding president of Active Minds at TCU.
Villaire founded TCU's chapter of Active Minds in 2017. She said she knew that TCU needed a student group that would foster inclusivity for people struggling with mental health. The organization offers that peer-to-peer experience that shows students they are not alone in their struggles. The organization brings guest speakers to campus and organizes events to raises awareness for mental health through education.
Stephanie Villaire on the mental health impacts of COVID-19
One of the biggest changes this semester is the strong reliance on online classes and how it has affected students. According to the fall 2020 TCU Undergraduate Student Experience Survey:
72% of students have at least 80% of their classes online.
48% of students are dissatisfied with the number of classes they have online.
78% of students reported that they had experienced a noticeable increase in anxiety since the beginning of classes due to COVID-19.
54% of students reported they had experienced a noticeable increase in depression since the beginning of classes due to COVID-19.
"We're having a lot of these different issues that people aren't necessarily used to seeing," said Villaire. "That's going to be creating a lot of depression and a lot of anxiety that I think the community needs to start addressing."
The increase in anxiety and depression may be partially due to the added work students cite having in online classes.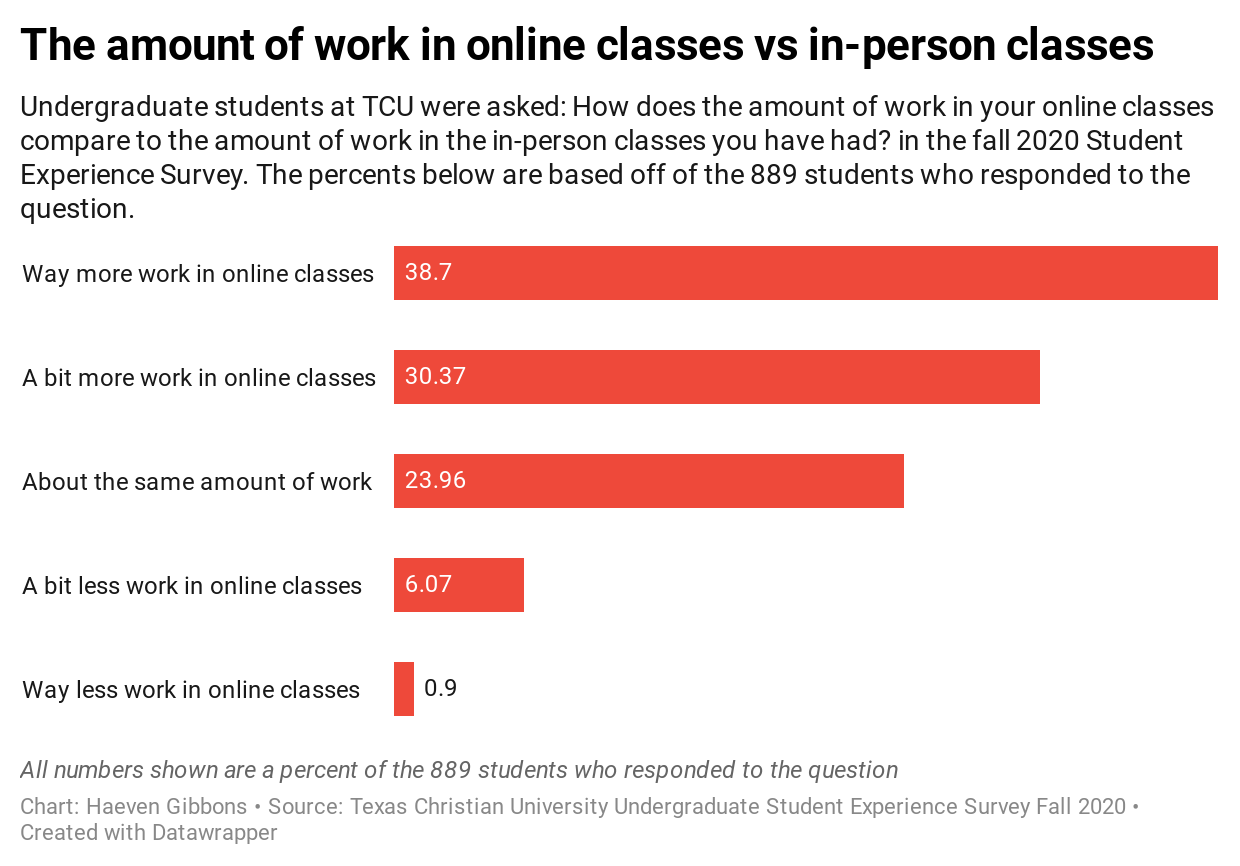 "Student mental health is honestly just being drained," said Villaire. "Online classes are especially taking a toll because people are having this workload that they're not used to having, and then they also can't regulate their schedules in the same way."
The student experience at TCU mirrors trends cited in a study published in the Journal of Medical Internet Research (JMIR). Researchers found that of 195 students they interviewed at a large public university in the U.S., 71% indicated increased stress and anxiety due to the COVID-19 outbreak.
More than half of the participants said their academic workload increased due to COVID-19. This is only one factor contributing to students' increased stress and anxiety.
Read more: Without a break, TCU students feel more overwhelmed
Difficulty concentrating on academic work due to various sources of distraction affected 89% of participants. Online classes were often the cause of distraction. Of the 89% of students who said they had trouble concentrating, 10% said it is easier to get distracted in online classes because of the lack of interactions and prolonged attention to a computer screen.
The results also showed that 82% of students worry about their academic performance being affected by the pandemic, and 38% of students cited the transition to online classes as the biggest perceived challenge. Students worry about sudden changes in the syllabus, the quality of the classes, technical issues with online applications and the difficulty of learning online.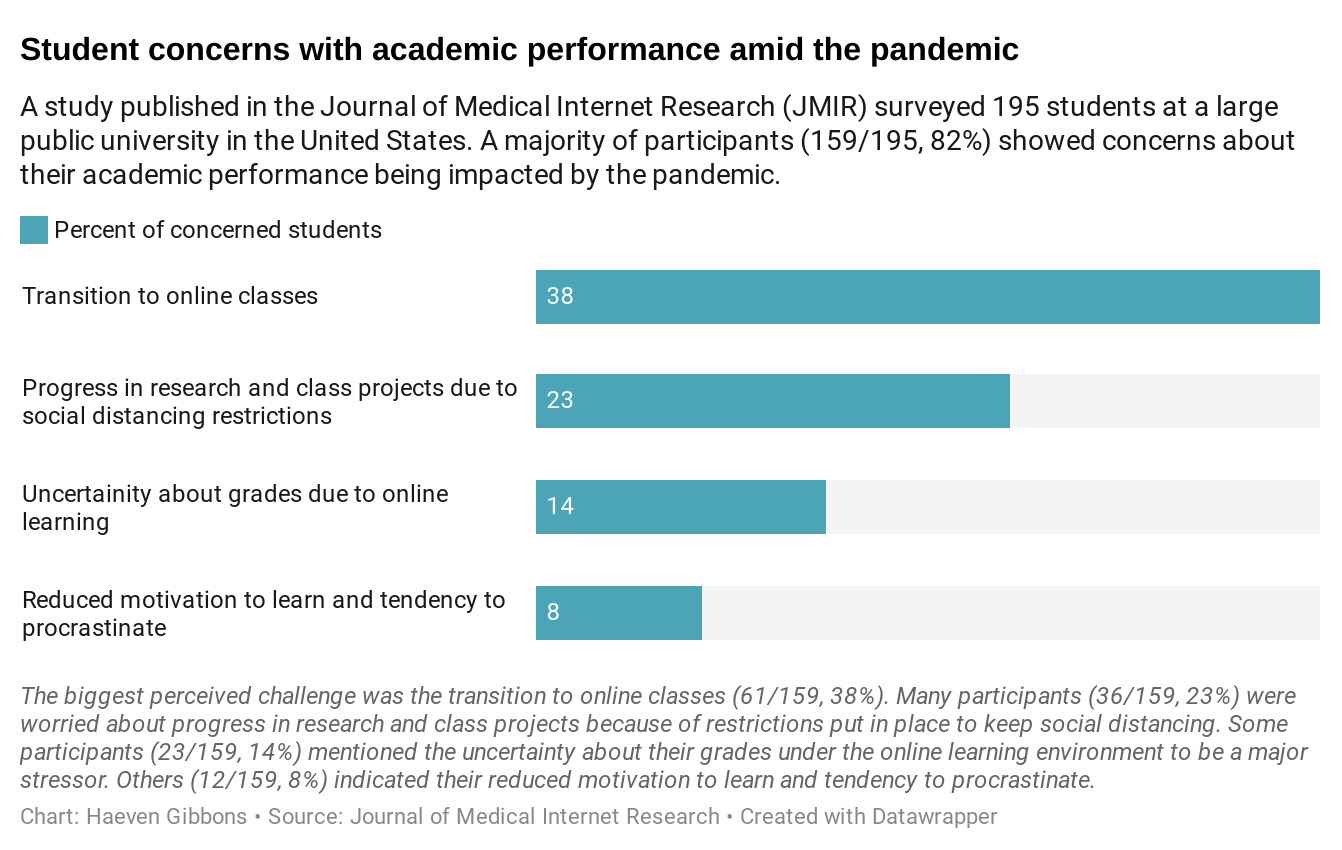 JMIR Survey: Participants' ratings on mental health aspects in an order of negative impacts (mild, moderate and severe)
TCU addresses increase in mental health issues
During the student town hall last week, Chancellor Victor Boschini said there is concern about the effects of COVID-19 on students' mental health.
"I think the mental health ramifications of COVID are much worse than the physical health ramifications so far," said Boschini. "And, I think we're seeing that all around our society and definitely all around our campus."
How COVID-19 is impacting Villaire and Active Minds
Trained psychologists at the Counseling and Mental Health Center want to help students, Boschini said. The university is also offering online groups for people facing mental health issues. Students can even send and receive virtual care letters to one another.
Despite the availability of tele-counseling and widespread promotion of such services by universities, 93% of students who participated in the JMIR survey said they had not used school counseling services during the pandemic.
Active Minds sees its roles as a bridge between university offerings and students in need of care.
It gives students the opportunity to have student -to-student conversations about their struggles without attending a formal therapy session,
Villaire said.
"We're here to just have these kinds of candid conversations about mental health," said Villaire.
Boschini also told students to talk to the people they live with and not just about surface-level things. He said to really let them know how you are feeling.
"You have to say like, 'I'm struggling right now, I need your help,'" said Boschini. "You need to let people that are around you know that because one, they want to help you, and two, I bet you'll find they're experiencing some of the same things, but they're afraid to say it too. Sometimes it just helps to know that somebody else is feeling what you're feeling."
Approximately one-third of the participants from the JMIR study said the primary way they have dealt with stress and anxiety during the pandemic is through talking with their families and friends.