TCU has seen a sharp drop in crimes and offenses this semester, but police are urging students to remain vigilant about their safety.
Interim Chief of Police Robert Rangel said calls to the TCU Police Department involving crimes, offenses and service requests are all down.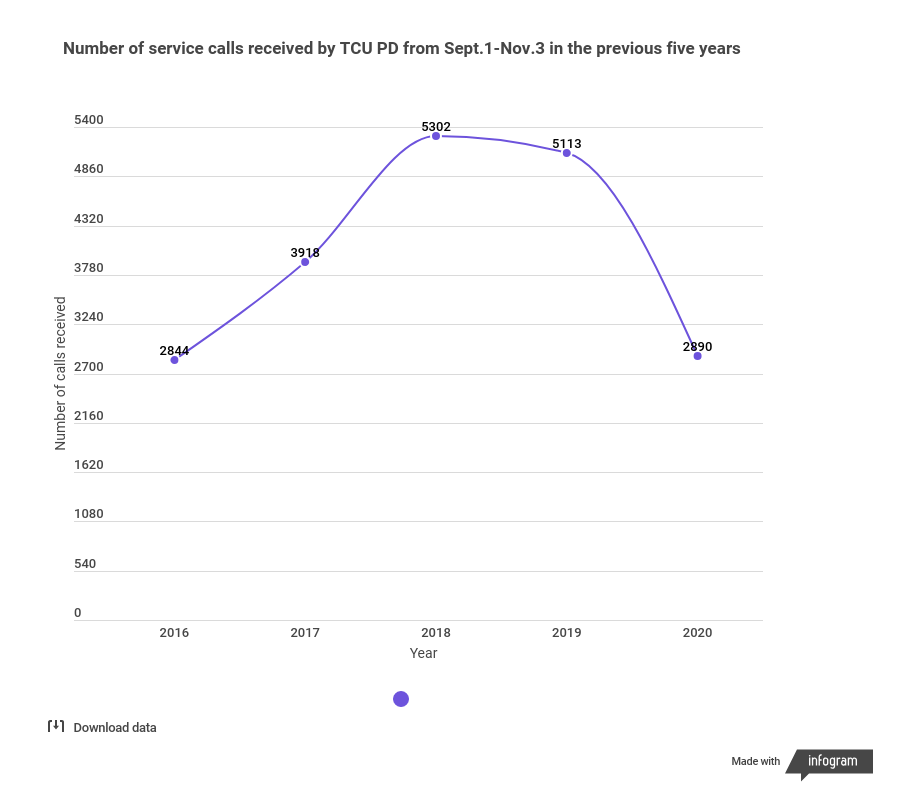 "Usually during this time, offenses and crimes begin to decrease because students realize that they have spent too much time socializing," said Rangel. "Students tend to come from high school and go out a lot, but in the end, they realize they have to put some effort."
Despite the drop in offenses, marijuana possession continues to be an issue on campus. It is one of the most common offenses seen in the middle of the semester, and students charged with possession face sanctions from TCU police and Campus Life.
"Generally speaking, marijuana possessions are a little bit more serious depending on the amount," said Rangel. "These types of cases are normally referred to Campus Life so they can take action involving the student's code of conduct."
Dean of Campus Life Mike Russel said the type of sanction involved in marijuana cases depends on what the offender was doing, either consuming or selling the drug.
Some sanctions varied from warnings and suspensions to expulsion from the university, Russel said.
Despite the lull in crime, Rangel said students should still take care.
Last week, a stranger approached female students in the commons area outside Winton-Scott Hall, asking them to participate in a survey. In at least one case, he had contact with a student, which was categorized as a physical assault.
Rangel said TCU police worked with Fort Worth officers to track the suspect, who was caught on video by cameras.
"Thanks to the videotapes, we could go back to the cameras and identify his face, car model and plate," said Rangel. "They went to his home in a nearby city and found out he had already been convicted for multiple similar crimes in universities in different states."
Rangel said the man was warned he will be arrested if he returns to campus again.