This story will be updated as more information is provided to TCU360
An adjunct history professor's email to students sparked a firestorm on Twitter and later prompted her to apologize to the class.
Dr. Melanie Kirkland sent students an end of semester email about her grading policies that told students not to send "stories about deportation, disappointed parents, living in your car, grades for your fraternity/sorority, law school, etc," in attempts to get their grades improved.
Kirland said that the time for those issues had passed.
A student posted the email on Twitter and blasted Kirkland. The tweet went viral – it was retweeted more than 7,000 times and racked up 100,000 likes within eight hours.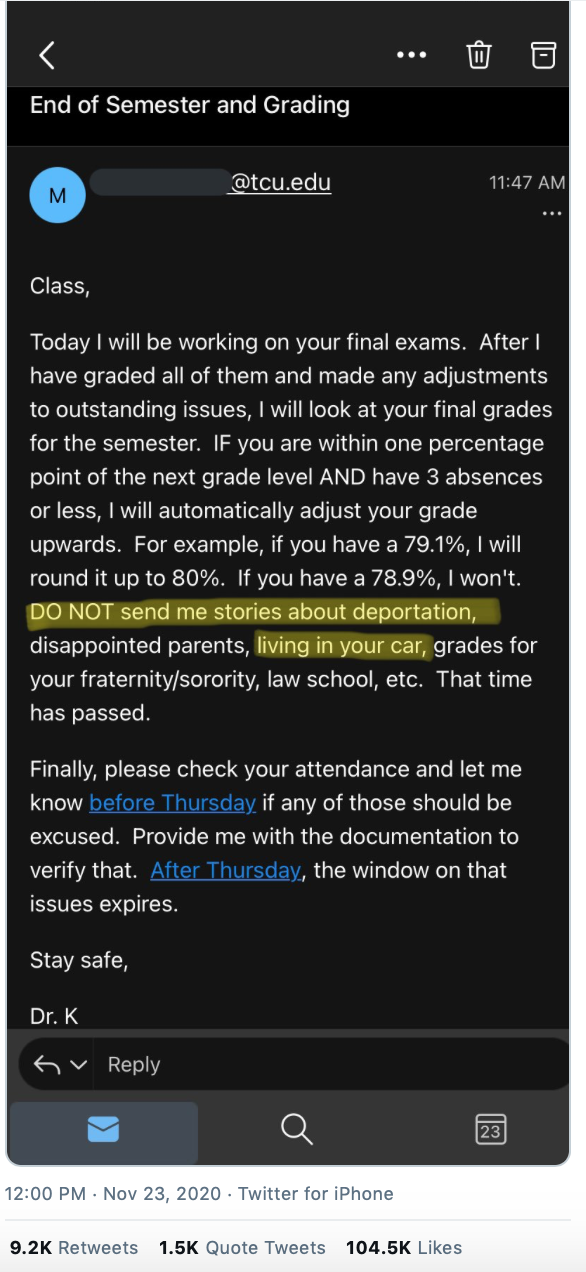 Many on Twitter criticized Kirkland for suggesting that issues such as being deported or homeless were nothing more than excuses to help improve grades.
Later, she sent another email to the class apologizing for her actions.
TCU acknowledged the email on Twitter and announced that Kirkland had apologized.
"We are aware of an email sent by a professor to a class using language that does not reflect our commitment to students. The professor has apologized to the class," it said. "The university remains firm in its efforts to provide dedicated support services and care of our students."
An earlier edition of this story reported that TCU had apologized for the email.