TCU ends conference play with big win over No. 15 Oklahoma State
Just over a month ago, TCU Football was trounced 33-14 by Oklahoma to fall to 1-3 on their season. Some questioned the stability of the program, others doubted the chances of the Frogs making a bowl game and a few even called for head coach Gary Patterson's job.
Oh, how the Frogs have turned things around.
Despite turning the ball over five times, TCU rode 100-yard performances from receivers Derius Davis and Quentin Johnston along with a strong defensive effort to knock off No. 15 Oklahoma State 29-22 on Saturday at Amon G. Carter Stadium.
"I better see some positive articles," Patterson said. "I'm going to tell you guys right now, I don't know how we won that ball game, but we did."
The win moves the Frogs to 5-4 on the season, clinching their first winning record in Big 12 play since 2017.
With just under eight minutes to play in the game, quarterback Max Duggan saw Davis deep down the field and threw him open, connecting with the junior for a 71-yard score that would go on to be the game-winner.
"D. Davis also made a big play," Patterson said. "At the end of the day, to beat good people, somebody's got to make a play."
Typically known for his threat in the return game, Davis finished with a game and career-high 139 yards on the day to go with the score. Johnston added a career-high 114 yards.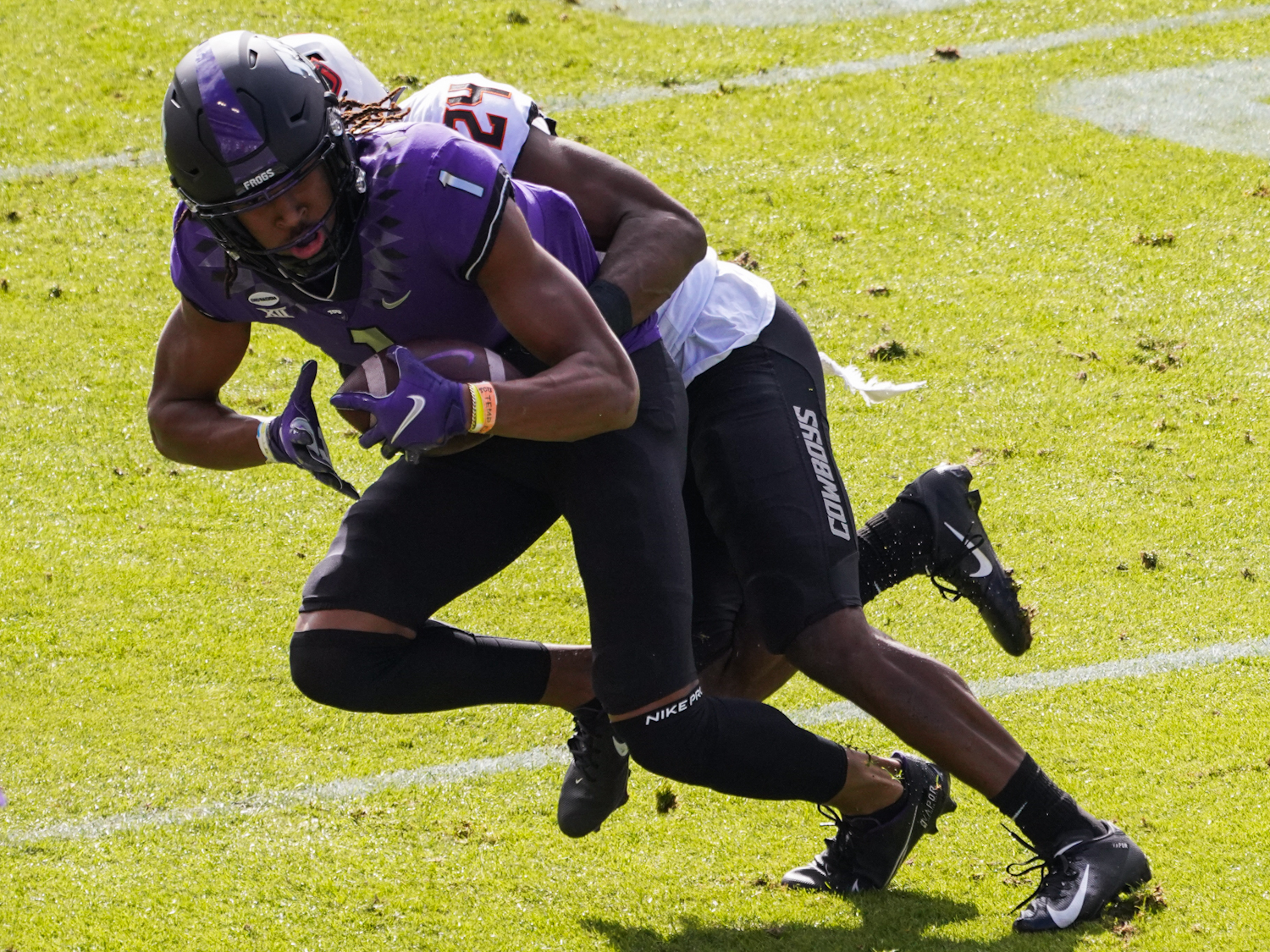 The duo becomes the first pair of TCU pass-catchers to top 100 yards receiving in a game since Nov. 7, 2015, when Shaun Nixon (146) and KaVontae Turpin (107) did the same, also against Oklahoma State.
Though Duggan finished with 102 yards and two scores on the ground, the Frogs' running game almost gave the game away. TCU fumbled four times, each one coming from a different runner.
Oklahoma State was only able to score on one of their possessions following the TCU fumbles. The Pokes were forced to punt nine times on the day.
"They trust each other, and to be honest with you, they've been having a great time," Patterson said of his defense. "When you get to a point when your guys enjoy playing together, good things happen."
It could not have been a more disastrous start for the Frogs. After TCU slowly gained two first downs on their first offensive drive, true freshman running back Zach Evans fumbled, leading to a 42-yard scoop and score for Oklahoma State's Brock Martin to give them an early 7-0 lead.
Two drives later, the Pokes got a touchdown on offense as well, this one courtesy of a one-yard run by running back Dezmon Jackson.
From there, the TCU defense was lights out, holding Oklahoma State to three punts and a missed field goal on their next four drives. Overall, the Pokes were forced to punt five times in the first half alone.
"They bailed us out a lot," Duggan said of the TCU defense. "We put them in some tough positions, and they stood their ground."
It was not until their eighth drive that the Frogs put any points on the board, though. Previous attempts to score had been stifled by poor execution on third down, a missed field goal and a Duggan interception on a miscommunication with tight end Pro Wells.
Finally, with 47 seconds remaining in the first half, Duggan hit Davis over the middle for 31 yards to put TCU on the Oklahoma State one-yard line. Moments later, Duggan took it in himself for his eighth rushing touchdown of the year and the Frogs' first score of the day.
TCU came out of the locker room firing on all cylinders, scoring two quick touchdowns. The first came on 4th-and-1, as Duggan found a gaping hole and took it 42-yards to the house with his legs.
"We just kept on keeping a positive attitude on the sidelines," Davis said of TCU's halftime mindset. "We played a sloppy game, so I give the credit to the defense."
The young signal-caller showed off his arm to set up the second score, dropping a beautiful 46-yard deep ball down the left sideline to true first-year Johnston. Four plays later, Evans redeemed himself with a rushing touchdown to cap a 21-3 run by TCU.
The Frogs would later force yet another missed field goal, but their offense also fumbled two more times, giving the Pokes short-field opportunities.
After being quiet to that point, wide receiver Tylan Wallace re-took the lead for Oklahoma State as the third quarter ended, burning his man and catching a beautifully-thrown ball from Spencer Sanders for a 55-yard score.
TCU was unfazed though, taking the lead on the Duggan-Davis connection a few drives later. The Frogs then scored the two-point conversion on a fade to Johnston to take a seven-point lead they would never relinquish.
"I dropped a touchdown last week, and all week, I was like, 'I gotta make up for it,'" Davis said. "I made up for it and I'm proud."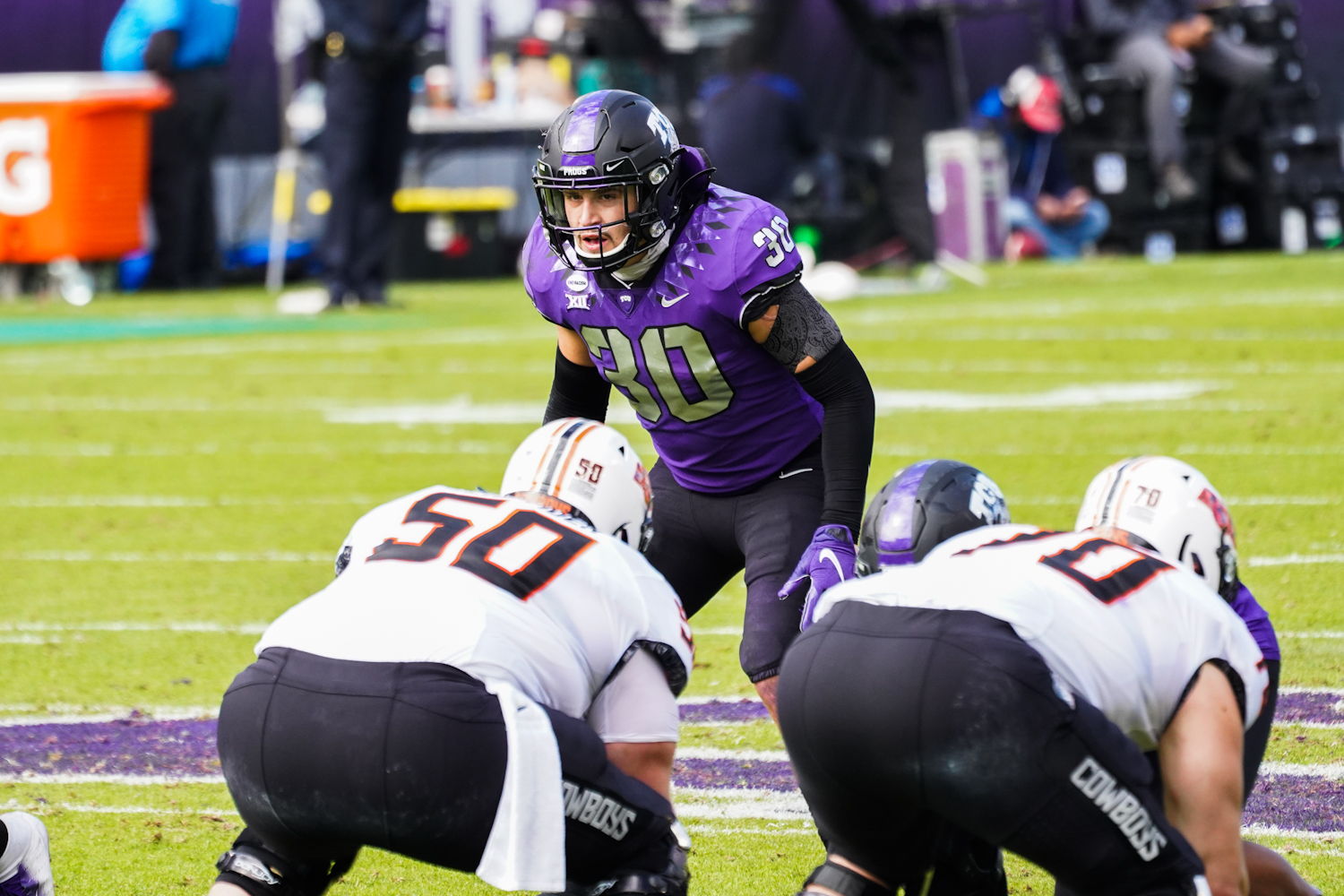 Oklahoma State then knocked on the door of tying the game with four minutes remaining, but safety Trevon Moehrig intercepted Sanders in the end zone to give the ball back to the Frogs.
On his senior day, linebacker Garret Wallow finished with a team-high 11 tackles, including one for a loss, in the contest.
With Big 12 play now complete, TCU will get one more chance at victory before bowl season with a matchup against Louisiana Tech next weekend. Kickoff at Amon G. Carter Stadium is set for Dec. 12 at 6 p.m.