People say, "It's not about how you start, but about how you finish."
That could not be more true about the 2020 TCU Football team. The Frogs have now won five of their last six games after blowing out Louisiana Tech 52-10 at home on Saturday night behind career days from two of their most exciting freshmen.
"The bottom line is: we've gotten better," head coach Gary Patterson said. "I think we've had addition by subtraction. I told the guys in pregame, 'They've grown up.'"
Wide receiver Quentin Johnston had a career-high 133 receiving yards and running back Zach Evans had a career-high 130 rushing yards, as the rookies gave TCU fans more than enough to be excited about for the years to come.
The duo combined for four-straight touchdowns over a span of 15 minutes of play, with both players going for scores of over 75 yards.
"Those guys are good football players," Patterson said of his true freshmen. "You also have to give the offensive line credit for the simple reason [that] you're down to guys who haven't played very much."
On TCU's first play of the second quarter, Johnston fought through pass interference to catch a deep ball from quarterback Max Duggan, leaving his defender in the dust for a 76-yard score.
The freshman then took a bow, seemingly signifying the start of what could be an illustrious career in the purple and white. After totaling 114 yards receiving last week, he became the first TCU player to record 100 yards receiving in consecutive weeks since Josh Doctson did so in six-straight weeks in 2015.
Running back Kendre Miller also showed signs of brilliance in the season-closer of his freshman campaign, putting up a career-high 136 yards on the ground thanks to an 89-yard score near the end of the fourth quarter.
On defense, the Frogs were just as sharp. Cornerback C.J. Ceasar set up two different touchdowns for TCU with a career-high two interceptions. Defensive end Ochaun Mathis collected two of the Frogs' five sacks to extend his team-high to nine on the year.
Patterson referred to Mathis after the game as someone who will be "a force to be reckoned with" in years to come.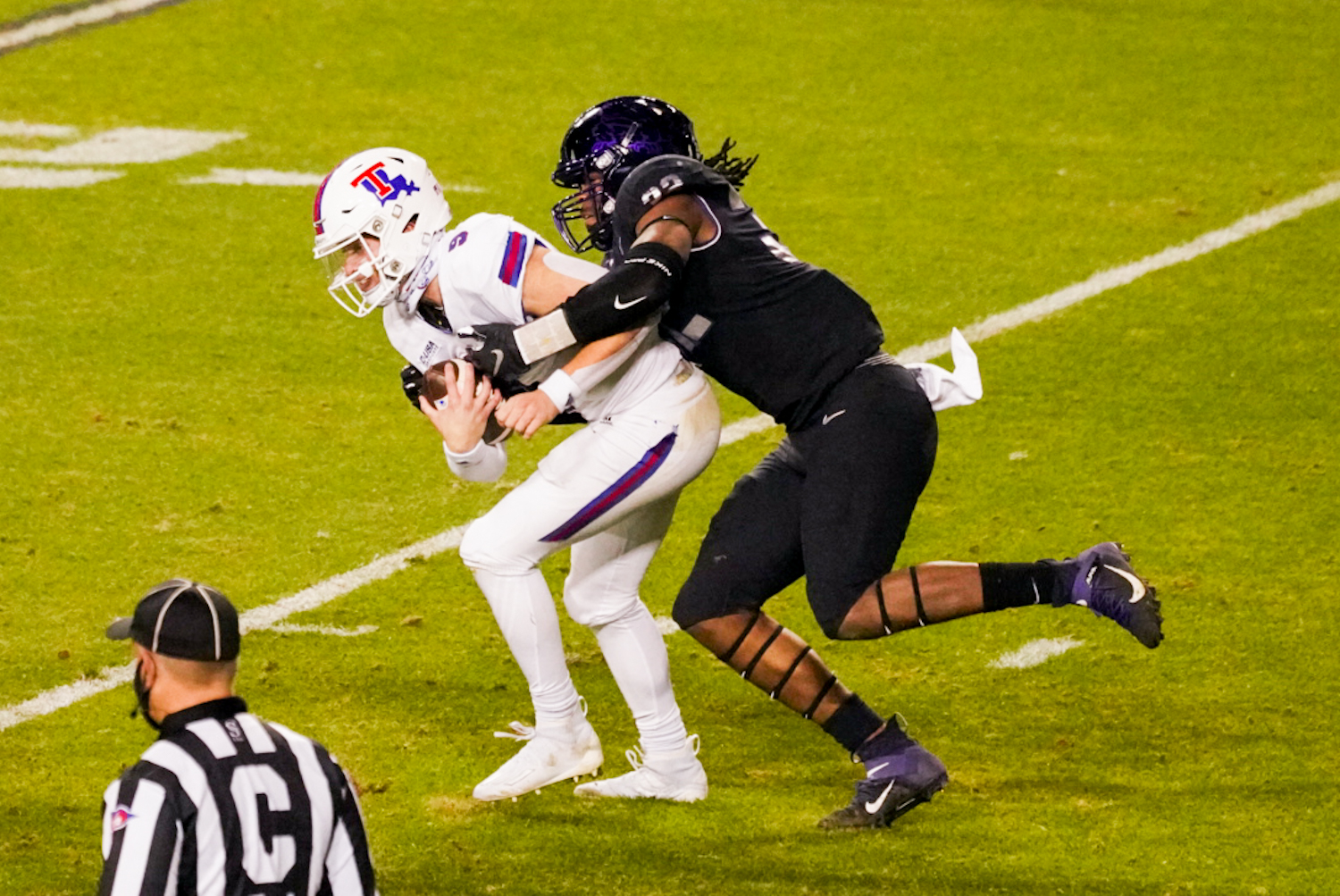 Patterson dug into his bag of tricks on TCU's opening offensive possession and came up empty. The Frogs ran the wildcat with freshman wide receiver Chase Curtis on fourth-and-2 near the Bulldogs goal line, but the play fell apart as soon as it started, resulting in a turnover on downs.
For the rest of the first half, TCU could not have played much better. The Frogs rattled off 31-straight points, shutting out an opponent in the first half for the first time since Nov. 9, 2019, against Baylor.
After the Frogs settled for a field goal on their second drive, Ceasar's first interception put TCU right on Louisiana Tech's doorstep. Two plays later, Duggan scored with his legs from five yards out.
The touchdown was the sophomore's 10th rushing touchdown of the year. He is the first TCU quarterback to rush for double-digit touchdowns since 2016 when Kenny Hill also ran for 10.
Johnston's receiving touchdown came next, followed by a score from Evans, followed by a Johnston score on the ground via the jet sweep.
Before Louisiana Tech could blink, it was halftime, and TCU was up 31-0.
A new half brought more dominance from the Frogs. On the first play of the second half, Evans broke a few tackles and burst down the left sideline for a 75-yard touchdown, throwing up a peace sign as he crossed the goal line.
Ceasar's second pick of the night provided more opportunities for the TCU offense, and Miller took advantage. The running back took a carry 38 yards untouched to the house, capping off a streak of five-straight touchdowns scored by the Frogs.
"It was great for Ceasar because he's been kind of getting picked on," Patterson said. "For him to get a couple picks is kind of a blessing in the positive."
TCU did not bring out Jordy Sandy to punt until there were just under four minutes left in the third quarter and backup Matthew Downing was in at quarterback.
The Bulldogs finally got something going on their first drive of the fourth quarter, marching 83 yards in 14 yards to score their lone touchdown of the day.
From there, TCU tried to run the clock out, but Miller found a hole and took it to the end zone for his second score of the day.
The Frogs finished with 333 yards rushing, leaving little need for a passing game. Nevertheless, Duggan made use of the throws he took, going 10-for-13 for 167 yards and a score.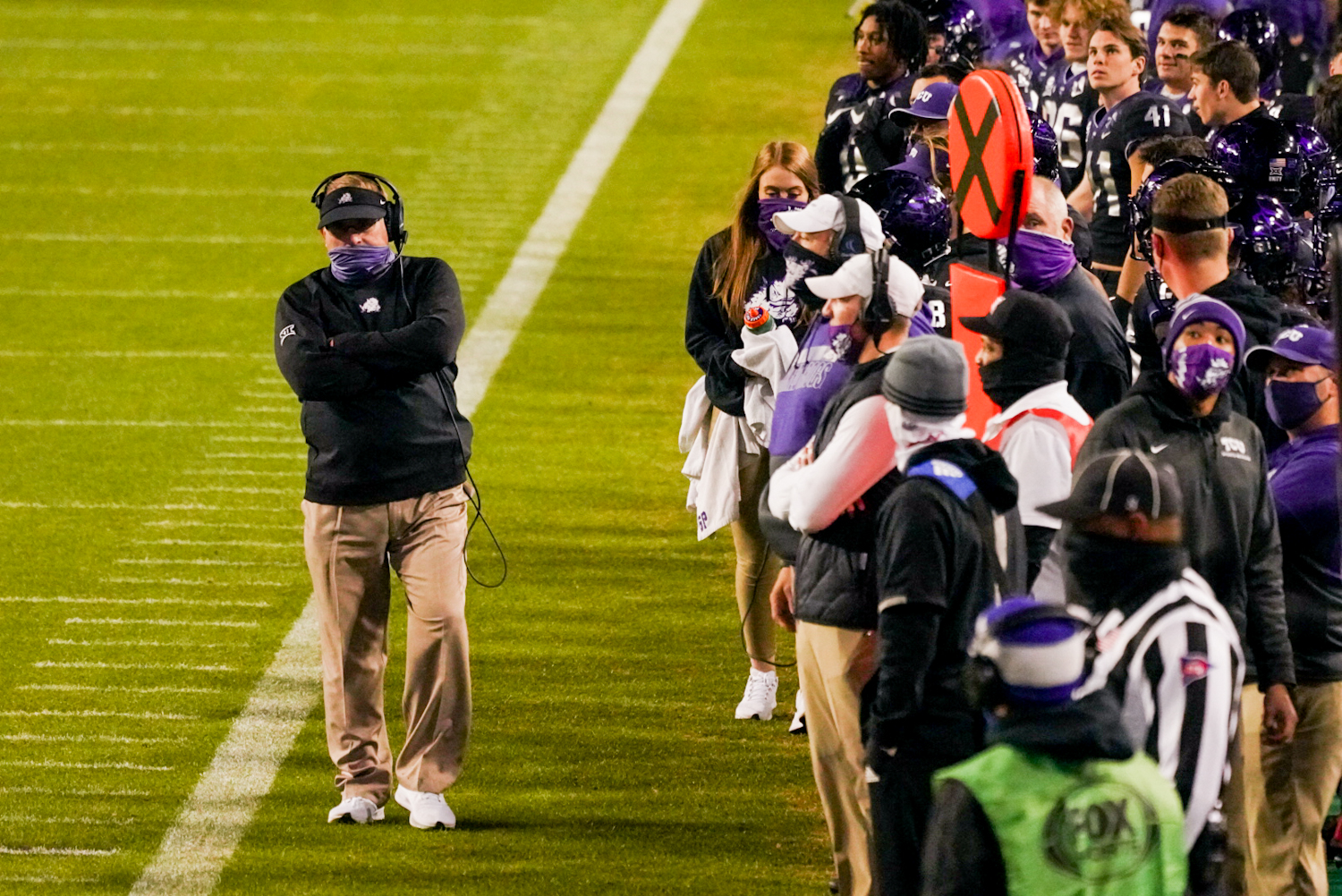 Linebacker Garret Wallow finished with 13 tackles (1.5 of them for a loss), a sack, a quarterback hit and a forced fumble in what will likely be his last home game in a TCU uniform.
The Frogs finish the regular season at 6-4 and fifth in the Big 12. TCU now awaits its bowl selection, which will be decided next Sunday, Dec. 20.
"We have a lot of confidence going in knowing that we won five of the last six games," safety La'Kendrick Van Zandt said of bowl season. "As long as we stay focused as a team, confidence will just come with it."