TCU is moving classes online Monday to avoid making up instruction time with weekend classes.
The university announced Sunday that campus will be closed Monday as snow continues to fall in Fort Worth.
The area is under a winter storm warning until 6 p.m. Monday and is expected to receive between three and six inches of snow.
A release from the university said that all in-person classes that can go online will do so on Monday.
Provost Teresa Abi-Nader Dahlberg wrote in an email to faculty that TCU does not have inclement weather makeup days built into its compressed semester schedule made for the pandemic.
If they were to cancel all classes, the makeup would occur either during the March Spring Refresh or on a weekend.
Faculty have the option to deliver their lectures either at usual class time or at another time that they determine appropriate. Classes will also be recorded for students who are not able to attend.
Other local universities, including Texas Wesleyan and University of Texas at Arlington, have also closed campuses and switched to virtual learning for Monday.
The TCU men's basketball scheduled home game against Texas Tech University Monday is being rescheduled.
Student petition to cancel classes gains over 3500 signatures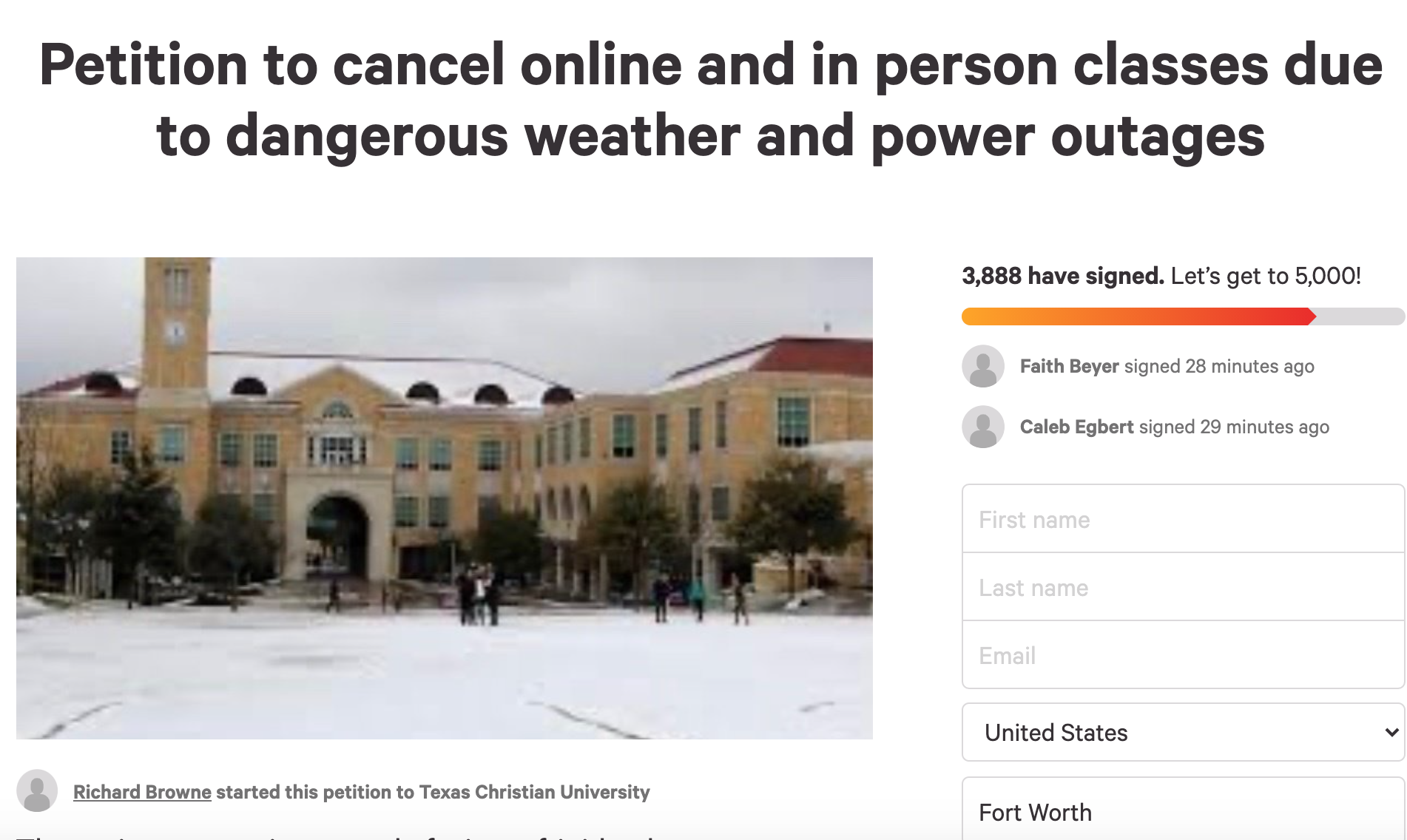 One TCU student's petition for the university to cancel both in-person and virtual classes Monday has gained over 3500 signatures so far.
Richard Browne, a junior finance major, said he decided to start the petition after hearing complaints from his fraternity brothers about WiFi and power outage issues during the storm.
"Obviously when it started snowing and everything that's when everything hit the fan," he said. "I know people [that] not just their WiFi but their power went out."
Browne added that if these outages continue during online learning, students could suffer academically.
"I know people have tests this week and everything and people are just worried about if their network goes down, are they going to be able to make it up or get a bad grade or something like that," he said.
In his petition, Browne wrote that the focus should not be on attending virtual classes when some people are struggling to stay warm and out of danger.
The Electric Reliability Council of Texas (ERCOT) said that they are experiencing record-breaking electric demand across the state as temperatures continue to drop.
"We are experiencing record-breaking electric demand due to the extreme cold temperatures that have gripped Texas," said ERCOT President and CEO Bill Magness in a release. "At the same time, we are dealing with higher-than-normal generation outages due to frozen wind turbines and limited natural gas supplies available to generating units. We are asking Texans to take some simple, safe steps to lower their energy use during this time."
The high demand could lead to rolling power blackouts early this week.
#BREAKING: @ERCOT_ISO, the power grid in Texas, said "rotating outages" could happen Monday and Tuesday bc demand is forecast to outpace supply in the winter storm. "There's certainly a possibility we could have to do rotating outages," said Dan Woodfin, ERCOT.

— Jason Whitely (@JasonWhitely) February 14, 2021
ERCOT is asking Texas residents to reduce their electricity use through things like unplugging non-essential appliances and turning thermostats to 68 degrees.
Browne said that he didn't expect the petition to gain so many signatures and hopes that it is seen as more than a request for an off-day.
"It's not about 'Oh let's just have some extra days off' – there's actually major concerns with people's grades and everything," he said. "I'm just trying to make sure the whole system is correct."
Shortly after he spoke with TCU360, the university announced that classes would be virtual Monday. He plans to email his professor to ensure he doesn't get logged out of an online test due to outages Monday.
Snowfall expected to continue through the night
Wind chill numbers are expected to fall into the negatives Sunday night as a major winter storm makes its way through DFW.
TCU students woke up to snow on the ground Sunday morning and it continued for most of the day. There is none in the forecast for Monday, but the high temperature is projected to be just 19 degrees.
Read more: Icy conditions cause havoc in the Metroplex
Another snow is projected for Tuesday night into Wednesday morning and below freezing temperatures are looking likely until Friday.