Updated Feb. 16 2:20 p.m.
Many students living off-campus are still without power today.
Students last night were able to sleep in the campus recreation center and eat in Market Square today.
Kathy Cavins-Tull, Vice Chancellors for Student Affairs, e-mailed students saying they are extending the rec to be a shelter for off-campus students Tuesday night.
The e-mail said to gain access after 11 p.m. students will need to call TCU police.
Market Square will also have reduced hours, but is committed to feeding all students.
Pipes are also beginning to burst in off-campus living situations. Students are going different places to seek shelter.
Updated 10:20 p.m.
All in-person and virtual classes have been cancelled Tuesday and Wednesday as power outage issues continue to affect the TCU community.
The cancellations were announced in an email alert.
"We are continuing to closely monitor the weather and power conditions; current plans for the remainder of the week are subject to change and will be communicated on a daily basis," the email said.
Wednesday classes will need to be made up either on a weekend or during the March Spring Refresh. Tuesday classes will not have to be rescheduled, unless they only occur once a week.
TCU had previously planned to online-only learning through Thursday in an attempt to avoid rescheduling instruction time.
Updated 5:30 p.m.
With many students off-campus still without power Monday afternoon, TCU made plans for them to weather the storm on campus
Michael Russel, Dean of Campus Life, e-mailed students, giving them the option to spend the night in the campus recreation center.
Students must register by 6:30 pm to secure their spot.
While there are not any beds, Russel wrote they "currently have heat, shower facilities and WiFi internet."
Students are told to bring toiletries, a sleeping bag or blanket, chargers and snacks. They will provide towels for showers.
Tomorrow students will be allowed to eat in Market Square.
Earlier in the day, TCU pivoted to online learning through Thursday after scattered power outages and winter weather left students and faculty scrambling.
The campus will remain closed until 8 a.m. Friday, but virtual learning will continue in an attempt to avoid makeup days, the university announced in a release.
The announcement came as other local universities, including SMU and Texas Wesleyan, cancelled all in-person and virtual classes Monday.
Fort Worth Independent School District has also cancelled all in-person and virtual classes Tuesday and Wednesday.
More winter weather is expected for North Texas. A wind chill warning is in effect until Tuesday and another round of snow is projected to fall late Tuesday night and into Wednesday.
The second winter storm warning of the last week will take effect at 6 p.m. Tuesday.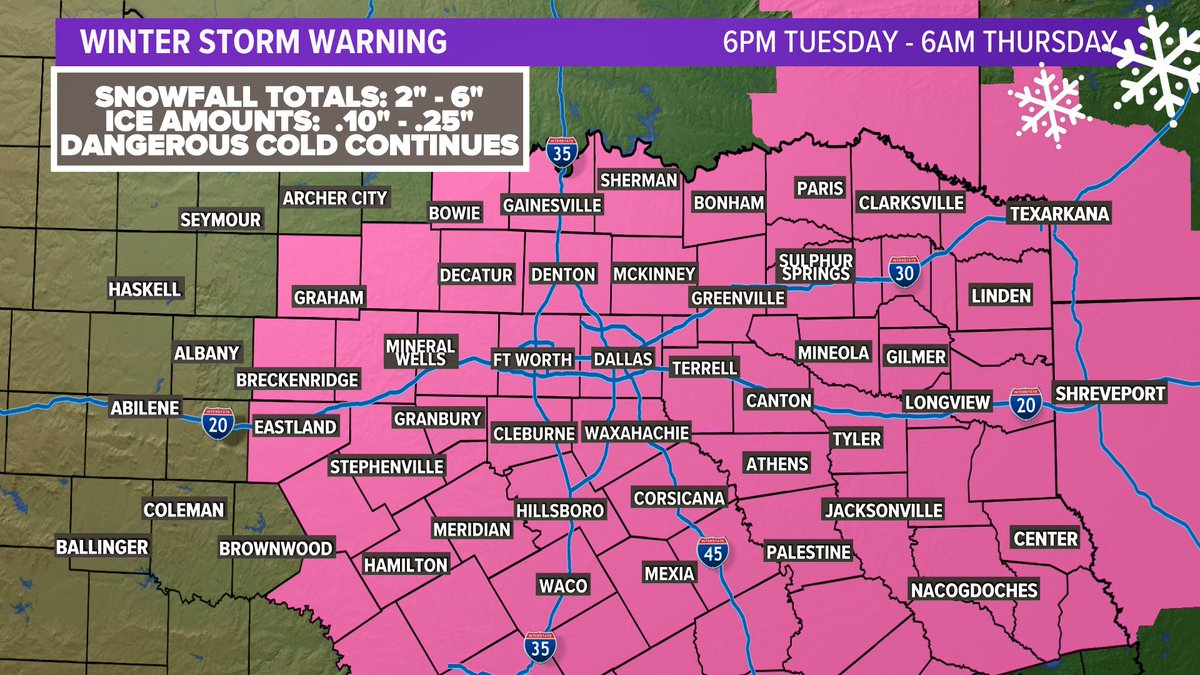 TCU described the weather as "unprecedented" for Texas.
Class instruction will be "flexible" and faculty have been asked to teach asynchronously if possible. If they still choose to hold lectures at class time, they will be recorded.
All exams scheduled for this week have been postponed.
The University Recreation Center will remain open by appointment and updated dining hours will be posted on the university dining website.
Power outages affect TCU community Monday
The announcement comes as cities across Texas are experiencing power outages as the electric grid struggles to meet the demand for electricity brought on by the freezing temperatures.
Oncor, which provides power for TCU and the surrounding area, has reported over 3,600 affected customers in the 76109 area code.
EMERGENCY UPDATE: The TX power system is currently facing an unprecedented shortfall of electric generation. @ERCOT_ISO has requested Oncor & utilities across TX to implement controlled power outages to reduce high demand & protect the integrity of the electric grid. (1/3)

— Oncor (@oncor) February 15, 2021
We are asking all Oncor customers to be prepared to be without power for an extended period of time. (3/3) https://t.co/AcUFYPhA4n

— Oncor (@oncor) February 15, 2021
The Electric Reliability Council of Texas (ERCOT), which manages the state's power grid, entered emergency conditions and began rolling blackouts shortly after midnight Monday.
"Every grid operator and every electric company is fighting to restore power right now," said ERCOT President and CEO Bill Magness in a release.
Initially, Oncor warned people to be prepared for 15 minute to 45 minute rolling outages. It has since said to expect that time range to be "significantly extended" and warned customers that they could last hours.
Some TCU students reported losing power in the early hours of the morning and still not having it back by the early afternoon.
An Oncor representative said that due to the overflow of media and customer inquiries, all updates on outages and restoration will be made on its Twitter account.
GrandMarc, an apartment complex located on the corner of West Berry and West Bowie streets, lost power this morning and it has not returned.
Senior Ashley Parks, a writing and theatre double major who lives in GrandMarc, said her professor excused her from class due to the outages.
"The power is out in the entirety of GrandMarc and most people I know don't have power," she said.
The university said that students who need a place to warm up can go to the Brown Lupton University Union (BLUU) or the King Family Commons.
Power outages across Texas have impacted more than 1.2 million people and the numbers continue to rise, according to Oncor.