Fraternity's annual philanthropy event will look different this year due to COVID-19
A TCU fraternity is moving its philanthropy fundraiser online, but organizers are hopeful the change in venue won't reduce the level of campus support.
Pi Kappa Phi will be hosting its annual "Pi Kapp Push" event virtually later this week, with all proceeds going to the Ability Experience. The Ability Experience is an organization started by the national fraternity that develops programming to support those with disabilities.
The TCU chapter has historically been one of the top fundraisers in the country. Earlier this month, the chapter was recognized as top fundraisers of a Pi Kappa Phi chapter last year, annually raising around $50,000.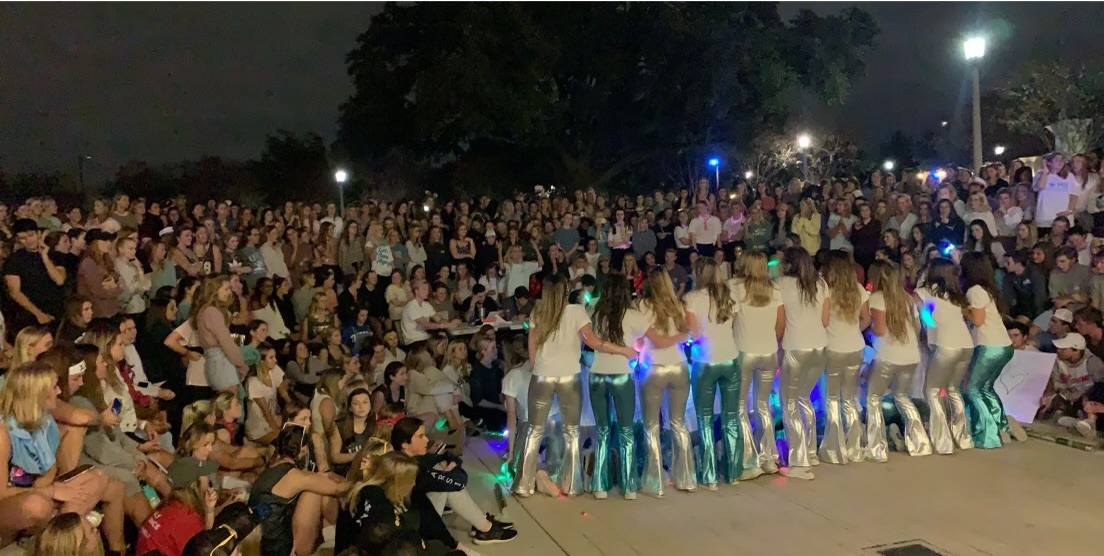 The annual event is supported by the 12 Panhellenic sororities whose members work with a Pi Kappa Phi member to choreograph a dance and song that relates to the Ability Experience. Last year 600 students gathered at King Family Commons and cheered on the performances. This year because of COVID-19 restrictions, everything is pre-recorded.
"It was a lot of meetings both with IFC and individuals within our chapter who have been working on Push Week with me to brainstorm and get everything worked out," said Andrew Corsini, sophomore accounting major and Pi Kappa Phi philanthropy chair.
He described the transition as not too difficult, but definitely time consuming.
Amra Barton, a first-year nursing major, said, "Raising money has been very difficult but extremely rewarding at the same time."
She also added PKP practice has been great so far and she is excited for what is still to come.
Instead of gathering at KFC, starting Wednesday, students can go to the fraternity's Instagram account to view and "like" performances, which will be posted for 24 hours.
The virtual event will also include a trivia portion on Thursday night. The fraternity will be on Instagram live with sororities, with each correct answer adding to their scores.
Sorority members are also encouraged to fundraise for this event. The more each sorority raises, the more points are added to the sorority's tally.
Donations can also be made through the Classy fundraising page and through checks and Venmo payments. Pi Kapp Push has become the chapter's main fundraising event.
Corsini is confident this level of fundraising will continue despite the virtual challenge.
With this year's Pi Kapp Push event altered, Pi Kappa Phi hopes the spirit given and money raised for the Ability Experience won't be.