U.S. rushes to meet Biden's COVID-19 vaccination goal
As COVID-19 cases in American begin to stabilize, states across the country are planning to open vaccine appointments to all adults in March or April.
Twenty states have already committed to opening these appointments as the country races to meet Biden's plan of universal eligibility by May 1, according to The New York Times.
Vaccinations have increased to around 2.5 million shots every day, but with business restrictions being lifted and infection levels at plateau, there are still many states that have not seen a decrease in cases.
No vaccine has been authorized for use on those 16 and under. There are currently trials taking place to determine if the vaccinations are effective and safe for children.
Since vaccinations began in December, the government has distributed more than 154 million vaccine doses, about 77% of which have been administered, according to the Centers for Disease Control and Prevention.
Biden and Harris visit Atlanta as spa shooting victims are identified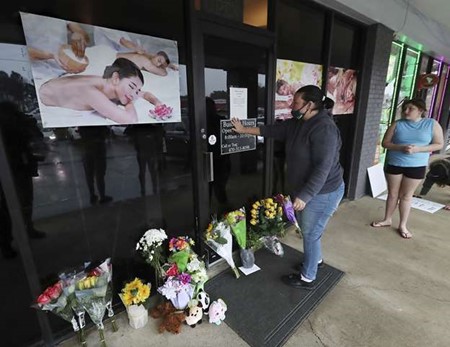 The Fulton County Medical Examiner's Office performed autopsies on all four victims on Wednesday, according to the Associated Press.
The four victims were identified as Soon C. Park, 74; Hyun J. Grant, 51; Suncha Kim, 69; and Yong A. Yue, 63. All died from gunshot wounds to the head except for Kim, who died from a gunshot wound to her chest.
A 21-year-old white man, Robert Aaron Long, is charged with the murders. He is also accused of killing four people and wounding a fifth at Young's Asian Massage Parlor.
Atlanta police continue to investigate the shootings, and when asked if the shooting would be considered a hate crime, Atlanta Police Chief Charles Hampton Jr. replied saying that "nothing is off the table," according to AP.
Biden and Harris had previously scheduled to travel to Atlanta to publicize the 1.9 trillion COVID relief bill, but the trip has a new purpose amid tensions after the deadly shooting.
Biden and Harris will meet with Asian American leaders to discuss the crimes against their community.
CDC relieves distance requirements in schools from 6 to 3 feet
The Centers for Disease Control and Prevention on Friday changed physical distancing requirements for school children from 6 feet to 3 feet, according to NBC News.
This change is meant to allow more students to be in the classrooms. The physical distancing requirement, however, is not changed for teachers and adult staff. Teachers and adult school staff are still required to maintain the 6 feet guidelines and wear face coverings.
The new guidelines apply to middle school and high school students unless they are in an area where COVID-19 is spreading rapidly.
For all students, physical distancing of 6 feet is still required for activities where masks cannot be worn, like at lunchtime and during choir, band or sports practices. It is recommended these activities take place outdoors or in a large, well-ventilated space.
While the 3 feet guidance is limited to children in school, there is not any scientific evidence to suggest that reducing distancing guidelines would be safe or effective for adults.