Race & Reconciliation chair hopes upcoming hip hop masterclass can provide perspective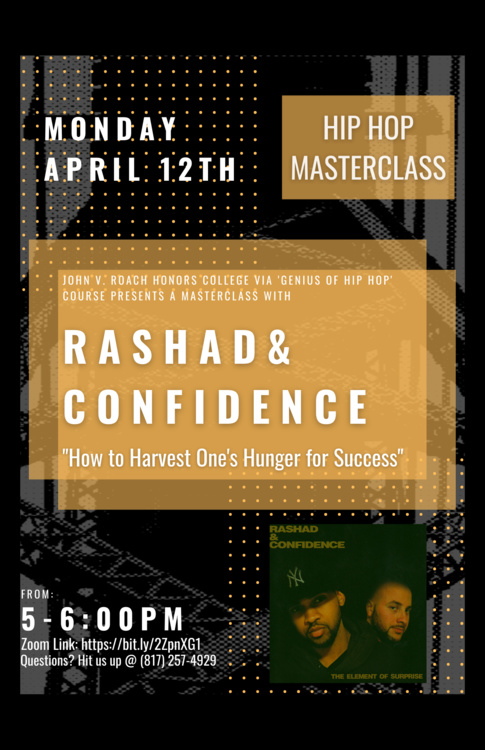 An upcoming campus event is looking to use hip hop music to educate students and show them a unique perspective.
The event, billed as a 'hip hop masterclass' will feature two longtime connoisseurs of the hip-hop game, Rashad & Confidence.
It is sponsored by the John V. Roach Honors College and put together by Dr. Frederick Gooding, the chair of the Race & Reconciliation Initiative (RRI), and his undergraduate research assistant Steven Mendoza.
Gooding, who is also an Associate Professor of African American studies, said he wants the event to expose students to the message of underground hip-hop.
"The tracks that you listen to, they are substantive, they're talking about meaningful issues, the struggle of life. This is what we want to capture and educate people about," he said. "The real stuff is largely underground, you have to know where to look and listen, and that's what we're trying to expose."
Beyond this message, Dr. Gooding said the event will help students to "understand how hip-hop fosters a true understanding of one's humanity, dignity and respect."
Rashad and Confidence are going to take about their lives and how they create music at the event.
Gooding wants the event, like his honors course on hip hop, to go beyond the surface and look at what the songs are meant to do.
An RRI connection
Gooding also sees the connection between hip hop music and the ongoing RRI efforts at TCU.
"In a larger sense, they [race and reconciliation] are connected," Gooding said. "The idea is that, in order for us to reconcile, we have to acknowledge that there are many members of our community with different perspectives, and I think that the hip-hop perspectives brings to bear a critical perspective."
This perspective, he said, should help community members accept each other for who they are.
"This idea that you should accept me the way I am and as I come are very powerful messages in hip-hop that can hopefully resonate across campus," he said.
Gooding emphasized that there is more than one way to communicate a message, and if people want to join in and understand hip-hop it may be one step closer to reconciliation, in terms of "understanding that there are many people who do appreciate hip-hop, and that depend on hip-hop."
The masterclass will be held from 5 p.m. to 6 p.m. April 12. For the link to the event, click here.