Over 2,000 TCU students, faculty and staff received a COVID-19 vaccine last week and more doses are on the way.
Roughly 36% of the campus community has now been given at least one dose of either the Pfizer, Moderna or Johnson and Johnson vaccine.
Chancellor Victor Boschini has said that the university may be able to reach herd immunity if more than 70% are fully vaccinated.
4,471 vaccines had been reported on the university dashboard as of Tuesday April 13.
A majority of the 2,024 doses given out last week came at a walk-up clinic at Among G. Carter Stadium.
TCU nursing students administered 1,335 doses of the single-shot Johnson and Johnson vaccine at the clinic.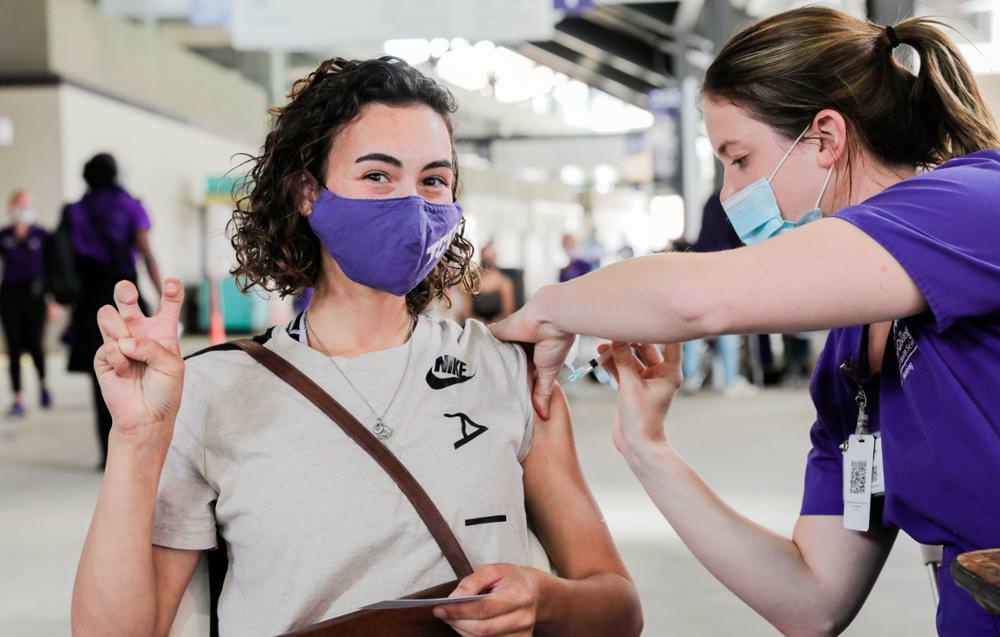 Senior nursing major Bailey Cook participated in the clinic and gave out shots throughout the afternoon of April 6.
"I really appreciated this clinic in particular because I really enjoyed vaccinating people my own age who were also college students," she said. "I think being on a college campus, being able to be vaccinated and have that freedom is really nice."
Cook added that she was excited to see so many students eager to receive a vaccine and felt honored to be administering them.
"For the school being able to trust me to give vaccinations to students is really powerful," she said. "I love TCU so much and it's an honor really to be able to do it."
Medical director of the Brown-Lupton Health Center Dr. Jane Torgerson echoed Cook's enthusiasm.
"We are encouraged by the growing number of campus members who are reporting that they have received the COVID-19 vaccine and that our COVID-19 case count remains low," she said. "We are also pleased to receive additional vaccine allotments, and are extremely grateful to our students and faculty for volunteering their time to administer vaccines and help at the clinics."
Torgerson believes that TCU will reach a level of immunity that will help the university manage the pandemic.
Six days after the clinic, the FDA and CDC recommended a pause in the administration of Johnson and Johnson vaccines.
The recommendation came amid reports of rare blood clots from six people who have received the vaccine in the U.S. More than 6 million doses of the shot have already been administered.
The agencies advised anyone who develops severe headaches, abdominal pain, leg pain, or shortness of breath within three weeks of their vaccine to contact a healthcare provider.
Pfizer clinic planned Wednesday
TCU will continue to administer vaccines to the campus community Wednesday.
The university received a limited allocation of the Pfizer vaccine and will be giving them out at the Recreation Center.
Those who receive their first dose will schedule their second for Saturday May 1 or a date around then.
Community members will be required to present a valid ID and can sign up for a time slot here.