As the women's basketball team takes the court, purple and silver pom poms glitter under the lights of the Schollmaier Arena as a voice from the stands yells, "Let's go Frogs!"
This fan is one of TCU's biggest. Katherine Knapp, 29, is at most games cheering on the Frogs. She doesn't attend games because she is a student or alumna, but rather because TCU is where she feels accepted and most at home.
"Katherine is a loyal fan who has been there for us in the great and not so great moments," said Raegan Pebley, the TCU Women's Basketball head coach.
Pebley said she noticed Knapp in 2014, the year Pebley first coached the Frogs. After one game, Pebley said she went to introduce herself to Katherine and that led to the start of their relationship.
Horned Frog legacy
Kyle Knapp, Katherine's father and a TCU graduate, has taken her to games for as long as she can remember. It started as a shared interest, but quickly grew into a personal passion.
"I love TCU because of the Frog Fam environment," said Katherine. "Everyone is so accepting of one another and always has an open mind."
One member of the Frog Fam who has always been accepting of Katherine is Pebley.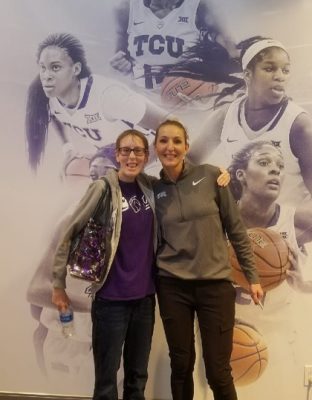 That acceptance is important to Katherine, who is autistic. She also has anxiety that is often triggered by loud noises and large environments, said her mother, Ramona Knapp.
Pebley said she noticed Katherine would cover her ears during the game and sometimes had to leave the gym.
Once Katherine's family explained what was happening, Peably asked if it would help her adjust if she had more exposure to the noise.
That is when Katherine transitioned from a fan to a member of the basketball team.
At first, the women's basketball team invited Katherine to a few of their practices to get used to the noises like the buzzer. By the end of the 2014-15 season, Katherine was one of the team managers. 
"Katherine was a great manager because she wants to serve anyone she can," said Pebley. "She is never looking for any credit."
The tasks that came with being the basketball manager helped establish new confidence in Katherine, Pebley said. Her newfound confidence made Katherine a better fan of not only basketball but also other TCU sports like volleyball. 
Ramona said she is thankful for how friendly and accepting TCU has been of Katherine.
"Her relationship with the women's basketball team has also helped her mature," said Ramona.
The athletic events at TCU "create a new outlet for socialization," she added. 
Being a true Frog fan, Katherine refuses to choose her favorite sport but does say she has the most fun at TCU football and basketball games. 
A sports background
Growing up, Katherine said she was always involved in sports because she is "a very athletic person."
She still participates in several different sports through an organization called Super Kids.
In 2015, Katherine was awarded the Frog Fam Award. This is an annual honor voted on by the women's basketball team, to a fan, for supporting the team during the season, said Pebley.
Katherine was recognized because "she allows herself to be uncomfortable to allow herself and other people around her to grow," said Pebley.
Katherine said two of her biggest role models are Elena Delle Donne, a WNBA player and Dr.Temple Grandin, both for the way they bring awareness to autism. Pebley said Katherine does the same thing.  
"Katherine is a light," she said. "She is a light in the way she spreads awareness for autism." 
Katherine is not TCU's biggest fan because of their athletic program, she is TCU's biggest fan because of people like Pebley. The acceptance Katherine has felt from the Horned Frog community is why she continues to be the loudest fan in the stands.