Everyone knows that if you get in a close fight with a bear, your chances of making it out alive are slim to none.
Well, TCU football got in a fight with a bear on Saturday at Amon G. Carter Stadium, and it took a pair of elite performances to get the team out alive by the hairs on its chin.
Riding on the backs of running back Zach Evans and wide receiver Quentin Johnston, the Frogs narrowly slipped by the California Golden Bears with a 34-32 win to improve TCU to 2-0 on the season.
"We'll take it," head coach Gary Patterson said of the close win. "It's hard to be 2-0."
Harnessing the 5-star potential that got him offers from schools like Alabama and LSU, Evans had his best game since coming to Fort Worth, scampering for 190 yards and a touchdown on 22 carries.
The sophomore's yards and carry totals were both career highs, as he rushed for the most yards by a TCU player since Sewo Olonilua totaled 194 also against California in the 2018 Cheez-It Bowl.
"He [Evans] must be a terrible back," Patterson joked. "I've been waiting all summer to say that. I've watched these rankings coming out on social media, and they have him ranked fifth or sixth and I'm just like 'Really?' But let them keep talking like that. We'll just keep running him."
After leading the team with 22.1 yards per catch as a first-year, Johnston displayed his potential to be one of the best wideouts in the Big 12 with five catches for 95 yards and two scores.
Evans' score had come as a saving grace for the TCU offense, as he burst 51 yards to the end zone with 11 seconds remaining in the first half to pull the Frogs within five before the break.
"I feel like it was tremendous," Evans said of his score. "I think we were down two touchdowns. They [California] had just scored. Scoring right before the half let the O-line keep some hope [and] stay true to the run game."
Prior to that score, the TCU offense had been staler than week-old bread.
Midway through the second quarter, facing a third-and-long, TCU quarterback Max Duggan threw a pass right into the hands of California's Daniel Scott, who waltzed into the end zone for a pick-six.
At that moment, the Golden Bears had out-gained TCU 175-36 in yards of total offense, and the Frogs were facing a daunting 12-0 deficit in front of their home crowd.
Led by its stars, TCU then popped off on a 21-7 run capped by an 18-yard touchdown pass from Duggan to Johnston to give the Frogs their first lead of the day (21-19) with 8:43 left to play in the third quarter.
During that time, the Frogs out-gained the Golden Bears 253-82 in yards of total offense.
"It's an older offense," Patterson said. "They started slow today. The thing I liked best is when they needed to get it done, they did."
Johnston's second touchdown was even more clutch and impressive than his first, as he caught a short curl from Duggan and stiff-armed his way 45 yards to the house to help the Frogs regain the lead in the fourth quarter following another score by the Golden Bears.
"It was all in the spur of the moment," Johnston said of the score. "We needed a big play, and I was there to make it."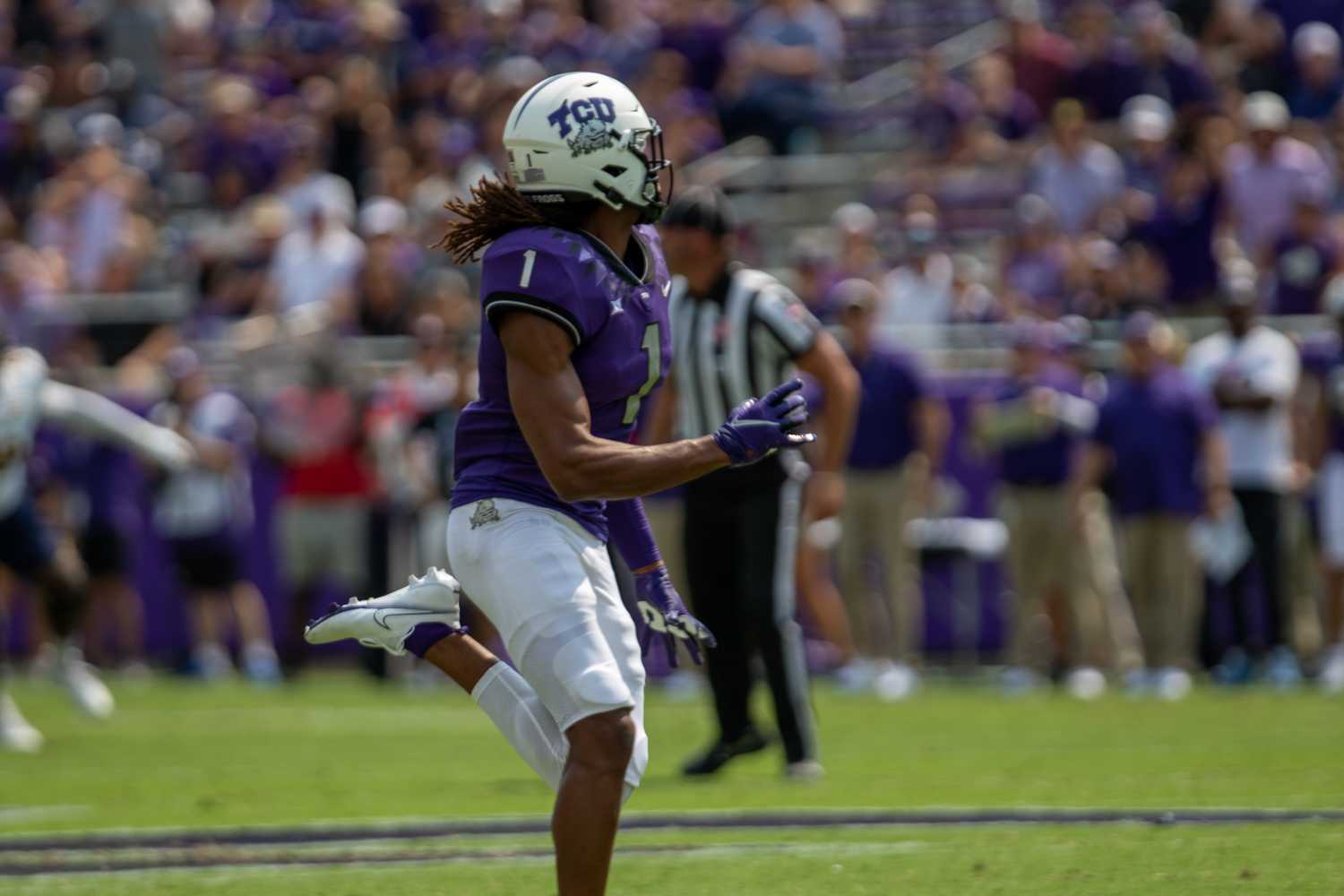 From there, a nine-yard touchdown run by Duggan and a stop on California's late two-point conversion attempt was enough for TCU to hold on for the win.
Duggan finished 17-for-31 for 234 yards, three touchdowns, and a pick through the air along with 71 yards and a score on the ground.
The quarterback was almost automatic from inside 15-20 yards in the contest, but he had missed his receivers on the four or five deep passes he had attempted.
"Obviously, I need to be better on the downfield throws, because I missed a lot of them," Duggan said. "It really hurt us in times, and it would've helped us if I had hit them."
Defensively, TCU had struggled most in the secondary, as the team continues to miss the presence of senior cornerback Noah Daniels.
California quarterback Chase Garbers completed five passes of 28 yards or more in the game, three of which went to receivers guarded by TCU cornerback CJ Ceasar II.
Patterson said that Ceasar II will continue to play in Daniels' place until the talented corner can return from injury.
Garbers finished 16-for-27 with 309 yards and two touchdowns in the game, 241 yards and one touchdown of which came on those five big plays.
The win improves Patterson to 8-0 all-time as a head coach against Pac-12 opponents.
Perhaps at a perfect time, TCU's one bye week of the season has now arrived, as they have the next two weeks off from playing. The Frogs will take on cross-town rival SMU at home on Sept. 25.