TCU students received an email asking them to gather in the Campus Commons at midnight for the "TCU Christmas tree unlighting ceremony." At least 150 students gathered in The Commons, said TCU police officer Kevin Fitchett.
The email was sent hours before the official, annual Christmas tree lighting event.
"Think tree lighting, but wild," the email said.
Interim Police Chief Robert Rangel thanked the students who alerted police to the email: "You proved the best way to increase the safety and security of the campus community is to report suspicious activity before a crime can be committed."
"I've never seen someone say they were going to unlight the tree just because so many people love the Christmas tree lighting," said senior Timmy Duddley.
Worried that the campus tree could be damaged, TCU police stationed multiple officers around The Commons as students started flooding into the area.
"Everyone was a little cautious about it because it was kind of a very random unofficial email," said senior Ryan Williams.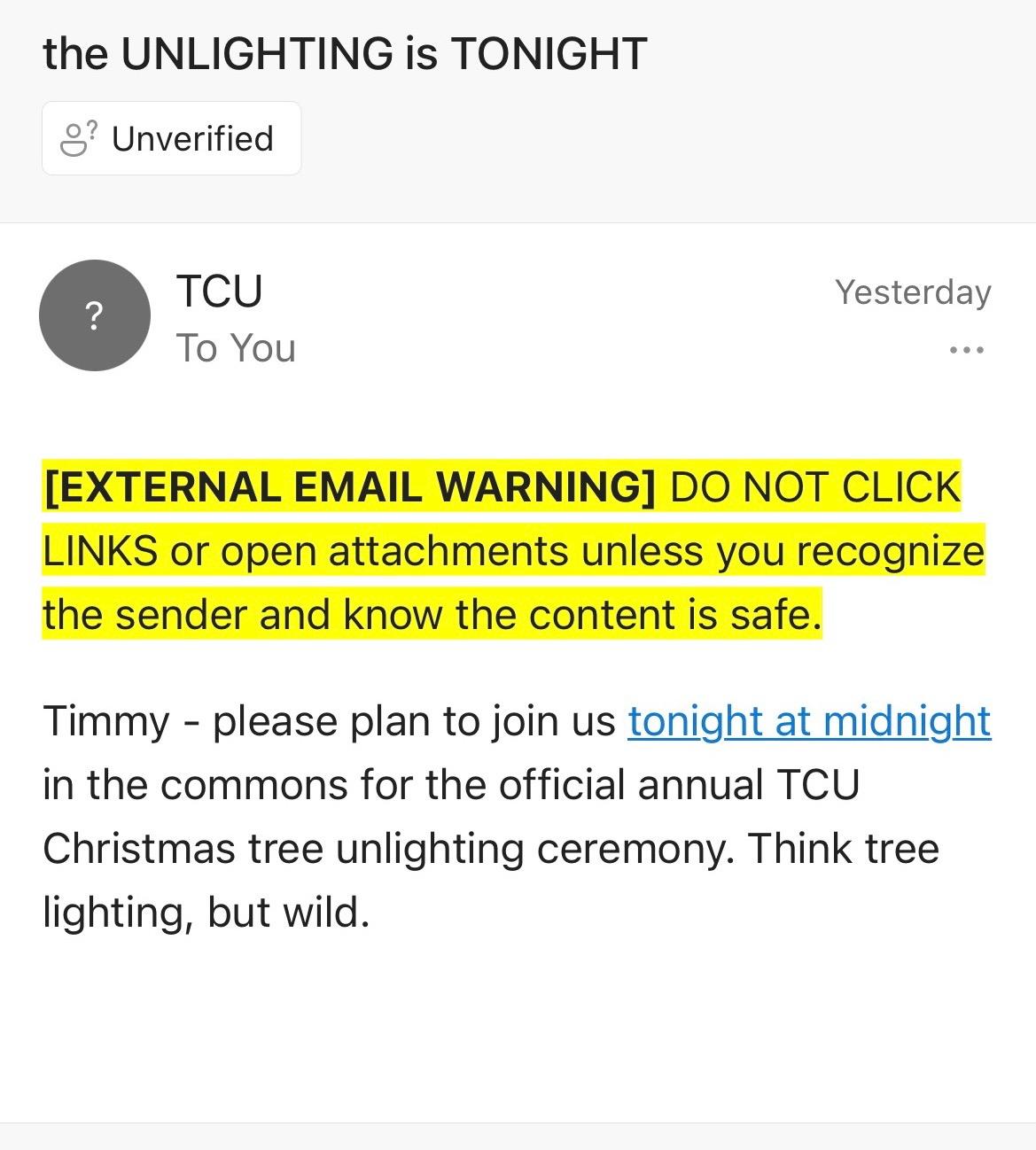 Some students attended the gathering thinking it was an official TCU event.
"I thought it was official TCU business judging by the sender," said junior Jack Johnson. "It was just marked as 'TCU' so I was under the assumption that it was an official school event."
Others were more skeptical of the event but chose to attend anyway.
"I honestly thought it was fake," said Emily Platon, a senior Music Education major, "But, since it's my senior year, I just want to do everything I can to live it to the fullest."
But when the clock struck midnight the lights remained lit, and a circle of spirited students formed around the Christmas tree where they sang Christmas carols.
"We counted down and the tree stayed lit there was no actual unlighting," said senior Merritt Coleman.
Aside from some students swiping an ornament from the tree, the event was uneventful.
"I can't say I really expected anything in particular, maybe something a little more diabolical than what actually transpired," said junior Jack Johnson.
Fitchett said the students did not cause any trouble and were "very friendly." Some even asked him to take photos with them, he said.
"But, again, they were so happy and giddy who knows what they would have done if we weren't there," Fitchett said.
TCU Police traced the email asking TCU students to attend the "unlighting" of the tree. Those responsible face criminal charges and administrative sanctions for violations of the Student Code of Conduct among other school policy violations, Rangel wrote in a campuswide email.