Texans head to the polls today to cast their votes in the Republican and Democratic primary elections. Please check back for Politifrog's ongoing coverage throughout the day and night.
5:00 p.m.: Tarrant County voters reflect on the importance of voting in midterm primaries
Reporting by Sarah Crispi
Texas has a history of struggling with voter turnout compared to other states. Every year, the state ranks near the bottom of the nation's electoral participation, according to the Texas Tribune.
The turnout drops even lower during non-presidential elections, according to the 2018 Texas Civic Health Index.
"I don't think people realize that voting for the local government is just as important as voting for the president," said Kinsey from Overton Park, located in Fort Worth TX.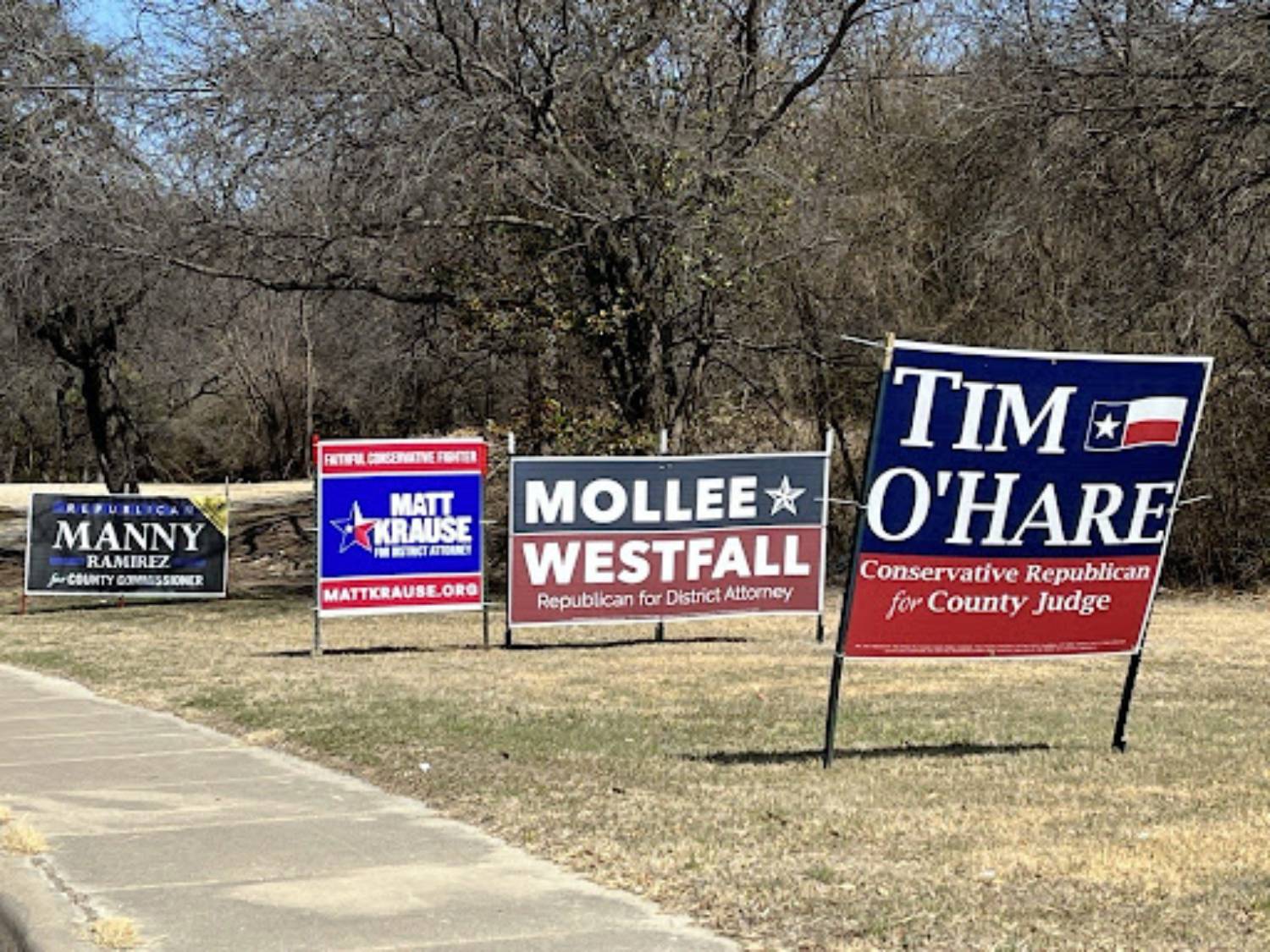 After early voting in Texas for the 2022 Midterm Primary, only 9.6% of 17.2 million registered voters, according to the Texas Tribune. 
Low turnout in Texas is also tied to demographics such as age and race. Voters under 40 are less likely to cast a ballot for the midterm primary election, according to the Texas Tribune.
Texas is a young state, claiming the third-lowest median age in the country, according to the Texas Tribune. Older Texans are more likely to vote for both presidential and non-presidential elections, said Kinsey.
The reason most people don't vote is that they don't know who the candidates are or their policies, said EJ, who would only give his initials for privacy. "Especially for younger people, this is not high on their list of priorities, but it should be," said EJ. 
Voters who are 65 or older have the highest turnout rates in the state, followed by voters aged 45 to 64, according to the Texas Tribune.
"There is always a bigger turnout for the presidential election because people need to be excited to vote," said EJ. "If the people aren't excited, they won't vote."
2:30 p.m.: Local activists promote their candidates
Reporting by Lys Marquez, Mattie Elder
Many people stood outside Tanglewood Elementary School this afternoon to campaign and encourage others to vote, especially for their candidate.
Blaine Sibby, a supporter of county commissioner candidate, Manny Ramirez, expressed that he voted because it is his civic duty. He expressed that his vote was influenced by the close ties he had with the candidate, including being a big supporter of the police force and sharing sponsorships with Ramirez, who is the president of Fort Worth Police Officer Association. 
With hundreds of signs displayed for different candidates, Sibby wanted to make sure his campaign location stood out. He displayed a Thin Blue Line flag in support of the police department and handed out voting notes to people as they walked in to vote.
He also explained that candidates must work very hard to get all the votes they can, because every vote counts.
Another campaigner said his vote was influenced by his own personal experiences and desires. "Being a homeowner, driving on the roads, future kids. I want them to go to a good school and good infrastructure."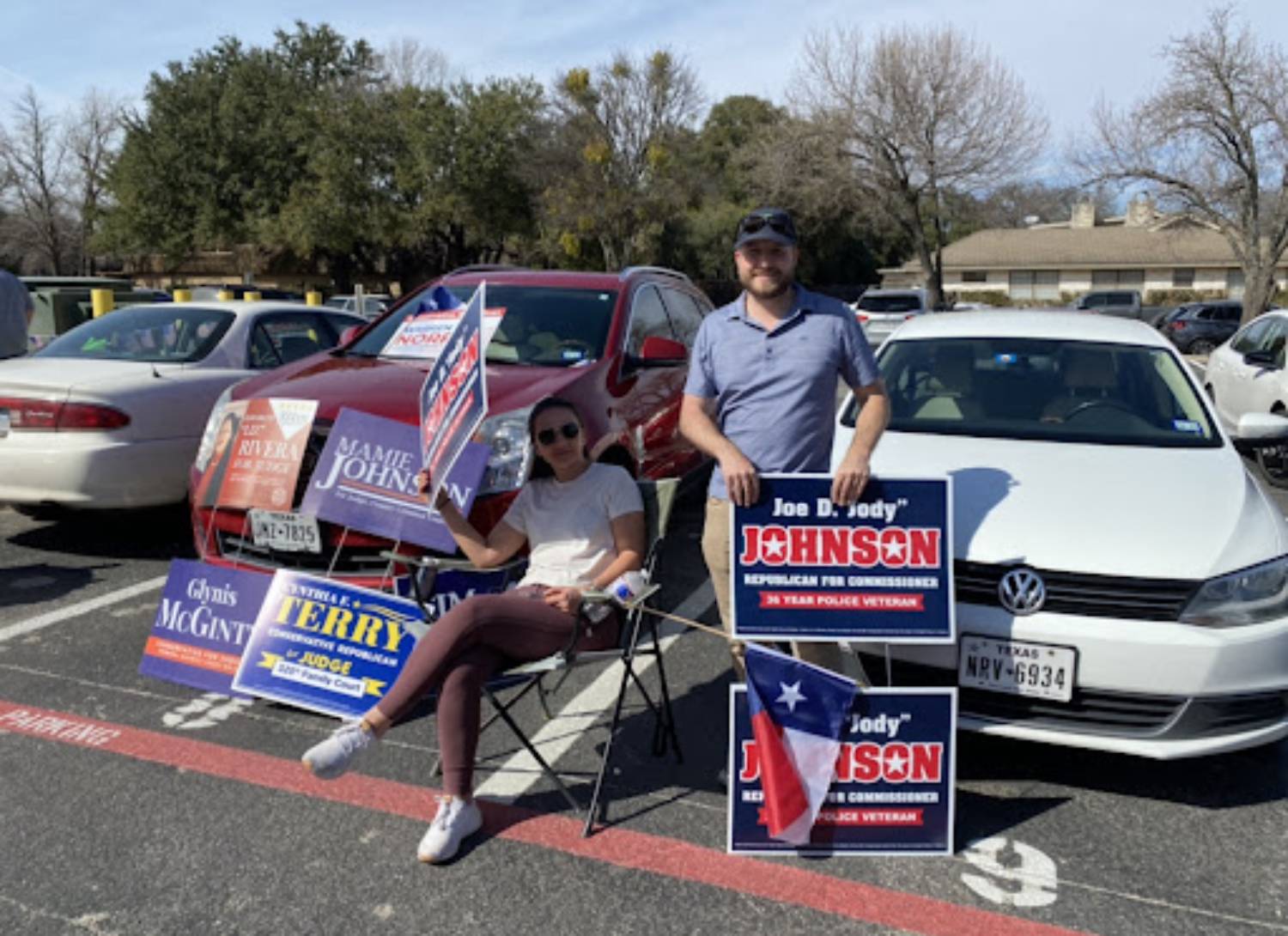 The voter explained that he had been on site for about two hours; it had been a medium to small turnout, and the lack of young voters was distressing. When asked how important it is for young voters to show up, he said, "On a scale from one to ten, definitely a ten."
He believes that young people are being influenced by social media. "I haven't had a lot of feedback from younger people in local elections, which is concerning. Hopefully, we are trying to change that."
12:00 p.m.: Voter turnout mimics past years, young people vote for the first time
Reporting by Skyler Thomas
It's election day in Texas! Here's what's been happening at the polls today.
For Texans wanting to vote in this year's primary election, they can do so starting Tuesday at 7 a.m. until 7 p.m. Good news for those voting — polling locations are spread out all throughout the state.
Midterm elections tend to have reduced turnout compared to presidential elections, and this year is likely to reflect that trend.
"I usually don't [vote]. Not unless it's for the president or something big like that," said 31-year-old Elizabeth.
Many aren't even aware of the candidates running for positions. A north Texas resident was asked if they were voting. Their response was, "no" because they "don't even know who's running."
Others would like to vote but are too busy with work and kids to make time to head out to the polls. Monica, a mother of two, said that the only time she would be able to make it to the polls would be after she gets off work when polls are expected to be the most crowded and busy.
"I can't find the time during the week with work, and after that I have to get the kids from school, make dinner and all that stuff," she said.
For new voters that just turned 18 and are now eligible to vote, the primary election is exciting and marks a milestone for them. "I just turned 18 a few weeks ago," said Katie Dunne, a first-time voter at age 18. "So for me, I am really excited to get out there and vote and check [voting] off my bucket list."
11: 30 a.m.: Common concerns among voters
Reporting by Dru Kennedy Hawkins
Voters at Paschal High School voiced their opinion on why they feel voting is so important, both for this election and in general.
"There is a lot of change that needs to happen, and it starts with voting, people see that there is a need for change," said Sylvia Rodriguez, the precinct chair for precinct 4496.
Rodriguez serves on the Democratic Leadership Committee as an audit and budget chair member for the Tarrant County Democratic Party, and she has been interested and involved in politics since she was eight years old. She also emphasized the need for younger people to get out and exercise their voting rights as well.
Voters voiced their frustration with current Gov. Greg Abbott and mentioned him as being one of the main reasons for them going out to vote.
Abbott recently called on licensed professionals and members of the general public to report parents of transgender minors to state authorities if the minors are receiving gender-affirming medical care, according to NBC News.
"In particular I feel that the governor election is super important, especially with the transgender stuff that just came out that is horrific and terrifying, I am scared for a world where my children can grow up in if Greg Abbott is in office," said Gabriel Cohen, a sophomore at TCU. Cohen also spoke about how he is always looking for more LGBTQ+ representation and positive change.
By around 11:30 a.m., an election official reported that about 99 Democrats and 105 Republicans had cast their ballots out at Paschal High School, with numbers also being reflective of early voting.
10:00 a.m.: Some TCU students head to the polls
Reporting by Lance Minor
At Paschal High School, which is serving as a polling place, eager people were parking and running out of their cars just to get inside to vote.
Each election is an opportunity to make a difference for younger generations, including college students; still, the voting process is complicated and can lead to confusion.
"So I didn't know you had to vote for one party in primary elections, and that wasn't what I was planning on doing, so that kind of changed my plan. But I feel good about what I did," said Madison Obergon, a third-year student at TCU.
Voting is a right that should be exercised by all who are eligible, even when the odds of victory seem slim because it is a chance to make one's voice heard in the political process. Those who choose to participate in the election today will be shaping the future of their political party.
8:00 a.m.: Voters are concerned about the governor's election
Reporting by Breana Adams, Sara Littlejohn and Trevor Matthews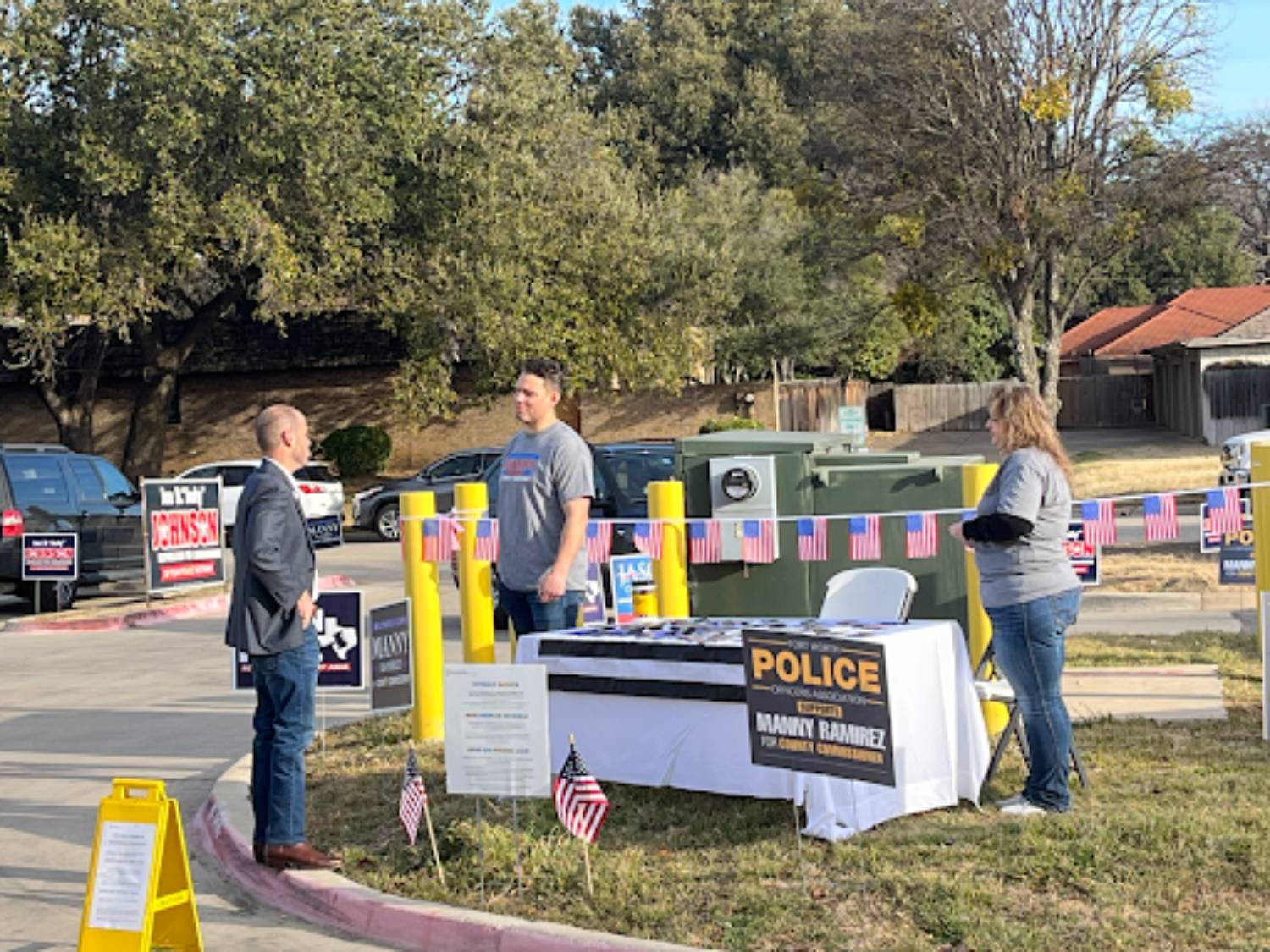 This morning, voters at Tanglewood Elementary, a polling station in Overton Park, were met with various local campaign signs, but the most popular election was the governor's race.
Texas residents Buff and Carline Kizer voted at the Tanglewood Elementary polling station this morning and they expressed their thoughts on the candidates for governor.
"Elections and voting are very important and critical," said Buff Kizer. "We really had some challenging choices for the governor's race and I hope for a runoff. "
Several voters talked about the importance of the governor's race, for both the Democratic and Republican political parties. However, some local elections, such as county judge and city commissioner, were popular elections that encouraged people to vote.
"It was a good turnout with pretty long lines inside the polling station. I could see people being deliberate and careful about their vote." said Buff Kizer.
As more and more voters lined up to cast their vote, there was a lack of young adult voters in the crowd. The majority of voters can be seen in a hurry in the morning as they speedily walk into and sprint out of the polling station, located at Tanglewood Elementary School, in order to get their kids to school on time.
The reason for this was the 30-minute lines, said Ryan Montgomery, who graduated from TCU in 2006 and is now the co-owner of Dovetail Distributors.
"This is the longest wait I have ever had. I was in there for about 30 minutes but it was nice to see lots of familiar faces in there," Montgomery said.
Montgomery stressed the importance of primary elections and how important it is for eligible voters to participate in every election.
"Most people in the polling center were older and it makes sense because a lot of young people tend not to vote," said. Montgomery. "I think it is a mistake for them not to vote because it is a ripple effect throughout the community but, I know I didn't vote when I was their age because you just have other priorities."
7:00 a.m.: More variety in voters, some confusion over candidates
Reporting by Emmaday Ormond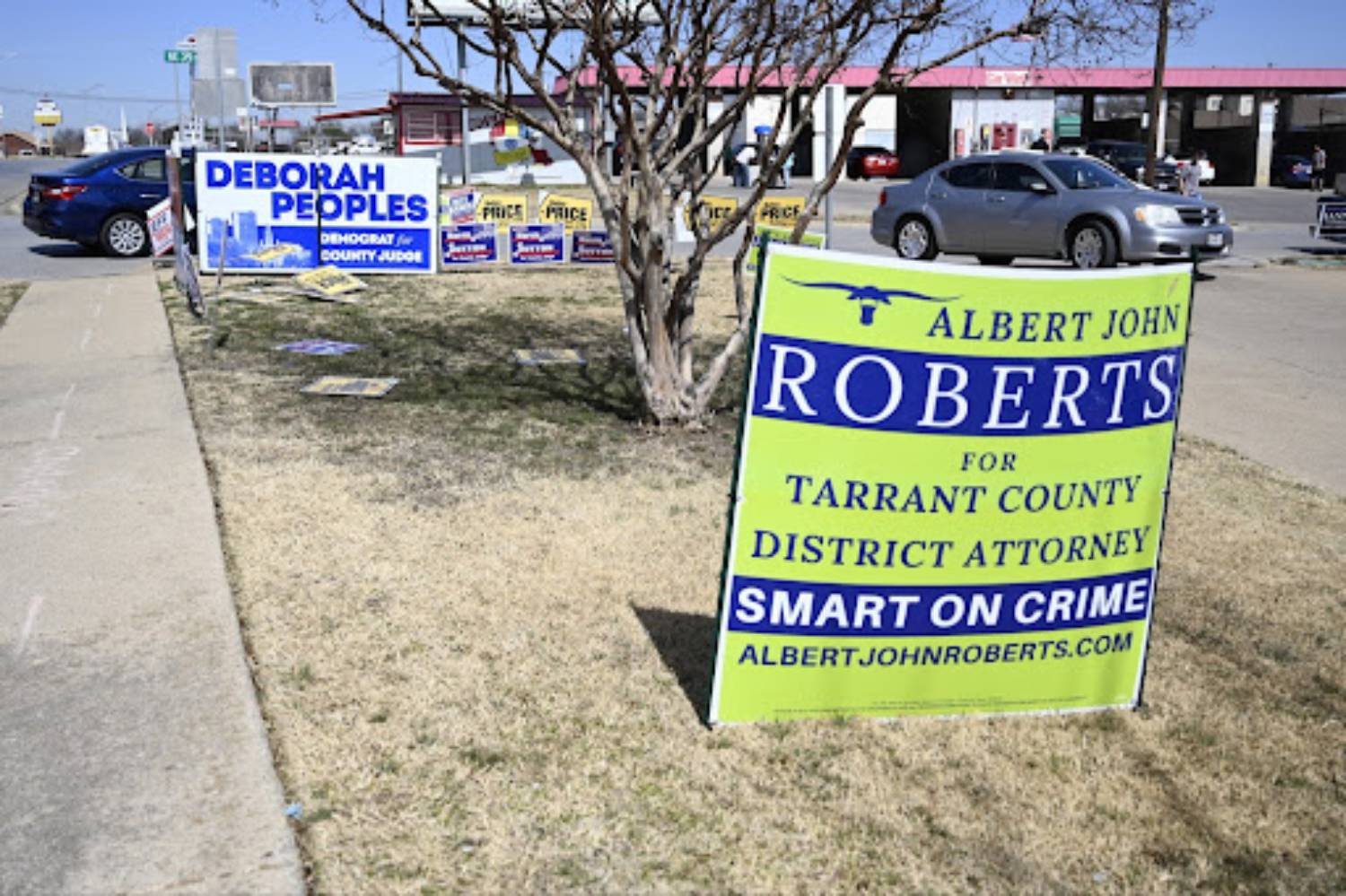 The Fort Worth Public Library at the Diamond Hill/Jarvis branch is one of many poll sites throughout Fort Worth. The library is located conveniently close to Diamond Hill Jarvis High School, which means it draws a variety of people from diverse backgrounds to the polls.
High school seniors and elderly people, Republicans and Democrats, constables and Uber Eats drivers and people of a variety of different backgrounds made voting a priority today.
One thing that was consistent throughout the variety of people that came to the library polling site was that they felt unaware of many candidates. Tamia, an Uber Eats driver, came to the polls around 12:45 p.m. while taking a break from deliveries. Before entering the polling site, she walked the sidewalk surrounding the library to learn about the candidates by reading all of the signs that were staked into the ground. 
"I don't even know who's who," said Tamia.
This is an issue for people of all ages and backgrounds. Roxanne Martinez, the Fort Worth ISD school board trustee for District 9, said that she works with the community to educate eligible high schoolers on how to register to vote, registration deadlines, and voting dates. In addition, student organizations often lead walks to the polling site that is conveniently down the street from the high school.
However, Martinez noticed that primary elections are less emphasized within the community. Although students are informed about the voting process as a whole, it is a challenge for students to learn about the candidates themselves.
"We make resources available," said Martinez. "A lot of it is not geared toward students, unfortunately."
Many voters echoed the desire for more cohesive, easily-comprehendible information. Some suggested a pamphlet with all the candidates listed, and others wanted resources geared toward students because they felt that young people should make voting more of a priority.