Theatre TCU prepares for another striking season
Theatre TCU, one of the top nationally-ranked theater programs in the country, is just a week away from their first show of the year.
The 2022-23 season includes a classic Shakespearean tragedy ("Othello"), a 1960's Broadway dance musical ("Sweet Charity") and a play that originally premiered in 2018 ("Kodachrome").
The performance selections for each year are very intentional. Input is considered from TCU theater staff, a panel of eight students (two elected from each class), as well as representatives from the Office of Diversity and Inclusion.
"Ultimately, we're looking for plays that are a great educational opportunity for the students that are in our program and make for a season that has a lot of variety in it for our audiences who are coming to enjoy them," said Jennifer Engler, department chair and director of "Kodachrome."
Engler said that this variety comes from looking at the full four-year experience and trying to include as many styles, approaches and playwrights as possible. 
This season, the program was looking to include a dance-driven musical in the line-up, Engler said.
"Consequently, that's how "Sweet Charity" became one of the options we were looking at," Engler said.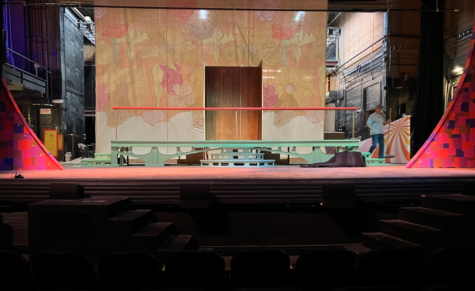 In addition to choosing plays that will help students practice in a variety of genres, students have the opportunity to work alongside professionals.
This year, Theatre TCU is working with Circle Theatre in Fort Worth to do a co-production of "Kodachrome."
"It gives 11 of our students an opportunity to work at a professional theater, to work with some amazing professional equity actors and to get EMC points, which is hours towards the actor's union," said Engler. "It also allows them to get reviewed by the professional papers."
Because students can work with professionals, the program is competitive. 
Theatre TCU only accepts around 10-15 BFA Musical Theatre students each year after an application and a multi-step audition process. 
One of those students is junior Cari Walton. She is the lead in "Sweet Charity," a musical following a young dance hall hostess, Charity Hope Valentine, as she tries in vain to find love.
"I love Charity. I love the role of Charity," said Walton. "I feel like I identify with her a lot, in the fact that you've got to keep going, keep getting up, and keep looking for love—whether that's in friends, family or lovers."
Walton grew up dancing before taking an interest in musical theater in high school. She is excited to perform a dance musical, despite the pressures of the part, she said. 
"Going into this big role, it's kind of scary and daunting," said Walton. "But I know that my cast and my friends all have my back." 
Walton will act alongside her classmates, friends and Theatre TCU family at the end of the month, as they put into practice what they have learned in the classroom. "Sweet Charity" will be the first production of the season with shows starting on Sept. 27.