9,000 miles from home, TCU punter Jordy Sandy is making a difference in Fort Worth
TCU punter Jordy Sandy grew up playing Australian-rules football before coming to America. In his senior season, he is donating to the Hope Center for Autism, a charity based in Fort Worth, every time he lands a punt within the 20-yard line. 
Sandy said it's his way of giving back to a community that has provided him with so many opportunities.
Excited to announce that I will be donating $20 for each punt that we down inside the 20-yard line for season 2022 to local Fort Worth charity @hopectr4autism. To donate https://t.co/QxNRbNVVzK pic.twitter.com/USzdCyQO2q

— Jordy Sandy (@jordysandy31) August 31, 2022
He was inspired to donate to the Hope Center for Autism in Fort Worth because of his family in Australia.
"I have an autistic cousin back home," said Sandy. Seeing some of the challenges their family has faced inspired him to work with the Hope Center.
"It was a cause that really hit close to home."
Sandy said he wasn't focused on any statistical goals for this season, but his donations gave him a new incentive to increase the number of punts that land inside the 20. His teammates make sure he knows every time he adds another $20 to the bucket.
"I try not to really think about it, but everyone reminds me pretty quickly that I'm $20 poorer," said Sandy.
It's something he has prided himself on by helping out two teams with different goals.
"Honestly it's great because not only do I do well for the team, but there's another opportunity to give to a good cause," he said. 
Sandy has punted 17 times this season. With 7 of them landing inside the 20-yard line, he has totaled $140 in donations so far.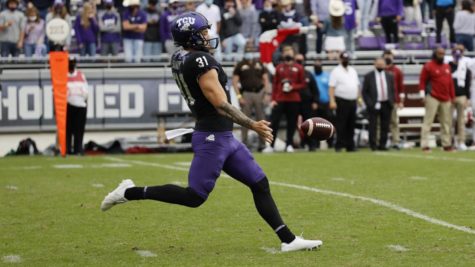 Path to TCU
Sandy's path to a roster spot was unconventional.
Before he decided to pursue punting in the states, he worked in scaffolding and in paper mills.
Eventually, he started training with Prokick Academy in Australia whose mission is to "train, guide and transition Australian athletes to perform at the College/NFL level," according to their website.
In Australian football rules, punting is a common strategy but isn't a way to give the ball to the other team. Rather, it's a way to get the ball down the field or a way to score points.
Prokick coaches Nathan Chapman and John Smith showed Sandy "how to kick spirals and punt the American style," he said. 
Sandy developed into a top prospect. He was ranked the 5th best punter in the class of 2019 by 247Sports and No. 1 in Australia.
Sandy was offered a scholarship to Texas Tech six months after attending the academy. However, a last minute coaching change gave TCU the opportunity to swoop in and solidify Sandy's spot on their roster. 
"I couldn't be happier to have landed here, […] it's a great part of the world," said Sandy. "I'd rather be here than Lubbock."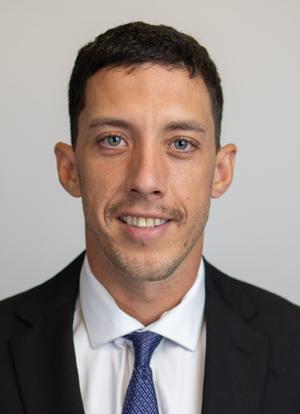 Despite being nearly 9,000 miles away from his hometown, Sandy's brother lives in Fort Worth too. And he said the people he has met at TCU feel like family.
"Everyone around campus and on the team has made it a family here," said Sandy. "I know everyone says that wherever you are, but it truly is — it makes it feel like home."
Goals for the season
Sandy's senior year came with a coaching change when Sonny Dykes took over the program. He described the atmosphere as a different buzz throughout the team.  
Going into the 2022 season, Sandy said he had no statistical goals that he wanted to achieve, but he wanted to focus on the process as a whole. 
"I think I had ten [net] return yards last year, so, if anything, I'll try to keep that to zero or minus if I can," said Sandy.
Sandy was a Second-Team All Big-12 and Second-Team AP All Big-12 selection in 2020. In the same year, he added a Ray Guy Award Ray's 4 for his performance against Texas Tech.  
This award is given to the nation's best punter, and is selected by a voting body of Football Bowl Subdivisions including sports information directors, the national media and former award winners, according to the Ray Guy Award website. 
He's in the running for the award again this season.
In that 2020 season, Sandy had a punt average of 41.0 yards, which placed him second in the Big 12. He had at least one 50-yard punt in five of the 10 games he played, with eight total and only three touchbacks. 
During that season Sandy put 24 of his 57 punts inside the 20-yard mark. If he puts up another number like that this season, he'll be sending $480 to the Hope Center. 
Sandy said he has increased his yardage by two or three yards each season, which has helped put punts in the donation zone. He attributes his progress to Mark Tommerdahl, his coach and Special Teams Coordinator.
Tommerdahl, who previously held the same position at TCU from 1998-2000, returned again for his first season.
"He's a wizard," said Sandy. "He's an unbelievable specialist and he's obviously made me a better punter."
Sandy said he wants to go into real estate after he graduates, but he would go a different path if the opportunity arises.
"I would love to go to the next level, if I get the opportunity I'm going to go for it."