Magnolias Zero 7 worker brings a sweet piece of home to TCU students
Students line up out the door at Magnolias Zero 7, King Family Commons' allergy-free restaurant, in hopes of buying a dessert before they are sold out.
"I love Mae's desserts because it's the perfect treat and feels like baked goods from home," said Valaria Gomez, a sophomore fashion merchandising major. "They are so delicious, it's hard to pick a favorite but I would say the brownie cake balls and the pineapple upside down cake."
Mae Wilder is the woman behind the wildly popular baked goods at Magnolias Zero 7.
"I know the students miss their moms' baking and cooking, so I try to be the representative of that on campus," Wilder said.
Wilder began her career at TCU four years ago when she joined the Magnolias Zero 7 team, before she had experience in cooking and baking. Now, Wilder works exclusively on baking.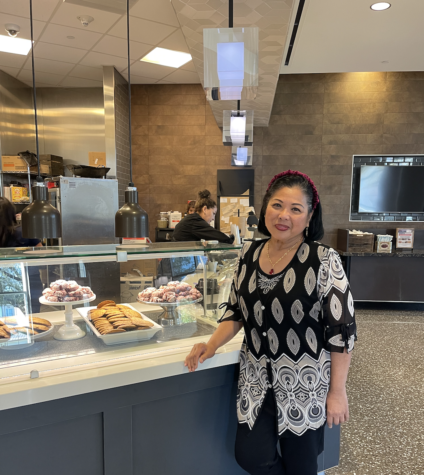 Magnolias Zero 7 was created six years ago in the King Family Commons to address the need of an allergy free dining option on campus. Every meal and food item, including the desserts, are free from any dairy, eggs, wheat, soy, shellfish, peanuts, tree nuts and gluten.
"We love to use flaxseed as a substitute for dairy, and of course I put all of my love into them," Wilder said.
The restaurant follows strict guidelines and uses the gluten free brand, King Arthur. 
The marketing director for TCU Dining and member of the Magnolia team, Swati Bharathi, meets with student government every week to hear what the students want out of dining. The dining team conducts surveys and polling to get feedback from students as well, and students can pin notes next to the checkout at Magnolias to request certain meals or leave feedback.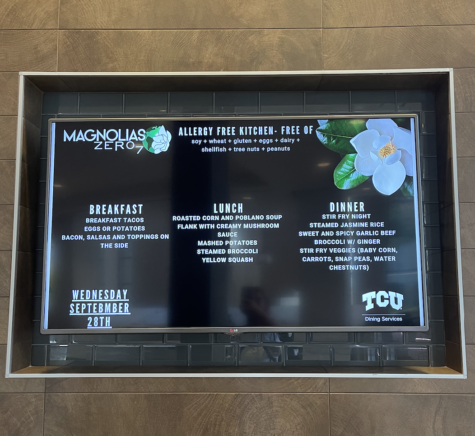 Bharathi said that while they do follow the strict guidelines and recipes from Sodexo, they hand-pick recipes that will make the students feel at home.
"We are very proud of this program because it isn't a program that is replicated anywhere else," Bharathi said. "This isn't some scary place that only people with food allergies can eat."
Magnolias Zero 7 is a national award-winning program through NACUFS, the National Association of College and University Food Services. They plan to eventually expand and offer a to-go Magnolias version which will offer meals and Wilder's desserts.