Francis Schmidt: A story of TCU coaching excellence
From 1929 to 1933, TCU's football program won two Southwest Conference championships with two undefeated seasons — that's 19 games without a loss.
Under a basketball coach.
As new head coach Sonny Dykes has racked up wins and stats, there's only one coach to compare him to: Francis Schmidt.
Once the Frogs defeated SMU in the Battle for the Iron Skillet, the comparisons between Dykes and Schmidt began. Schmidt won his first three games as head coach in 1929.
Schmidt went on to win his next two games, including the Frog's first ever win over Texas.
TCU defeated the University of Texas in football for the first time in program history in 1929. Nov. 16, 1929. (Photo courtesy of: TCU Skiff archives).Their 15-12 defeat of Texas was their 7th win en route to a near-perfect season. The 1929 Frogs finished 9-0-1 and secured a Southwest Conference championship under Schmidt's first season.
SMU soiled the Frogs' perfect season in the last game, which ended in a 7-7 tie.
Schmidt and his team continued their streak without a loss into the 1930 season. Another tie, 0-0 to Hardin-Simmons, interrupted a 10-game win streak.
Schmidt tenure as the Frogs' head coach 17-0-2, until the 10th game of the 1930 season.  The Longhorns got their revenge via a 7-0 shutout at Fort Worth's Clark Field.
The Frogs dropped their next game 35-14 against Baylor but bounced back to take their final game of the season 13-0 over SMU.
Schmidt finished his first two seasons 18-2-2. TCU finished 3rd in the Southwest Conference standings behind No. 1 Texas and No. 2 Baylor.
The Frogs came back in the 1931 season to finish second in the conference, only behind SMU. Their only loss that season was a 10-0 shutout at the hands of Texas. They played in a matchup for the Southwest Conference title at the end of the season, but a 0-0 time sealed the standings with TCU behind SMU.
TCU looked for revenge in the 1932 season. They won the conference championship easily after winning 10 out of 11 games, the only exception being a week-two 3-3 tie against LSU. They won every matchup against Southwest Conference opponents.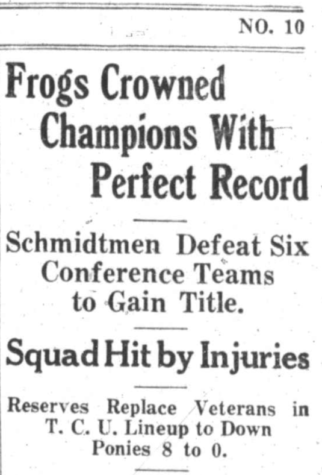 The Frogs shut out 7 of their opponents, including Texas 14-0 and SMU 8-0 to finish the season. They would go on to outscore their opponents 283-23.
Schmidt's first season as the head football coach led to a championship.
But this wasn't Schmidt's only head coaching job for TCU.
"He is not a football coach, his sport is basketball."
Once the football season concluded, and even while it was still going on, Schmidt was the TCU head basketball coach.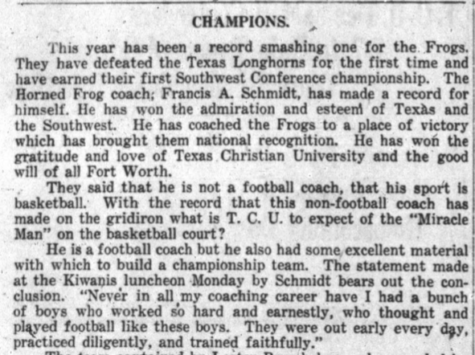 In his first season, the Frogs finished last in the Southwest Conference.
Schmidt wasn't deterred. He continued to coach the team and in the very next season, TCU won the Southwest Conference basketball championship.
Schmidt would notch his second conference championship in his final season as the TCU basketball coach.
Schmidt won 65 out of 79 games after a record of 7-10 in his inaugural basketball season. If the Frogs didn't finish on top of the conference, they finished in second.
In his time at TCU, Schmidt helped TCU gain a reputation as an athletic school. He won two conference championships on the court and two on the football field.
His coaching performance inspired local civil leaders to help fund a new football facility, which would become Amon G. Carter Stadium.
Schmidt left TCU athletics in 1934 after the spring basketball season. He went on to coach football at Ohio State, where he left his legacy on another program. He was inducted into their football hall of fame in the class of 2020.
He left the reigns of football and basketball head coaching duties to a much more popular name in TCU athletics: Dutch Meyer.