Ethan Ridenour's journey to Outstanding Senior
Ethan Ridenour was shocked when his name was announced over the loudspeakers at the TCU vs. Kansas State homecoming game.
"I did not know I was going to win 'til the announcement on the field," said Ridenour, a senior combined science major. "I did not register that my name was called at first; I just heard a name, and I was like, 'oh, congratulations – oh wait that's me.'"
After a thorough process and careful selection from a large pool of seniors, Ridenour earned TCU's Outstanding Senior award due to his heavy involvement in TCU's Frog Camp, Day of Service and Beta Theta Pi Fraternity.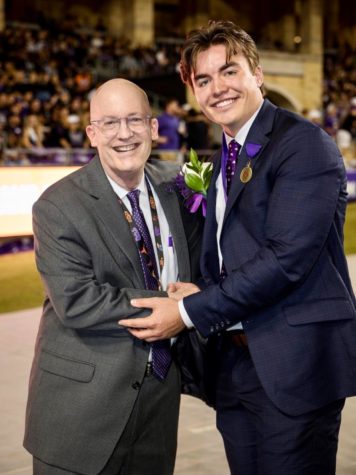 According to Assistant Director of Student Activities Kelly Lee, the homecoming tradition of Outstanding Senior initially started as Mr. & Ms. TCU. It has evolved over the last two years into Outstanding Senior to better encompass the purpose and the honor of the award. 
When Ridenour entered TCU as a first-year student, he wanted to plant early roots in the Fort Worth and TCU community. The senior went to elementary schools, boys and girls clubs and veterans associations to contribute to the community.
"As a director of Day of Service, I am in charge of the service leaders where I will train them and manage them through the hiring and selection process," Ridenour said. "I am also a previous Frog Camp director which I enjoyed."
What it takes to become Outstanding Senior
To be considered an Outstanding Senior, the student must be nominated by a student organization.
An Outstanding Senior candidate must have over a 2.5 GPA, be considered a full-time student and hold good standing with the university.
The selection process consists of two parts. Part one is weighted 25% resume, 25% essay and how many students vote the student receives. Part two includes 50% of the student's outcome from part one and 50% interview. The two essay questions in part one were: How have you grown holistically as a person during your time at TCU? And: What is the greatest lesson you have learned from your time in college that you will take into the next phase of your life?
The student body was sent an email to cast their vote on Oct. 13. Students were asked to vote for five out of the 39 candidates. 
According to Ridenour, the organizations he is involved in have allowed him to broaden his thoughts and perspectives, as well as find his leadership style. Ridenour is an advocate for effort, attitude and teamwork. 
"The first round includes sending in a resume, then answering some questions and then the student body vote," Ridenour said. "Then after that, if you are top 10 you would be put into round two which is more like an interview setting."
The senior showed persistence and effort in wanting to be cast on the ballot.
Bryan, who works in the leadership and student involvement office and the director for Day of Service at TCU helped Ethan in the casting process.
"I made an effort to reach out to TCU Day of Service because I have had friends in the past who ran for this award and I wanted to be nominated," Ridenour said. "The deadline is tomorrow, but Bryan made the quick turnaround, so I am thankful for that."
Ridenour described the experience of running for the Outstanding Senior as enjoyable and humbling.
"Not only to be nominated but to be decided on the Outstanding Senior was such an amazing opportunity," Ridenour said. "The top 10 this year, some of those were my closest friends and they deserved it as well."
Life lessons learned at TCU
The first round of the selection process includes a written component on the application. Out of the three possible questions to write about, Ridenour chose to answer write about the biggest life lesson he has learned at TCU.
"My answer was more so community-based since I have had such a fluid education at TCU. I did not want to write about anything that I learned in my classes since I did not think that was genuine enough," Ridenour said. " I came from a super small town where I had a small group of 12 best friends and leaving them was hard, so I talked about the new people and connections I have met at TCU."
Ridenour described making new connections at TCU through a catchphrase that he believes describes the university "to a T."
"Close enough to see your friends but large enough to meet someone new," Ridenour said.
Outstanding Senior nominees
Ryan Witte, a senior entrepreneurship and innovation major, was nominated in the running for Outstanding Senior.
"I was nominated by two organizations: the club volleyball team and the TCU social media team," Witte said. "It meant the world to me to be nominated by these organizations. Ever since my first year, my big focus in college has been leaving a good legacy."
Witte said that seeing the impact that he has had on people through these organizations and around campus has been a blessing.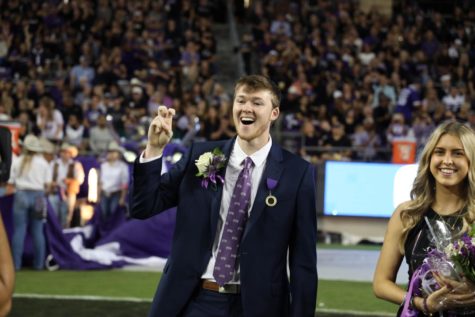 "We were voted into the top 10 by the student body, and the top 10 got to have lunch with the Chancellor and go through an interview process," Witte said. "The interview was kind of a reflection of our time in college, so it was really cool to think back on everything that I have done and how much I've grown."
During his time at TCU, Witte has had the opportunity to foster new connections and became involved with events and activities scattered throughout campus. 
"I have had the opportunity to shoot content for various clubs, and photography and videography are some of my biggest passions," Witte said. "I'm looking to continue doing something involving content creation after college, and after I get some experience under my belt, the big goal is to start my own digital media company."
Iza Zabaneh, a senior biology pre-med major, was also nominated for the Outstanding Senior award. But he's also one of Ridenour's best friends and was happy for his accomplishment. 
"One aspect of Ethan's character that I am encouraged by is his kindness and ability to make friends," Zabaneh said. "This is because he is caring, intentional and consistent. He has a unique gift of making others feel valued and known, and this stems from his genuine love for others. Ethan is also a strong leader. He naturally brings out the best in other people and raises everyone around him to a higher standard."      
Zabaneh said Ridenour deserves the Outstanding Senior award because of how he has selflessly served TCU and its students.
"Whether through Frog Camp, TCU Day of Service or the many other organizations he is involved in, Ethan has consistently sacrificed much of his time and energy to build up and serve others," Zabaneh said.