Preview: TCU volleyball set to host No. 1 Texas in Fort Worth
UPDATE: TCU's match against Texas has been cancelled. TCU Volleyball released the following statement:
"Wednesday's match versus the University of Texas has been cancelled due to non-COVID related illness within the Horned Frog program. In accordance with Big 12 rules, this match will not be rescheduled. We look forward to seeing our fans again on November 12 when we take on Baylor."
TCU volleyball will host No. 1 Texas in the Schollmaier on Wednesday at 6 p.m.
The Frogs are currently 6-4 in Big 12 conference play with 6 remaining in the regular season. However, they are looking end conference games and compete in the NCAA tournament.
"I set up the schedule to be able to make the NCAA tournament this year and we need to get a lot of wins in conference to make that happen," said head coach Jason Williams. 
TCU already tripled its conference win total from last year. Williams said with the way the team is playing, they have the ability to pick up a lot more wins.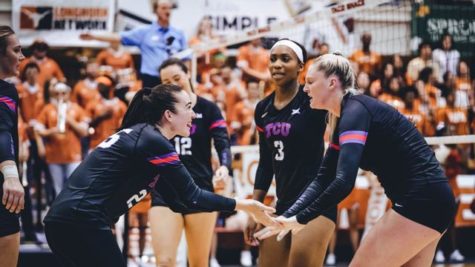 "It's a TCU team that people haven't seen in the last couple of years," said Williams. "It's a different feeling, a different vibe out there with the players."
TCU has jumped from No. 81 to No. 50 in the NCAA RPI since the first set of rankings was released on Oct. 3. 
The Frogs lost in three sets in Austin the last time they played No. 1 Texas. The Horned Frogs will have their chance at redemption on Wednesday. 
Outside hitter Audrey Nalls led all players with 17 points and 16 kills in the two team's first meeting. The execution helped Nalls earn her second set of Big 12 offensive player of the week honors. Nalls and outside hitter Julia Adams accounted for 26 of TCU's 33 kills in the match. 
TCU's sweep of Texas in 2015 remains the highest-ranked win in program history and the Horned Frogs' only victory over a top-five team. The Frogs are looking to write their names in program history on Wednesday.