How TCU's Dutchmen became the face of the student section
Nearly a decade ago, four students wore overalls to a TCU football game, later forming what has become the face of the TCU student section: the Dutchmen. 
When the group formed in 2012, they called themselves the Amp-It-Uppers. They didn't become the Dutchmen until 2017, when College GameDay was present for the TCU vs. West Virginia game. Patton Maynard was on the squad at the time and later took over as Head Dutchman in 2019, his senior year.
"He is the most infamous Dutchman in the best way," said Erinn Callaghan, this year's Head Dutchman. 
The squad was re-named after Dutch Meyer who played end on TCU's football team in 1916-17, and again in 1920-21. He was the head football coach at TCU from 1934 to 1952. After his last football season, he served as TCU's athletic director for 11 years. Meyer also coached the baseball team in 1956 and won the Southwest Conference championship.
The coach started out as a water boy and mascot for the Frogs as a 7-year-old.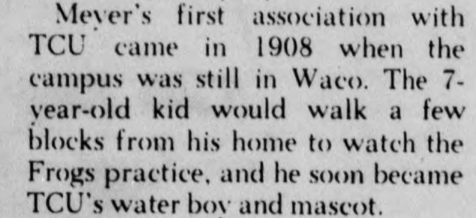 Meyer was inducted into the National Football Foundation Hall of Fame in 1956. Meyer died Dec. 3, 1982, in Fort Worth.  
Meyer's loyalty to the program and the mark he made on it, including two national championships in football, inspired Maynard and the other group members to make him their namesake. 
The Dutchmen were born. 
Maynard also helped the team get their unique uniforms; overalls with purple stripes to symbolize the rich traditions of TCU and white stripes that symbolize the knowledge TCU hopes to instill in its students, according to the Dutchmen page on gofrogs.com.
For Dutchmen, game days are the busiest days.
"A normal game day for us looks like getting here 3 hours before the game, we'll set up our ladders and pass out boxes to each post to be ready for the mass of students," Callaghan said. As Head Dutchman, she's had the opportunity to see everything that goes into a game day at TCU. 
From street signs to billboards, pom poms, rally towels and even designing of posters, "it's all these little things that make game day so great," Callaghan said. 
The Dutchmen have become something unique to TCU.
"Getting to put these on every game there's almost a sense of pride," Callaghan said. 
Their pride comes from the feeling of being a part of something special at TCU. 
"It's been so cool to be a part of that and see all the effort that goes into it," Callaghan said.
Dutchmen don't apply to be in the program, they have to be nominated by a current Dutchman. Callaghan said she was lucky to get picked because she expressed interest in joining the squad to someone who happened to be a Dutchman. 
But Callaghan's interviewing process was interrupted by the pandemic. 
Callaghan talked to Liliana Ogden, one of the Dutchmen at the time, and asked for her email and phone number to set up the interview with the assistant athletic director of marketing, something each Dutchman nominee has to do. 
"Then, two weeks later, COVID[-19] hit and we were all sent home," Callaghan said. "But I ended up getting an interview over Zoom, and then I was on the team." 
Being able to wear the overalls, setting up the student section before the game and interacting with fans throughout the game has made an impact on Callaghan's game day experience. 
"I remember turning around and seeing the entire student section go 'Frogs' and throw up their arms," Callaghan said. "It made me tear up a bit because this is something that brings us all together and getting to be a part of that is so heart-warming to me."
The Dutchmen aren't limited to football season. They show up to basketball and volleyball games. They also help spread the word about upcoming games by handing out stickers and gear with head coach Sonny Dykes at the Founders Statue.
"It's a way to interact with the student body to get everybody excited about our sports and athletic programs," Callaghan said.
Callaghan ended with two heart-felt words:
"Go Frogs."