QUIZ on Texas Arbor Day: Which campus tree are you?
On Texas Arbor Day, TCU celebrates its campus trees, which provide shade, improve air and water quality and prevent soil erosion.
When TCU moved to Fort Worth in 1911 after a fire burned down the Waco campus, the school sat on 50 acres of prairie land without a tree in sight. Today, the campus has transformed with the addition of 3,200 trees representing 40 species.
TCU celebrates Texas Arbor Day on the first Friday in November each year as part of the requirements for the Arbor Day Foundation's Tree Campus Higher Learning certification, which shows TCU cares for its trees and educates the community about their value. 
Read more: TCU recognized as Tree Campus USA by Arbor Day Foundation 
In 2010, TCU created a tree walk that includes 14 of the trees on campus. Visitors and students can walk the path and listen to the accompanying audio tour to learn about the different species. 
From Southern magnolias to Texas mountain laurels, each of these trees has a personality – find out which one matches yours with our quiz!
Which campus tree are you?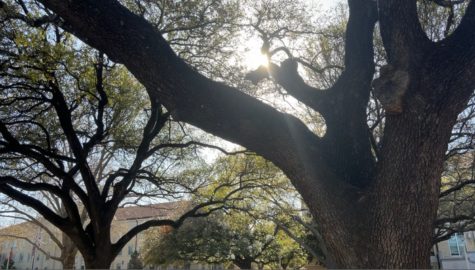 Loading...
There was an error. Please try again.
How else can you celebrate Texas Arbor Day?
Try out the TCU tree walk (or take the audio tour here). The tour focuses on the central part of campus near Sadler Hall and the Tom Brown/Pete Wright Apartments. 
Learn about the benefits of trees. They create shade, reduce the urban heat island effect and provide food and shelter to local wildlife – to name a few. 
Nominate a heritage tree. In Fort Worth, trees of unusual size, age or species or that serve as a historical or community landmark can be nominated for heritage status. 
Plant a tree in your neighborhood. Residents of Fort Worth can request free trees through the city's Neighborhood Tree Planting Program in exchange for helping plant and water the tree until it is established.