TCU football: Mark Perry's unconventional journey to the College Football Playoff
TCU football's Mark Perry made a quick decision to come to play for the Horned Frogs, but it's a decision that would turn his dreams into reality.
The safety entered the transfer portal late, around Dec. 28 of last year, so he only had two weeks to decide where he would attend school. His move to Fort Worth would have a major impact on his career. Now, he's set to play in the College Football Playoff.
Originally from Rancho Cucamonga, California, Perry was surrounded by sports for most of his life. Growing up, he played basketball, football and even tee-ball.
Perry hadn't thought about the decision to take football seriously and play at the collegiate level until his junior year of high school. He thought the sport would be a good way to fill up free time after school.
While attending high school, Perry was surrounded by peers who had received offers as early as eighth grade. Rather than get discouraged, he patiently waited his turn to see if he would get the opportunity to play at the next level.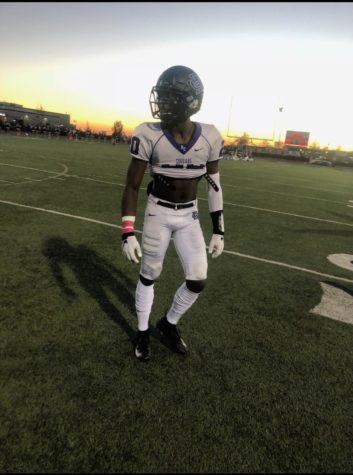 "You always see other people getting offers from schools, but it becomes real when it starts actually happening for you," Perry said.
Rounding out his high school career, Perry was ranked No. 48 in the nation in his position as safety. He was also No. 78 in California as an overall player. His senior year, he was named the most valuable player of his high school team, which won the league championship.
Time at Boulder
When it came time to make a commitment to a school, Perry knew the decision could have an enormous effect on the his future.
After conversations with a handful of programs, his choice came down to Colorado State, University of Colorado, Arizona, Arizona State and the University of Southern California.
Perry thought about staying close to home but still being out of state. He also wanted to go to a school where he knew he would have a chance to play as a true freshman and have a good relationship with his position's coach.
He decided on the University of Colorado in Boulder.
As expected, Perry saw the field a number of times during his first year in Boulder. He played in the final nine games of the season and started at Washington State. Despite totaling a handful of tackles and a few pass break-ups, Perry and the team finished the season with a 5-7 record, only winning three conference games.
COVID-19 hit during the off-season, which shook the collegiate football world.
Colorado only played six games in the 2020 season. Perry played in three, including two starts. The Buffaloes made it to the postseason, but Perry missed the Alamo Bowl after contracting the virus.
During his final year at Colorado, Perry played in all 12 games and led the team in interceptions with three. He ranked third on the team in tackles with 72.
After the team finished 4-8, he entered the transfer portal.
"I felt like it was time for a new challenge for me," said Perry.
Transferring to TCU
Perry was expected to receive interest from several schools after entering the portal.
"I knew after my junior year and the stats that I had from the last three years that I would get good looks from a handful of Power Five schools," Perry said. "Nowadays with the portal and everything, most schools like going after guys who have experience and have already played at the collegiate level."
Penn State, Southern California and Mississippi State were just a few of the other schools who quickly reached out to Perry. He had to make his decision within weeks and made it a priority to visit TCU before looking at other schools.
Perry credits several coaches and other members of head coach Sonny Dykes' staff for helping him realize that TCU was the right fit for him.
The Horned Frogs were coming off of several losing seasons, but he saw hope in the new coaching staff.
He rekindled his relationship with coach Chidera Uzo-Diribe, who recruited him out of high school, and instantly felt a connection. Building on the relationship that they had, Uzo-Diribe, now a outside linebacker coach with the Georgia Bulldogs, introduced Perry to the rest of the staff.
The safety liked the equal opportunity and level playing field TCU presented, along with the chance to play under a new coaching staff.
"Coming to play here I knew that since it was a new staff there would be no favoritism to players that were previously on the team," said Perry. "I knew that I would have a good chance to start and be a key contributor for the team here."
After his TCU visit in January, Perry canceled his visit to Penn State.
The transfer had the opportunity to return home and play at Southern California, but knew he should go to TCU.
"It just felt right," said Perry.
He reported to campus a few weeks later and started spring training for what would become an unforgettable 2022 season.
The 2022 season
Coincidentally, Perry returned to the place that he had called home for the past three years in his Horned Frog debut against the University of Colorado for TCU's season opener in Boulder.
"It was something that I was definitely looking forward to," said Perry. "I feel like any player would want to play against their former team."
He ended the game against his former team with four tackles and a victory.
Perry came into this season with low expectations, but they were quickly exceeded.
"I knew we were a good team and had a chance to be special but going undefeated in the regular season was crazy," said Perry.
The moment he knew the team was special and had a chance to go undefeated in regular season was after the Kansas State game when the Frogs erased the largest deficit of their season.
"That was the second week in a row where we made a comeback against a ranked team and it showed how much fight we had in us," said Perry. "I knew the rest of the schedule wouldn't be easy but I knew it was very possible to go undefeated."
He finished the regular season with 74 tackles, the second most on the team, with more football to be played in the coming weeks.
Although the team came up short in the Big 12 Championship, the Frogs' 12-1 record earned them the third spot in the College Football Playoff. To Perry, it's a dream.
"If someone would've told me last year during football season that I would be playing in the College Football Playoff with TCU I would've thought that was crazy," Perry said. "A lot can change in a year."