Classes resume 10 a.m. on Feb. 3 following winter storm
By TCU 360 Staff, TCU 360 Staff Writers
Published January 30, 2023
After four days of cancelled classes due the winter storm, TCU will resume classes Friday morning at 10 a.m., the university announced via the TCU Alert system.
Fallout from the storm includes a broken boiler in Sadler Hall that will be under repair Friday. Classes located in Sadler from 10 a.m. to 3 p.m. will be held in other academic buildings.
Maintenance crews will be working on the lots and sidewalks in the early morning, so the campus community is told to keep clear until 10 a.m.
TCU closes campus through Feb. 2 as winter storm rolls into North Texas
With another winter storm knocking on the door, TCU announced that campus is closed through Thursday, Feb. 2.
According to The Weather Channel, freezing rain has caused icy roads in parts of North Texas, and hazardous conditions will continue until Wednesday. 
TCU students had mixed reactions to the cancellation.
"It's nice. There's not many students," said Len, an early childhood development major, who likes the quiet campus.
Not all students are accustomed to the extremely cold temperatures.
"I'm used to 40s to 70s," said JL Niyo, an economics major. "If there were no classes with good weather, it would've been better."
Fort Worth residents packed the Kroger on Berry Street, many remembering the ice storm that pummeled Texas nearly two years ago.
Meghan Mosher, a political science major, was waiting in line to checkout with a cart full of snacks, water, and toilet paper. She remembers the devastating Winter Storm Uri but is hopeful that this storm won't be as severe.
"I feel like it'll be a nice break," she said, noting that it will be a chance to catch up on her assignments.
The lines at Kroger stretched through the aisles as people scrambled to grab their items and make it home before the storm hit.
Other closures on campus
Bistro Burnett, Kinder Cafe, and A La Carte will be closed until further notice, according to a post from @tcudining.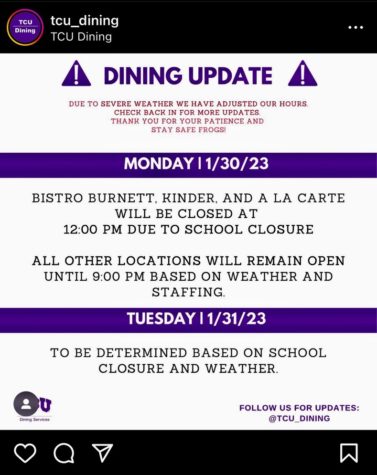 The Rec will close at 9 p.m. on Monday and group fitness classes are canceled.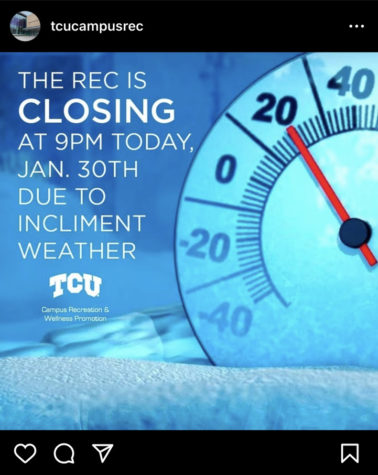 For now, according to a response by the official TCU instagram page @texaschristianuniversity, the men's basketball game featuring No. 15 TCU playing West Virginia is still to be played on Tuesday, Jan. 31 at 8 p.m. at Schollmaier Arena.
2023 brings another early winter storm
The National Weather Service issued a winter storm warning for most of North Texas, including Tarrant county, through Wednesday, Feb. 1 at 6 a.m.
There is a slight chance of freezing rain throughout the day, including sleet in the afternoon. Water on the roads from overnight have iced, making roads slick with below-freezing temperatures and winds around 15 mph.
Freezing drizzle will create some slick spots on bridges/overpasses this morning despite mostly dry roads. Additional freezing rain and sleet showers will develop this afternoon.

Please…TAKE IT SLOW today and consider changing travel plans this afternoon! #txwx pic.twitter.com/NGlvFbAmnY

— NWS Fort Worth (@NWSFortWorth) January 30, 2023
Temperatures are expected to top out in the low 30s with wind chills making it feel like 16 degrees.
Classes are canceled on Tuesday, Jan. 31, as well with more below-freezing temperatures and precipitation.
However, the provost wrote in an email that faculty, staff and students should watch their emails and phones for any additional information over the next few days.
TCU Alert is the main point of communication for all faculty, staff and students.
The provost added in their email that emails from Academic Affairs, Human Resources and Student Affairs can support the TCU Alert messages, but they will not replace them.
Per the TCU Alert, students are not expected to attend class online, submit assignments, take exams or meet any scheduled deadlines during the closure.