Roads closed due to water main break on South University Drive
A Fort Worth city water main break on Feb. 3 caused road closures on South University Drive from West Cantey Street to Berry Street, said Mary Gugliuzza, communications coordinator for the Fort Worth Water Department. 
"The reported time was at 1 p.m.," said Gugliuzza. The Fort Worth Water Department estimated that it would take 12 hours to fix the line from the time the break was reported.
The 12-inch cast iron water line helps supply drinking water to TCU as well as homes and businesses in the community. 
As of now, TCU is still able to access water, but Gugliuzza said Potbelly Sandwich Shop, located on South University Drive, may be without water. 
"Until we dig it up, we don't actually know what we are dealing with down there," said Gugliuzza.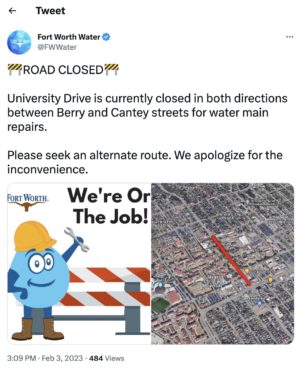 Gugliuzza said crews are actively working on the break, so give or take time from the estimation.
At this time, the water department is in contact with TCU plumbing to notify them of any updates. 
TCU Chief of Police Robert Rangel notified all students, faculty and staff via email about the incident.
"If you experience any outages, call facilities at 817-257-7957," Rangel advised. 
Drivers should look for alternative routes to avoid these road closures.