TCU Concert Chorale addresses mental health issues through song
TCU Concert Chorale's performance at the Texas Music Educators Association (TMEA) Convention is expected to tell a story of the journey from despair to belonging. 
Music fans can listen to the show at 7 p.m. on Monday, Feb. 6 at the Van Cliburn Concert Hall before the Concert Chorale heads to the TMEA Convention this Thursday. Tickets are free for students at the Monday perfomance.
The concert will begin with the world premiere of the piece, "Save Me, O God," written by Patrick Vu, a TCU alumna. The song was commissioned by TCU Chorale for the 2023 performances at TMEA and ACDA. Even from the first piece, the theme of conflict is present. 
"Pretty much the first two thirds of the concert is all very devastating music," said Casey McEvoy, a sophomore nursing major and tenor in Chorale. "One song ends on something and then the next song picks up on it. For most of it, it is pretty sad, but then, at the end, it eventually flows into a very redemptive ending to the whole arc, so I would probably say this is a story of hope and perseverance."
Next, the chorale will sing an excerpt of "Heu Me Domine," written by Vince Lusitano. The text translates to, "Alas, Lord, for we have sinned too much in my life! Poor wretch, what shall I do, where shall I flee, but to you, my God?"
After the dissonance of Lusitano's composition, graduate assistant Debbie Seitter will direct "She Lingers On" by Zanaida Robles, sung by the women of the Concert Chorale. This is one of two pieces that will have a piano accompaniment. 
"The first line of the song is "she walks in pools of sadness," said Emma Cave, junior BA music major and alto in Chorale. "So, along with the theme of the whole set, it's realizing your internal struggles and meeting yourself where you're at. She's in this situation. This is where she has been and this is where she is staying. She's in this state of depression. The song is narrating her journey through that."
The audience may recognize the next song, "Hurt," originally recorded by Nine Inch Nails and later covered by Johnny Cash. Well-known choral composer, Eric Whitacre, arranged this song discussing addiction and confrontation. It will feature Johanna Quigley, junior BFA acting major, on the solo. 
The following song, "Snow Dance for the Dead," by Sean Doherty divides the choir into ten voice parts at its height and has choreographed, unsettling physical gestures depicting gunshots and death. The piece addresses physical violence, drawing from Lola Ridge's poem about the horrors inflicted on children in the Russian Revolution. 
The program contains a warning about the simulated violence. The TCU Concert Chorale is TCU's flagship choral ensemble and they will be representing TCU at the Texas Music Educators Association (TMEA) Convention on Feb. 9, performing the entire 10-song concert.
After "Snow Dance for the Dead", the Chorale will sing the piece, "Hear My Prayer," by Christopher Aspaas. Aspaas is the director of choral activities, associate professor of music and director of the Concert Chorale at TCU.
"The text, Psalm 39, is very graphic," said Aspaas. "It captures, I think, personal feelings of being solitary, of being alone, and of being turned away from. Personally, it's been a tough four or five years and I thought that this text really captured what I felt like I was going through in some ways, but also what I think many are going through. The song ends unanswered. It doesn't end with any sense of resolution."
After six songs depicting suffering and division in various forms, the second part of the concert is comfort-focused, Aspaas said.
The Chorale will now sing a bittersweet piece entitled "Amo," by Nicolás Gutiérrez, written for Aspaas and "my dear friends of the TCU Chorale," the dedication says.
The text, written by Guitiérrez's great-grandfather, translates to "Everything, everyone, has left. I am accompanied only by my memories, with which sometimes I cry. And on occasion I manage to smile. I love them."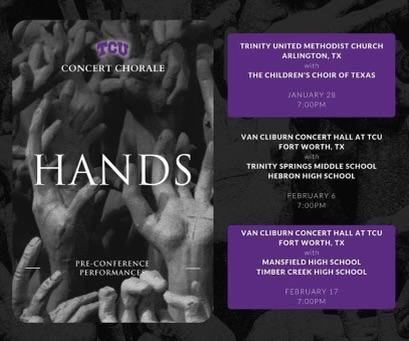 The eighth song is "Ubi Caritas," by Ola Gjeilo. The text translates, in part, to what the Christian faith recognizes as the great commandment: "Let us fear, and let us love the living God. And may we love each other with a sincere heart."
Next, the Chorale will sing of strength over weariness in "The Lord is the Everlasting God," by Kenneth Jennings, with text drawn from Isaiah 40:21-22, 25-26, 28-31. The song starts in an aleatoric style, meaning that singers are singing at their own individual tempo, left up to chance. 
The concert will end with a piece entitled "Hands," by Jocelyn Hagen, which has no text. 
"It is intended to be welcoming and accepting, and I think she captures some melodies and harmonies that just make you feel good, like when you're with people that you love and that love you and care about you," said Aspaas. "I thought that would be a great way to move from the beginning of our program, alone, to together, whether that's together with the people we call ours or together with God."
The TCU Concert Chorale performed a Pre-TMEA Concert at Trinity United Methodist Church in Arlington on Jan. 28.  Another performance is scheduled in the Van Cliburn Concert Hall at 7 p.m. on Feb. 6th.
Tickets are free for students and $10 for patrons.