TCU sorority supports philanthropy through Super Bowl-inspired project
TCU's Gamma Phi Beta sorority raised $587 for their philanthropy with a 10-by-10 board.
A hundred spots for every possible score in the Super Bowl where sold at $10 a square.
The Gamma Phi Bowl is the newest philanthropy event for the Gamma Phi Beta sorority. It will benefit Girls on the Run, a nonprofit that strives to "build strong girls."
Girls on the Run DFW Metroplex, headquartered in Dallas, inspires girls who live in the Dallas-Fort Worth metroplex to be joyful, healthy and confident while integrating running into a fun, experience-based curriculum, according to its mission statement. The nonprofit organization is devoted to advancing young women's social, emotional and physical skills and building a positive, physical-activity based community in elementary and middle schools.
There are seven school locations around DFW, but the office closest to central Fort Worth closed after COVID-19. 
"Over COVID[-19], the Fort Worth location for Girls on the Run shut down. It's been a challenge to find the engagement," said Ariana Hunt, Gamma Phi Beta co-philanthropy chair and sophomore business major.
This inspired the Gamma Phi Bowl, a Super Bowl-themed philanthropy event with a football-squares board. They sold squares to students for a chance to win a $100 gift card. Hunt said the chapter modified the event to give a portion of the proceeds to Girls on the Run with the rest going to the prize fund. 
"It was Katie's idea originally," Hunt said. "A lot of students participated in this event at home, so we thought it would be more enticing for them to donate."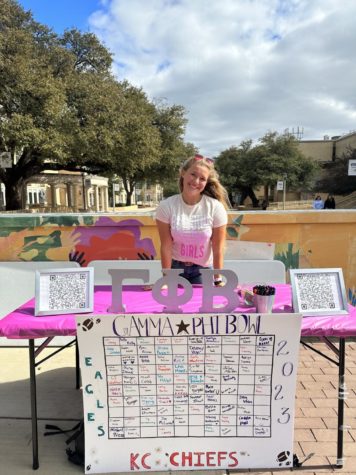 Hunt and co-philanthropy chair, Katie Mitchell, want to use their work with Girls on the Run to inspire other members of Gamma Phi Beta and the larger TCU community.
"That's our main goal," Hunt said. "We want participation and making every event 10 times bigger than it was last year."
The event raised $587 for Girls on the Run.
"Sororities and fraternities aren't just for sitting in a room and having fun, but it's also about giving everything back," Hunt said. 
Gamma Phi Beta also hosts a wide-scale volleyball tournament – Moonball – each fall and will aid in the Girls on the Run 5K race held on April 22, 2023 at Lone Star Park in Grand Prairie.
 More information about the race can be found here.