Sadler Hall renovations return academics to the center of campus
M.E. Sadler Hall went back to its roots this semester when the newly renovated building reopened as an academic hub and home of the honors college.
Sadler was the first home of the honors program, which moved to Scharbauer Hall in 2010 after being endowed as the John V. Roach Honors College. In addition to the honors college, Sadler now houses the Koehler Center, TCU Global, Faculty Affairs, Academic Advising and the AddRan College of Liberal Arts departments of Comparative Race and Ethnic Studies and Women and Gender Studies, along with 17 classrooms and several study spaces.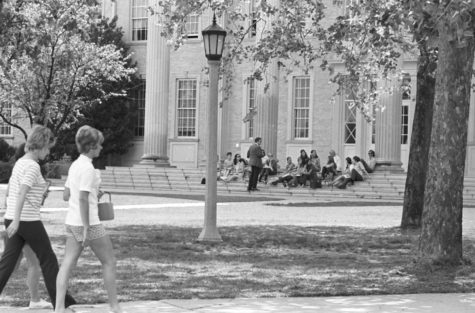 The move "allows all honors core faculty and staff to house in a single building," said Ron Pitcock, dean of the honors college.
Along with providing student-centered spaces for studying or just hanging out, Pitcock said he hopes "the proximity of these spaces to faculty and staff will create more opportunities for discussion, connection and learning outside the classroom."
Built in 1960, M.E. Sadler Hall is named after Chancellor MacGruder Ellis Sadler, who headed the university from 1941-1965. During his tenure, the campus grew from eight buildings to 29.
Since Chancellor Victor Boschini arrived in 2003, TCU has spent over $1 billion on new and renovated university facilities.
The most 58,000-square foot renovation to Sadler Hall cost $20 million, university officials said.
Before the renovations, Sadler was the main administration building, housing the offices of the chancellor, scholarships and student financial aid, the controller and financial services, the registrar and the Center for Academic Services. After much of the school's administration moved to the Harrison building in 2020, Sadler was repurposed for academic use. The building reopened in January after closing for renovations in October, 2021.
The first floor houses classrooms, academic advising and study rooms.
The second-floor lobby pays homage to figures from TCU's history with portraits and plaques. The honors lounge on that floor provides a study space open to all students.
New and improved✨ Renovated Sadler Hall is now open! The building provides a new home to the John V. Roach Honors College, Academic Advising, TCU Global, the Faculty Affairs Office, and more! #TCU
🔗 https://t.co/wmCIPCnsTk pic.twitter.com/mBzidziUXo

— TCU (@TCU) January 29, 2023
The third floor houses the honors college, Koehler Center, faculty affairs and the Departments of Comparative Race & Ethnic Studies (CRES) and Women & Gender Studies (WGST). Dean of the AddRan college, Sonja Watson, said the open and welcoming space will provide a fresh start for faculty, staff and students.
"Placing them in Sadler Hall simultaneously puts them at the center of campus and near other buildings that house the liberal arts," Watson said. Sadler Hall is just south of Reed Hall, and Scharbauer Hall is behind it to the west.
TCU Global faculty offices and the discovery space lab are on the fourth floor. Formerly the Center for International Studies, TCU Global helps students facilitate domestic and foreign travel.
Associate director of TCU Global, Tracy Williams, said the space in Sadler Hall helps her with efficiency.
"I had a student come in the other day," she said. "We were working on a scholarship essay for an outside scholarship. We spent 30 minutes, and I gave her a bunch of ideas, and then I said, 'Go and work on it, spend two hours, whatever time you need, just go right out there to the lounge, come back, and let's reread it and do a second revision.'"
Williams said the units housed in Sadler are complementary. She said if an honor student was "working on their scholarship for a Fulbright or international experience, they could come and talk to us about what study abroad options are available to them."
"When I think about faculty who come to TCU," Williams said, "they need to work with the Koehler Center and talk about how to put their course information all into D2L. Many want to add an international component or teach a study abroad program at some point. We have the interdisciplinary units of women and gender studies and CRES. Many people want to connect to that and add those kinds of dimensions to their coursework. Many want to teach in the Honors College."
Williams said the resources in Sadler help professors reach students in new ways.
"Using TCU online is a big part of making sure that your courses are working for students," she said. "Adding CRES and women and gender studies affiliations, adding honors affiliations to your coursework and potentially teaching abroad. Those are things I think faculty are really, really interested in doing. We are a building of units that help elevate content."