Donate blood in under an hour on the blood donation bus Wednesday
A blood transfusion takes place every two seconds in the U.S.
Cancer patients use more than a quarter of the U.S. blood supply.
Only 3% of eligible Americans donate blood to replenish this supply.
TCU students, faculty and staff have an opportunity to help on Wednesday through the TCU blood drive.
Carter BloodCare's donation bus will be on campus from 10 a.m. to 4 p.m. Wednesday, Feb. 22 in front of the Brown-Lupton University Union on Stadium Drive.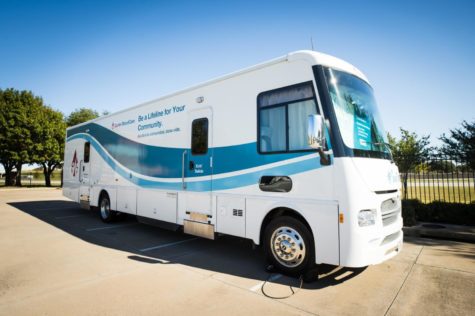 Appointments are highly encouraged but walk-ins are also welcomed, said Brad Stewart, TCU's associate director of Campus Recreation and Wellness Promotion and coordinator for the blood drive. 
"Donating blood is a powerful, positive act of compassion that has an immediate lifesaving and life-changing effect on patients and their families," said James Black, a spokesperson for Carter BloodCare. 
Blood donations help people who are in accidents and experience severe trauma. They also benefit children with anemia, cancer and surgical patients, and mothers with difficult births, he said, adding that each unit of donated whole blood can help save three lives.
"Currently, the community blood supply level is urgent," Black said. "Certain blood types and components are critical. The urgent level indicates the local blood supply is running low and donations are urgently needed."
Donating blood for the first time can be an intimidating experience for young college students.
"We want new donors to realize the fear of donating is much greater than the reality of donating," Black said. "Our phlebotomists are really skilled, patient and understanding, and they go above and beyond to make all donors feel comfortable."
Potential donors might stress about the initial needle stick.
"Yes, it's going to pinch a little bit, but a good blood donation really doesn't hurt outside of that millisecond," said Clinton McCoy, a Carter BloodCare director. 
Some people are anxious about needles, but having a positive outlook, eating a healthy meal and drinking plenty of fluids can help them have a successful outcome, McCoy said.
For people wanting to donate, visit the eligibility page on Carter BloodCare's website. Donors must be in good health and weigh at least 110 pounds. Anyone 16 and under must have a consent form signed by a parent or legal guardian. People with cancer or diabetes or who are pregnant may not be allowed to donate.
Serena Nguyen, a TCU supply chain management major and resident assistant, said she wants to donate blood but does meet the minimum weight requirement of 110 pounds.
"I think it is a great opportunity to help serve others," Nguyen said. "I know how significant an impact donating blood can have, especially given the low levels available currently and the expiration timeline associated with blood."
She said even though she is not eligible, she encourages others to donate if they can.
Donations might also be declined because of intravenous drug use, recent tattoos, body piercings or a positive HIV test.
The U.S. Food and Drug Administration, which regulates blood centers, announced in January a recommendation to change some eligibility requirements. The agency wants to be more gender-inclusive and assess individual behaviors to screen for HIV, reducing the risk of infections through transfusions. This recommendation is not finalized and is open for public discussion.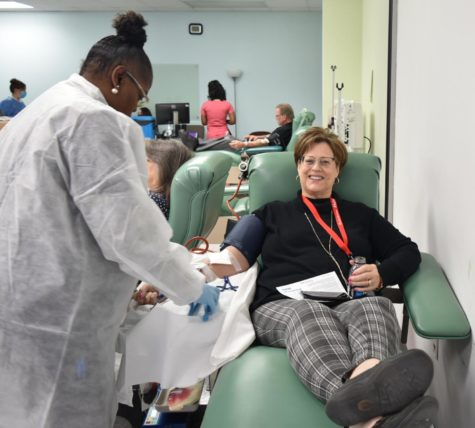 Those interested in donating are urged to make an appointment for one of TCU's 88 donor time slots, but walk-ins are welcome if there is availability.
Donors should drink fluids throughout the day and eat at least two hours before their appointment.
The pre-donation registration requires a photo ID, such as a driver's license, student ID, passport or military ID for identity verification. 
A health care worker will check health history, body temperature, blood pressure, pulse, and weight. Anemia will be ruled out with a hemoglobin test.
Blood donation takes less than 10 minutes. 
A snack and a drink are highly encouraged during the 15-minute wait time afterward. The whole process takes less than an hour, said Black.
The Campus Recreation and Wellness Promotion center sponsors two to three blood drives a semester, Stewart said. TCU Community Scholar volunteers will help check in donors Wednesday.
The center's next blood drive is on April 18.
First-time donors can get an idea of what procedures to expect when they donate blood Wednesday at TCU. Carter BloodCare partnered with the Texas Rangers in summer 2022 for the blood drive in this video. (Video courtesy of Carter BloodCare)