The Grief Group offers listening hearts at Jarvis Hall
Losing someone is never easy, especially as a college student. The Grief Group offers support to students in those hard times.
The group is held every Friday at 2 p.m. in Jarvis Hall. They provide a safe community for immediate individual support and a safe place for students to cope with loss.
TCU's Religious & Spiritual Life (RSL) partnered with the Counseling and Mental Health Center to help lead the Grief Group since 2017. It was created to support and connect with students coping with loss and grief. 
"Grief is hard and it can feel isolating," the Rev. Todd Boling said. "We find that being with others who are grieving allows students to feel seen, heard, understood and supported."
Boling has served as the chaplain of RSL for 12 years and has been the University Chaplain for three.
"Prior to coming to TCU, I served as a hospital chaplain at the Cleveland Clinic and the University Chaplain at Mars Hill University in North Carolina," Boling said. "I have served as a chaplain for nearly 23 years, and I can't imagine a career that would be more fulfilling to me."  
According to the CDC, connecting with people can help those experiencing grief.
View this post on Instagram
Each semester the Grief Group has supported an average of about five to 10 students.
Students who remain a part of the group until graduation are given cords at commencement to represent the person they've lost and in celebration of the hard work they've put in.
"For some, this group has been the support they needed in order to survive the most difficult moment in their life and achieve what they came to TCU to do," Boling said. "The Grief Group at TCU is so important, and that's why it's an honor for me to be a part of it." 
The group meets in Jarvis Hall, which was built in 1911 and is one of two remaining buildings from TCU's original campus. It used to be the smallest residence hall until it was reestablished in 2008. It currently houses several student services including the RSL office.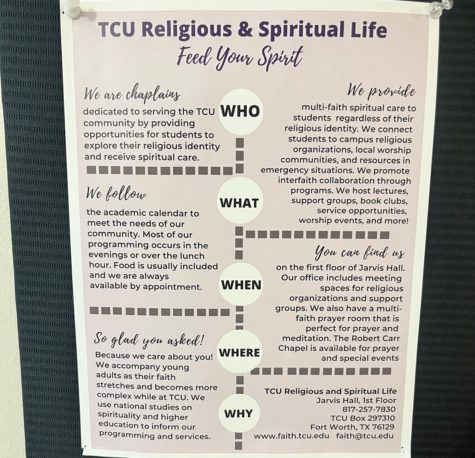 The RSL office is located on the first floor of Jarvis Hall. In addition to the Grief Group, the office offers other spiritual support groups for individuals looking for a supportive community.