What we're reading: Charges filed against North Texas predators, Biden's visit to Ukraine and more
Criminal charges filed against predators for online sexual abuse
North Texas law enforcement officers have filed over 80 criminal charges against 59 people for sexual abuse and online child exploitation. Some charged include firefighters, paramedics, teachers and a nurse, according to NBCDFW.
Officers rescued 28 children from sexual predators, some young children and infants, said Jeff Rich, a Plano police detective. Rich facilitated the investigation and regularly works on child exploitation cases with other North Texas agencies, reported by CBSDFW. The investigative teams work closely with child advocacy centers to help bring safety and healing to these children, he said.
The month-long investigation, called Operation Janus, involved 33 law enforcement units; The North Texas Internet Crimes Against Children Task Force, the FBI Dallas Division's Child Exploitation Task Force and Plano and Dallas police departments, according to NBCDFW.
"The electronic service providers, the services you use on your phone or computers, detect contraband material," Rich said. "They report that to the National Center for Missing and Exploited Children, who then forward that information to the affected law enforcement agency."
Law enforcement specialists are forensically analyzing electronic devices and terabytes of data confiscated during the arrests, according to NBCDFW. Evidence may provide other predator suspects and further criminal charges.
Biden secretly visits Ukraine
President Joe Biden showed his support in a secret trip to Ukraine on Monday. He met with President Volodymyr Zelensky to show solidarity on the eve of the one-year anniversary of the Russian invasion, according to AP News. White House officials called it "unprecedented in modern times," according to the BBC.
"One year later, Kyiv stands," Biden said. "And Ukraine stands. Democracy stands. The Americans stand with you and the world stands with you," according to AP News.
In a meeting with Zelensky, Biden wanted "to try to come to a common understanding of what the objectives are, where Ukraine is trying to get and how the United States can more effectively support them," said Jake Sullivan, a national security advisor, in a press briefing.
Biden committed to additional Russian sanctions and another half-billion dollars of military aid to Ukraine to add to the $50 billion already provided, according to CNN.
The president left for Poland after his meeting in Kyiv, meeting European allies to bolster continuing support for Ukraine, according to AP News.
This visit coincides with U.S. officials' concerns about disturbing trends that China may want to provide Russia with "lethal military aid," according to CNN.
Messages of support pour in for former President Jimmy Carter
People around the world are offering "messages of support" to former President Jimmy Carter and his family, according to Fox 5 Atlanta, after he chose home hospice care over hospitalization.
The Carter Center set up a Kudoboard for online "messages of peace and comfort" for the former president.
Carter chose hospice care "to spend his remaining time at home with his family," according to the Carter Center, "instead of additional medical intervention." He was diagnosed with cancer in 2015 and has been in declining health, according to the Associated Press.
The 98-year-old has lived longer than any other U.S. president.
As the 39th American president, 1977-1981, Carter's single term in office was marked by the Iranian hostage crisis, a gasoline shortage and inflation.
He created the Departments of Energy and Education and the Federal Emergency Management Agency or FEMA.
In 2016, the National Park Service made Carter an Honorary Park Ranger, its highest civilian award for noteworthy contribution. During his presidency, he established 39 National Park Service units, including millions of acres to create a multitude of national parks, wildlife refuges and conservation areas in Alaska, according to the National Park Service.
He founded the Carter Center 40 years ago after his presidency to promote global peace, democracy, human rights and improved public health, according to the center's website.
Carter and his wife Rosalynn, 95, volunteered as home builders and ambassadors with Habitat for Humanity for more than 35 years, according to the Atlanta Journal-Constitution.
President Carter was awarded the Nobel Peace Prize in 2002.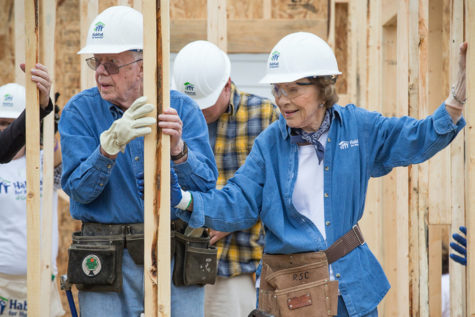 NASA studies climate change from outer space
NASA is using the newest advanced technology from space to study climate change, according to CBS News.
State-of-the-art satellite missions will get a "3D, holistic view of Earth from bedrock to atmosphere," according to NASA, in addressing and mitigating climate change.
NASA's first satellite, launched in December, scanned almost every ocean, lake and river on earth. The $1.2 billion mission surveys 6 million bodies of water every three weeks, said Paul Rosen, a project scientist, and it will provide information about floods, droughts and rising sea levels.
The next mission, called NISAR, will use radar to monitor changes in the earth's surface to less than a half-inch. This joint effort of the U.S. and India space programs will launch next year. These radar systems—"the most advanced radar for NASA," said Rosen—will detect melting glaciers and ice sheets, deforestation and soil moisture.
NISAR will also record information on earthquakes, volcanoes and landslides, according to the agency.
NASA reported that 2022 was the fifth-hottest year on record in a global warming trend, due to climate change.
The agency intends to share its data with governments and scientists to further the study and adaptations of climate change, according to CBS News.