TCU dance celebrates 30th anniversary of AIDS benefit concert
TCU dance students and local dance companies celebrated 30 years of assisting a Fort Worth AIDS center on Saturday with a charity benefit concert.
Saturday's charity concert marked the 30th year TCU students have partnered with Bruce Wood Dance to raise money for the AIDS Outreach Center of Fort Worth. 
The benefit started as a grassroots gesture honoring Lee Fincher, an accompanist who died of AIDS in 1993. Eventually, it evolved into an annual tradition with the TCU School for Classical and Contemporary Dance. Andrew Grayman-Parkhurst, then-president of Chi Tau Epsilon, a dance honors society, coordinated the benefit concert. He returned Saturday for the anniversary.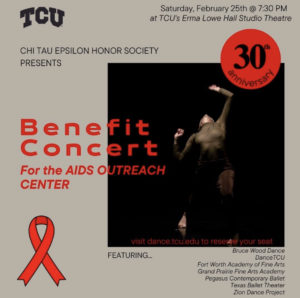 Founded in 1986, the AIDS Outreach Center is a nonprofit group that provides health, prevention, social and educational services to thousands of people in the area, according to its website.
Services include case management for people with HIV, testing and treatment for HIV and other sexually transmitted infections, a dental clinic, a food bank, housing and financial services and a gender care program for people in the trans and gender nonconforming community.
"For over 30 years, TCU has supported AOC through this simply amazing dance recital showcasing high school, local and college dance troupes," said Kelly Allen Gray, the executive director of the outreach center.
Bruce Wood Dance—an award-winning, professional contemporary dance company in Dallas — headlined the event with a piece choreographed by the founding artistic director Bruce Wood, who died in 2014. Angelique Smith, a spokesperson for the dance school, said the current artistic director, Joy Bollinger, is a TCU alumna.
DanceTCU performed in the program for the 11th year, according to a statement from Chi Tau Epsilon, with three works choreographed by BFA graduating seniors — modern dance major Kira Daniel, ballet major Mikayla Rudolf and ballet and modern dance double major Beth Kendrick. Chosen by the dance school faculty, these pieces are also scheduled to be performed at the American College Dance Association Conference this spring.
 Also featured in the benefit concert were the Fort Worth Academy of Fine Arts, Grand Prairie Fine Arts Academy, Pegasus Contemporary Ballet, Texas Ballet Theater Studio Training Company and Zion Dance Project.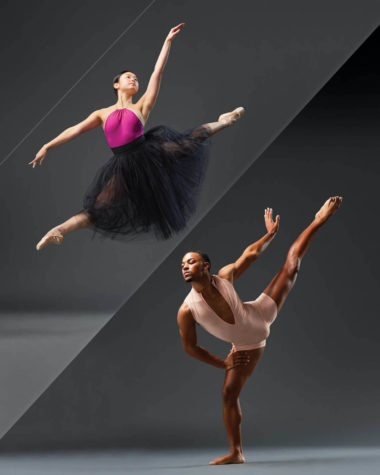 Anna Lee Green and Michaela Steed, two of Zion Dance Project's dancers, are TCU alumni, said Kaylan Alday, a spokesperson for the company. Zion Dance Project presented an excerpt from its upcoming March performance "Spirituals," choreographed by Vincent Hardy, the artistic director.
The program was held in Erma Lowe Hall's Studio Theatre.