What we're reading: Murdaugh trial concludes, DFW storm damage and more
Murdaugh sentenced to life in prison after being found guilty of 2021 murders
Alex Murdaugh was sentenced to life in prison without the possibility of parole on Friday morning after a jury returned a guilty verdict in the murders of his wife Maggie Murdaugh and son Paul Murdaugh. 
Murdaugh will now start to go through the intake and evaluation processing, which could last up to several weeks, according to the South Carolina Attorney General's Office. 
Watch as the verdict was read here. 
Murdaugh will remain in Columbia, South Carolina in a holding facility during this period. 
After over a month of looking and listening to all witnesses and evidence, the jury took less than three hours on Thursday to convict Murdaugh of two counts of murder for the June 2021 killings. 
"Justice was done today," lead prosecutor, Creighton Waters, said in a Thursday night interview. "It doesn't matter who your family is. It doesn't matter how much money you have, or people think you have. It doesn't matter … how prominent you are. If you do wrong, if you break the law, if you murder, then justice will be done in South Carolina."
Storm damage reported in the Fort Worth area following severe storm  
Warning sirens sounded in Fort Worth around 5:40 p.m. Thursday evening as wind speeds surpassed 70 mph, warning residents to take cover as dark, fast-moving clouds rolled into the area. 
There was no tornado warning issued for Tarrant County, but residents shared a video with the Fort Worth Star-Telegram that appeared to be a funnel cloud forming near Northlake and the Texas Motor Speedway.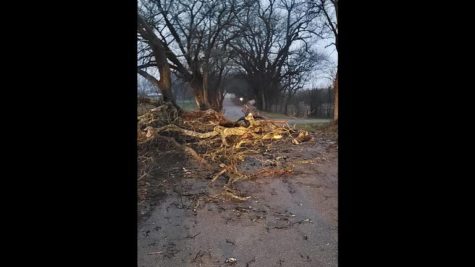 Nearly 62,000 residents in Fort Worth were without power and vehicles were overturned, but there were no reports of any loss of life, the Fort Worth Fire Department said Thursday night. 
Police departments all over Tarrant County were responding to several calls Thursday evening about downed power lines, likely due to high wind speeds. 
White Settlement police chief Christopher Cook tweeted that there was, "Definitely some wind damage in our city with tree uprooted in 100 block of Saddle and leaning into utility pole lines, fences down in some neighborhoods, and major roof damage to business in 1500 block of S. Cherry."
Detectives seek motive in fatal California school stabbing  
California detectives on Thursday were investigating what prompted a fight between three students that ended in one fatally stabbing another at a Northern California high school. 
A 15-year-old freshman is accused of homicide and other charges in connection with Wednesday's fatal stabbing in an art classroom at Montgomery High School in Santa Rosa, California, about 50 miles north of San Francisco. 
The fight started when two juniors came into the classroom and started a fight with a freshman, police said.
Teachers were breaking up the fight when the freshman pulled out a knife and allegedly stabbed the juniors. 
Santa Rosa Police Sgt. Christopher Mauhrin said investigators are working to interview all students who were inside the classroom, as well as the teacher and teacher's aide to find out what happened. 
The school will remain closed for the rest of the week. Principal Adam Paulson wrote in a message to fellow students, parents and community, calling the stabbing "the darkest day anyone can remember at Montgomery High," according to the Press-Democrat. 
Vietnam War hero presented Medal of Honor at White House
Retired Green Beret Col. Paris Davis received the Medal of Honor, the nation's highest military award, at the White House Friday. 
Watch as President Biden awards Davis the Medal of Honor here. 
Davis was one of the first Black leaders to lead a Special Forces team in combat.
Davis told Fox News, "You make the right choices. You want to get the right result." 
One fateful night on June 18, 1965, Davis saved three men from being captured by their enemy: American soldiers Roberty Brown, John Reinberg and Billy Waugh. 
Davis said he was not afraid that night and he knew that the soldiers trusted him and he would not let them down.
"They knew that I wasn't going to do anything that would put them in harm's way," Davis said.
"Paris, you are everything this medal means. I mean everything this medal means," President Biden said. "And look, you're everything our generation aspired to be. You're everything our nation is at our best. Brave and big-hearted, determined and devoted. Selfless and steadfast. American."