Alpha Chi Omega's fashion show raises historic funds, awareness for Women's Center of Tarrant County
The Women's Center of Tarrant County got a boost last month from TCU's Alpha Chi Omega chapter.
The Women's Center of Tarrant County is a long-term partner of the sorority and its philanthropy — domestic violence awareness. This year's donation of $139,000 set a chapter record. It is part of a tradition of giving. 
Members sold tickets, silent-auction baskets and a live-auction getaway to raise money for the center that assists women and families who are experiencing domestic violence. In the 31st edition of "Real Chic Women," Alpha Chi Omega members and their mothers came together to put on a fashion show to raise money for the women's center.
Sophomore criminal justice and sociology double major Liv Goettel, communications chair for the fashion show, said that this event helps to enforce their mission. "Our mission is to empower women to seek healthy, loving relationships and recognize what a safe relationship is," she said. Goettel also said that she hopes the chapter can help bring awareness to domestic violence as an issue.
"Alpha Chi Omega has given the Women's Center over 773 hours of service and nearly $2 million," said Lauren Hilgart, the center's president and CEO.
Sophomore nursing major Anna Wolfe, models and retailers chair, said there were many steps that members of Alpha Chi Omega had to take for the show. 
"All members have to raise $150 in donations and ticket sales," said Wolfe. "The silent and live auctions help too. We have a team who coordinates the different baskets with different themes to appeal to different people."
Wolfe also said that a large part of their donations came from Giving of the Heart.
"Giving of the Heart is a period of the show where the women's center director explains how different increments of money can practically benefit the center," said Wolfe. 
Each increment of money represented a different service that the Women's Center could provide to their survivors. These increments and what they include are:
$1000 – One day of crisis services and accompaniment at hospital rape exams.
$500 – One day of 24 hour crisis services.
$250 – One month of counseling for adult and child domestic violence victims.
$100 – One classroom of children and teens being educated with the Women's Center's domestic violence education program – Play it Safe.
$50 – Training sessions for volunteers to help in crisis intervention and at hospital rape exams.
$25 – Play and art therapy supplies for children.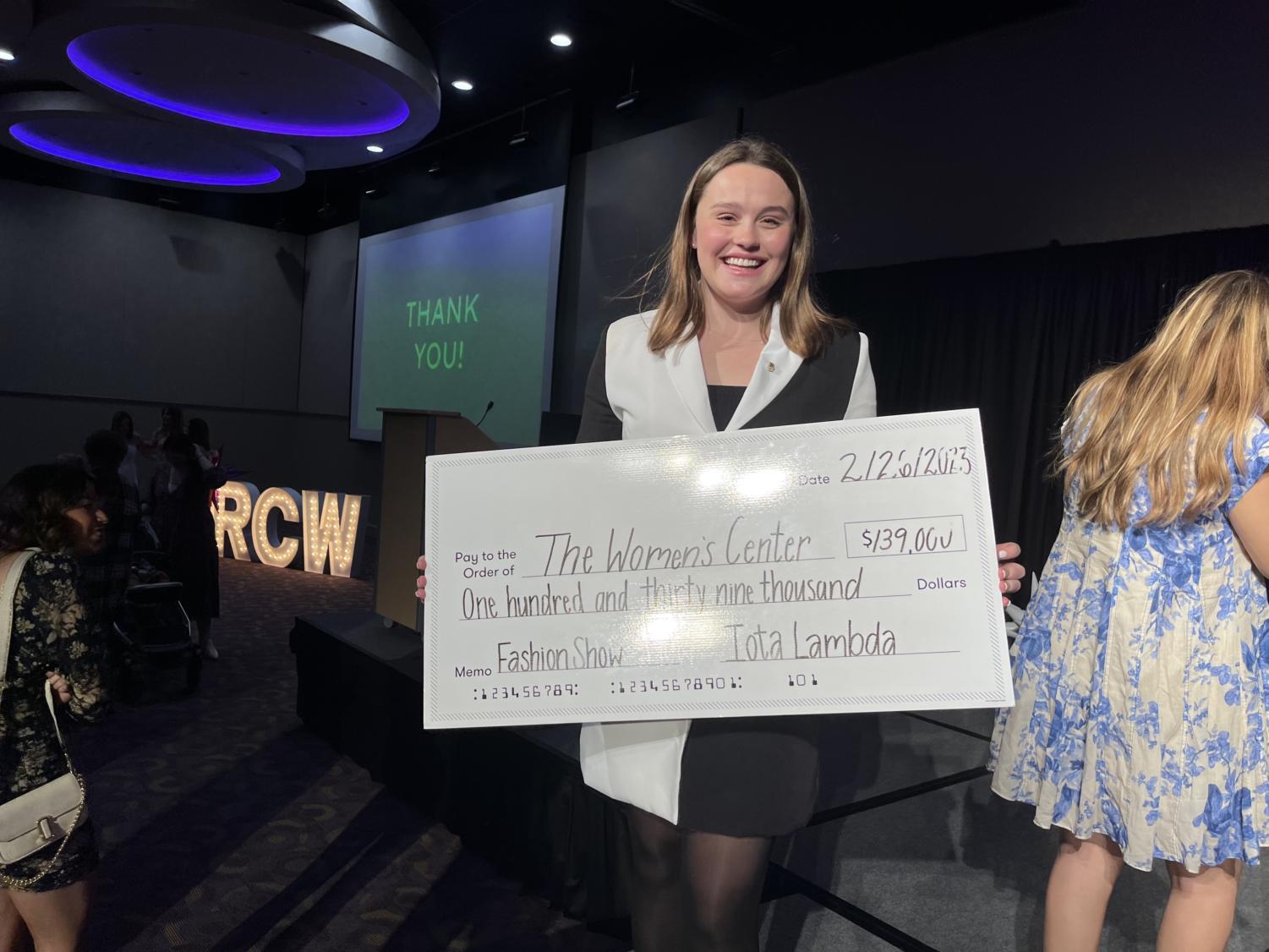 Junior psychology major Lane Rippey, head fashion show chair, said that she was so proud to represent the No. 1 student-run philanthropic chapter in the country.
"Alpha Chi Omegas are on the front lines to raise awareness for domestic violence on TCU's campus," she said.
"When the final total was revealed, I had to stop myself from getting emotional," Rippey said. "The impact that number will have on victims of domestic and sexual violence overwhelms me with gratitude and honor."
More information and areas to donate are here.