What we're reading: Taylor Swift kicks off 'Eras Tour,' unlicensed teen driver kills 5 and more
Taylor Swift puts on the show of a lifetime during her "Eras Tour"
After waiting hours to purchase tickets on Ticketmaster, "Swifties" are ecstatic that Taylor Swift kicked off her "Eras Tour" with a performance that lasted three hours as she traveled through hits from every era of her 17-year career, according to CNN. 
Swift is on the first tour since her "Reputation" shows in 2018, according to The New York Times. The singer brings fans back to this 'era' when performing popular hits from the album like "Delicate" and "Don't Blame Me," according to CNN. 
Swift's set list consists of more than 40 songs, according to USA Today. 
Taylor Swift's Eras Tour setlist: #TSTheErasTour

Miss Americana & The Heartbreak Prince
Cruel Summer
The Man
You Need To Calm Down
Lover
The Archer
Fearless
You Belong With Me
Love Story
tis the damn season
willow
marjorie
champagne problems
tolerate it
…Ready For It?
Delicate…

— Taylor Swift: The Eras Tour (@TSTheErasTour) March 18, 2023

Swift is dressed in a variety of unique pieces that go along with her different time periods of music, from multiple custom sparkly Christian Louboutin boots to several pieces designed by Roberto Cavalli, according to ABC News. 
The Burmese python population in Florida is booming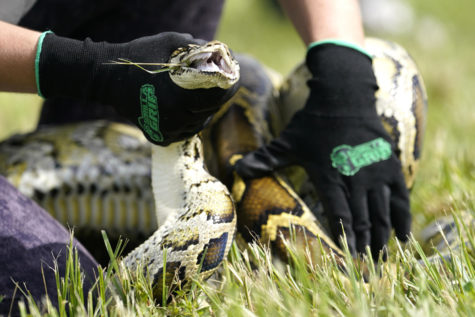 An exponential growth of the Burmese python population in Southern Florida and into the Everglades National Park has many unknowns. Scientists have concluded that the extermination of this invasive species in southern parts of the state is likely impossible, according to FOX News.  
The U.S. Geological Survey reported that the Burmese python species is "considered to be one of the most concerning invasive species in the Everglades National Park." Since Burmese pythons are competing with native wildlife for food, there has been a significant decline of the mammal population in the Everglades National Park, according to The USGS.
The USGS review found that pythons located in Florida have measured longer than 15 feet and weighed more than 200 pounds, according to The New York Times. 
Although captive pythons have been responsible for several deaths, there have been no reports of humans being killed by wild pythons, according to The USGS review.  
5 children killed in a car crash by an unlicensed teen driver 
A 16-year-old driver was killed in a one-vehicle crash that also took the lives of four young relatives. The teen did not have a driver's license or permit and may have fallen asleep or become distracted before the SUV veered off a New York parkway, officials said Monday.
At a curve on the highway, the vehicle continued straight and hit a boulder and then a tree at 12:20 a.m. Sunday, Westchester County Executive George Latimer said at a news conference. Speed doesn't seem to play a part in the crash, he said. 
"The crash cost the lives of five young people. And that is a tragedy no matter what the details are," Latimer said. "It was a horrific accident site."
The victims include three boys and two girls, according to ABC News. They have all been identified on Monday, March 20. The driver was identified as Malik Smith, 16, according to The New York Times. 
The only survivor is a 9-year-old boy. Police said he was riding in the rear cargo area of the 2021 Nissan Rogue. With help from a Westchester County police officer he escaped out of a rear broken window, according to ABC News. The Westchester County police officer found the vehicle in flames and tried to put out the fire, but was unsuccessful. The boy was taken to a hospital, according to U.S. News.  
The boy hasn't been interviewed by police, according to U.S. News.  
The accident is still under investigation and authorities are still unsure of how Smith got the keys to operate the SUV.