Ukrainian refugee families find home in Dallas-Fort Worth metroplex
Just over one year ago, Russian president Vladimir Putin launched a full-scale invasion of Ukraine. The offensive marked a turning point in the Russo-Ukrainian War, which began in February 2014 with the Russian annexation of Crimea, originally a Ukrainian territory.
According to the United Nations, roughly 6 million Ukrainians are internally displaced and over 8 million have fled the country seeking safety from the war.
Roughly 1.5 million Ukrainians fled to Poland and other European countries shortly after Russia invaded in February, 2022. Some, too, have made their way to Texas.
According to Dallas ABC affiliate WFAA, about 12,000 Ukrainians were expected to migrate to Texas and more than a few to Dallas-Fort Worth.
Dasha Shastun remembers the exact date she left Ukraine for the last time. It was Feb. 11, 2022, and Shastun was on her way to Africa to serve as a documentary photographer on a mission trip.
"I just had my carry-on luggage and people were telling me, 'Hey, do you know what's happening? The Russian army is getting closer to the border,'" Shastun said. "I think that many Ukrainians thought nothing was going to happen. When I left Ukraine, I was sure that I would be back home."
While Shastun was still abroad, the Russian invasion began. Conditions rapidly deteriorated at home and the photographer had no choice but to flee to another country. Shastun flew to Latvia and applied for a United States visa, which she said was processed in two weeks.
"The person I was traveling with in Africa is a humanitarian photographer in Fort Worth, so now I live with him and his family," Shastun said.
Shastun found work in a boutique on South Main Street in Fort Worth and is hoping to continue her education at an American university.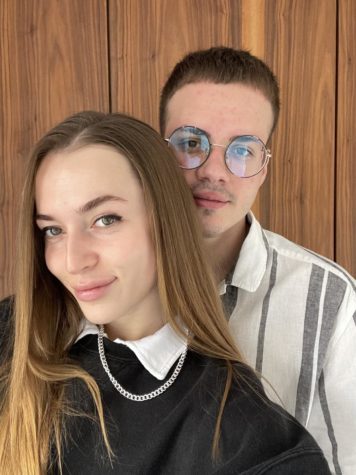 Nick Bodyu lived in Crimea until 2014, when the Russian annexation of the territory forced him to move to Melitopol, in southern Ukraine.
"When the war started, they invaded [Melitopol] on the first day of the war," Bodyu said.
At that point, Bodyu said he and his wife, Veronika, started living with his parents.
"My father, he is a pastor of a big church in my city, and he had a lot of influence in the city, so he was targeted by the troops," Bodyu said. "They invaded the house, they took my father, and they held him in captivity for eight days."
When Bodyu's father was released, the family fled the occupied territory to Poland, where they stayed while making arrangements to come to the United States.
Oleksii Shevchenko credits his wife Svitlana's eyebrows as the reason he is still alive today.
The couple and their children were preparing to move to Kyiv as the war loomed in December, 2021. Svitlana wouldn't go, though.
"I said to him, no," Shevchenko said. "I said I have an appointment for my eyebrows on the sixth of March, so just wait. I want to move to Kyiv looking beautiful."
Had Svitlana not insisted on going to her eyebrow appointment, and the family had moved to Kyiv as planned, Oleksii would've been mandated to join the Ukrainian army.
Now living in the United States, the families have made it their mission to share their stories with the public.
Katie Stadler, who runs the nonprofit Be Human Kindness, said her nonprofit supports refugees and connects them with resources at all points of their journey.
"Since this war began, I would say it's very rare to meet a Ukrainian that doesn't want you to take their picture and tell their story," Stadler said.