Students use internships to jumpstart their careers
Before their senior year, many students use internships as a way to enter into their desired profession and learn the ropes.
As of 2017, over fifty percent of TCU students have a job set up after graduation, with thirty percent of students having two previous internships beforehand as stated on the graduation report.
Websites such as LinkedIn, Wayup and Indeed are tools students use to search for internships and determine if they meet the qualifications and want to apply.
TCU's career center aids in cover letter and resume help, with over half of students stating they used the center before graduation. As the semester comes to an end, many students are beginning internships.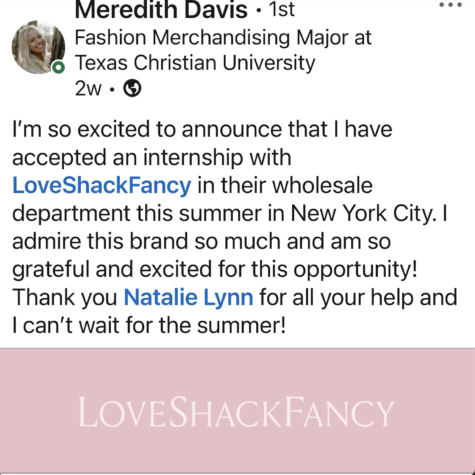 Meredith Davis, a third year fashion merchandising student, recently accepted an internship for the summer with LoveShackFancy.
"The process was difficult, and extremely stressful, but I learned that persistence is key in attaining an internship," Davis said.
Davis said that the best way to set herself up for success was creating a detailed LinkedIn profile and making connections with various people.
She explained how stressful the process is, especially since fashion merchandising students must obtain an internship for course credit.
"In today's world it is truly about who you know, not necessarily about what you know," Davis said.
The fashion student said the stress ended up being worth it, as the internship is her dream job at one of her favorite companies.
Maddie Sweeney, a student of the Neeley School of Business, has remained persistent for the past three years trying to get an internship with her dream company, Goldman Sachs.
Her journey began freshman year when she applied and was rejected. The next year she applied again, only to receive another rejection. This year as she was searching numerous sources to apply, she got to the last round of interviews with another prestigious banking company.
"I really thought this was it, and I would be working for this company, and even though it was not Goldman I was happy with this," Sweeney said.
The company never responded which disappointed Sweeney. As she began her search again, she received a call from Goldman Sachs. They wanted to set up and interview, but she did not get her hopes up.
Sweeney said the interview process went great and she received an offer a few days later.
"It really proved to myself and my peers that my dedication paid off in the end, and building a more experienced resume helped me," Sweeney said.
While some students have a secured internship for the summer, others are still searching for an acceptance letter.
Hannah Metez, a junior nursing major, is applying for externships at hospitals around the U.S. Even though she said she is not required to get an internship, she wants to gain more experience in her major and save up some money.
"As a nursing major we don't really learn how to make a resume and make LinkedIn profiles, because we're needed everywhere, so this has truly been a learning experience," Metez said.
Whether she comes out of this with an internship or not, Metez said the process is insightful and will be beneficial later on in life.
Internships, for some, are required in their major. Others are trying to gain professional experience to boost their chances of getting a job after college. The application and interview process might be stressful, but in the end it is all worth it to achieve a potential dream job, Davis said.