Know before you go: a guide for those attending graduation from out of town
As graduation approaches, here are a few things you should know before making the trip to Fort Worth if you are not familiar with the area.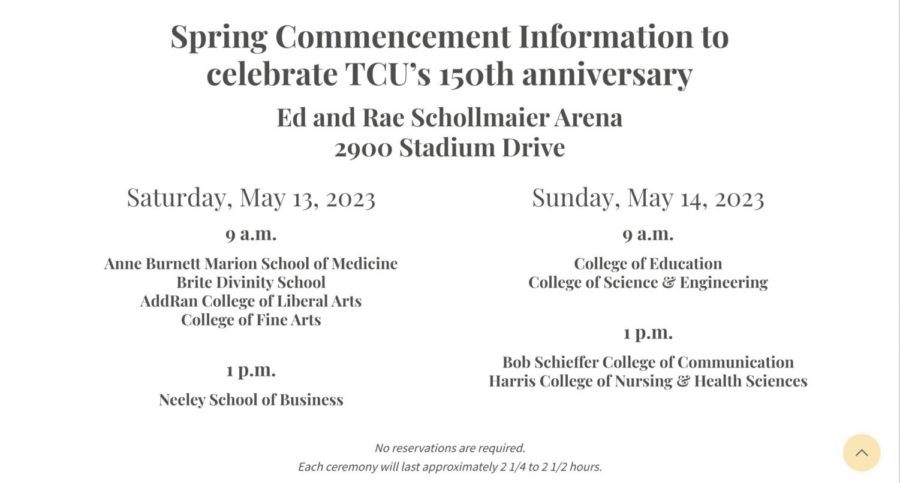 Traffic and construction
University Drive is the main road that leads to Texas Christian University. Avoid taking University Drive if you can as it is currently under construction and traffic delays can vary from bad to worse depending on the time of day. If you're driving to TCU via I-30, consider taking the Hulen Street exit instead of the University Drive exit. Taking Hulen Street will have you skirt around the west side of campus and lead you to Stadium Drive entering from the south.
If you're traveling via Interstate 30 traveling east, Hulen Street is two exits before University Drive.
If you're traveling via Interstate 30 heading west, Hulen Street exit is two exits after University Drive.
If you're arriving on campus via Interstate 20, you can follow the normal GPS directions.
Parking
There are multiple parking lots that will be open during graduation. Lots two, three, four, five and seven are available for parking during the ceremony and do not require a permit. Lot six is reserved for disabled parking and a permit is required. Lots one and 11 are reserved permit parking only. For questions about parking, call TCU parking at 817-257-4200.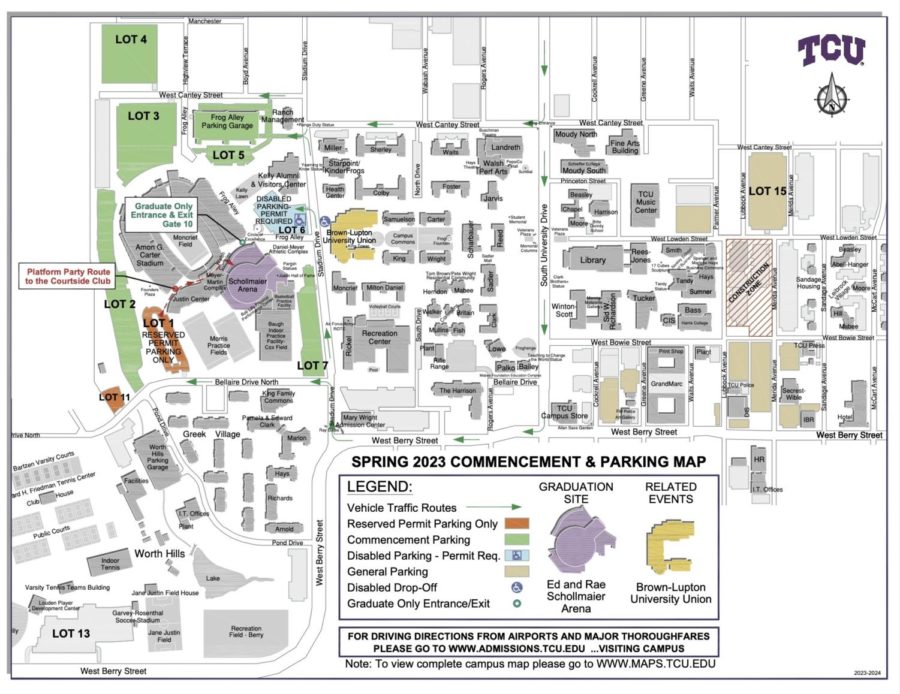 Accommodations
Ed and Rae Schollmaier Arena does have spaces available for wheelchair access. All ceremonies will provide sign language interpreting and captioning. If you have additional questions regarding accommodations contact Margaret Kelly at 817-257-5243.
Hotels
The closest hotel to TCU is the Hyatt Place Fort Worth / TCU. There are Courtyard by Marriott and Hilton Hotels north of TCU that are a short drive away. To the southwest there are hotels in Hulen, which are also a short driving distance from the campus. Both locations are surrounded by several restaurants to meet your dining needs. Expect hotels closer to campus to fill up quickly.
Restaurants
On the day of graduation expect restaurants to fill up fast, plan accordingly and call early to make a reservation. While some restaurants will take reservations days in advance, some restaurants will only reserve tables the day of. Fort Worth offers a variety of dining options close to campus and in the surrounding area.
Prohibited items
TCU enforces a clear bag policy for all TCU related events. The following items are prohibited during the ceremony:
Smoking (TCU is a tobacco free campus)
Alcoholic beverages
Any artificial noise makers i.e. air horns, cans filled with content etc.
Pets
Balloons
Confetti (with an exception for nursing majors)
Firearms and any deadly weapon, regardless if you have a permit.