'Storm Chasers' help lead court storm in TCU basketball win against Texas
TCU basketball has recently drawn lots of attention.
On Wednesday night, the No. 22 TCU Horned Frogs (19-10, 8-8) faced No. 9 Texas (22-7, 11-5) at home in Ed & Rae Schollmaier Arena. It was another packed house by Horned Frog fans, totaling 2,569 students, the third most in school history, and 8,194 total people, the second most in the history of a TCU basketball game.
The Frogs led start to finish and won 75-73, earning their 20th win of the year. The game was close at the end, but ultimately Damion Baugh and Emanuel Miller's combined 44 points were too much for Texas to handle.
However, another story developed during the game in the student section. Fans wearing bright yellow rain jackets and hats joined the student section following halftime to the applause of the arena. They sat in the front row of the student section cheering on the Horned Frogs the rest of the game.
STORM CHASERS!@TomScibelli @Glenny_balls @chefdonnyy @BSStormChasers

— Jake Marsh (@PMTsportsbiz) March 2, 2023
This group of men is known as the "Storm Chasers". They are a troop of employees from Barstool Sports, a digital media company focused on sports and pop culture, who travel to different college basketball arenas searching for games that could result in the storming of the court. This is when all of the fans jump onto the court in excitement following a meaningful win, most likely an upset.
This is not the first time the "Storm Chasers" have made an appearance at TCU. On March 1, 2022, exactly a year ago from Wednesday's game against Texas, then unranked TCU defeated No. 6 Kansas in a pivotal win that helped propel them into the 2022 NCAA tournament. The "Storm Chasers" were in attendance, helping create a memorable court storm.
⛈DOUBLE STORM STREAK⛈ pic.twitter.com/WOYGYmTRzN

— Storm Chasers (@BSStormChasers) March 2, 2022
The "Storm Chasers" got what they desired. With the lower ranked Horned Frogs defeating rival Texas in the last home game of the 2023 season, the fans torment the court. Fans from all around the stadium sprinted onto the court to experience the action. It was mayhem.
🌪CAUGHT A STORM AT TCU⛈ pic.twitter.com/8Orhgf9D1X

— Storm Chasers (@BSStormChasers) March 2, 2023
The TCU Athletics Department and basketball staff showed support for the "Storm Chasers" in their visit to Fort Worth. They received a tour of the athletic facilities and reserved seats at the front of the student section.
"You all are welcome back here in Fort Worth anytime," said Donati on March 1, 2022 following last year's storm against Kansas. They were even allowed access to the Horned Frog's locker room after the game, where they met the team and took pictures.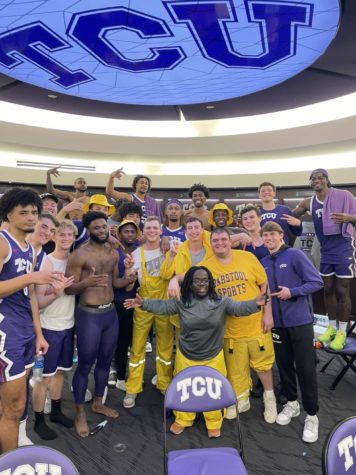 Students were also excited to see the "Storm Chasers" during the game.
"It's a lot of fun when we get people like them involved," Davis Putnam, sophomore business major, said. "A part of why you come to school is for moments like this, and they make it even more memorable."